When Does Tiger Woods Play at 2022 Masters This Week in Return to Augusta?
Tee times have been set for golf superstar Tiger Woods' highly anticipated return to the sport as he's indicated he will compete in the Masters Tournament later this week.
Organizers of Georgia's Augusta National Golf Club on Tuesday announced the tee times for the tournament that begins on Thursday. The announced tee times is the clearest sign that Woods will compete after being injured last year in a car crash that cast uncertainty over his career.
Woods on Thursday will compete in Group 14 beginning at 10:34 a.m. EST. Included in the group is 39-year-old Louis Oosthuizen, of South Africa, who is entering his 14th Masters tournament. Joaquín Niemann, of Chile, will also be included in the group. The 23-year-old Niemann debuted at Augusta National in 2018 following his win at the Latin America Amateur Championship as the No. 1 ranked amateur in the world.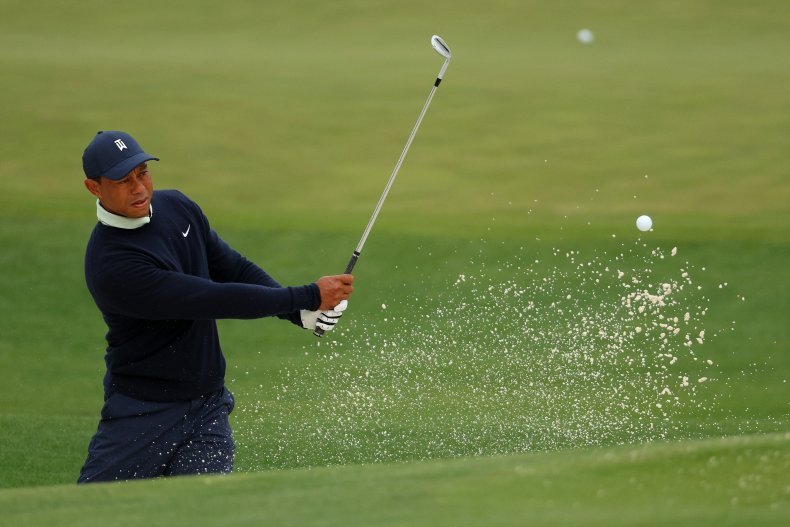 On Friday, Woods will play in Group 29, which begins at 1:41 p.m. EST. The group will again include Oosthuizen and Niemann.
After Thursday and Friday, the field will be cut in half, with the remaining players advancing to rounds on Saturday and Sunday.
Woods, 46, said earlier Tuesday he plans to play in the tournament but would make a final decision after a practice round on Wednesday.
"As of right now, I feel like I am going to play," Woods said. "As of right now. I'm going to play nine more holes tomorrow."
Woods was seriously injured in a car crash in Los Angeles over a year ago, casting doubt on his future in the sport. The accident occurred when he lost control of his Genesis SUV, causing a rollover crash. Woods broke his right tibia and fibula, in addition to smaller breaks in his left leg and compound fractures. Doctors reportedly feared they would have to amputate his leg.
Despite his difficult recovery, Woods has said he's wanted to return to golf and said in an interview with Golf Digest he asked for a club from his hospital bed.
"Sometimes I just crutch and lay on the grass for an hour because I want to be outside," he told the magazine, describing his recovery. "Missing the contact of a golf ball hit properly is one of the better feelings."
However, Woods has stated he'll never be able to return to golf full time.
Woods also faces long odds with sports betting websites putting the famed golfer in underdog status as he competes for his sixth title at Augusta National. Draft Kings rates Woods' chances at +4,500, putting him at 18th overall. These odds mean that a $100 bet on Woods to win would return $4,500.
Augusta National declined further comment to Newsweek.