When Does Yom Kippur 2018 Start and End? Dates, Facts, History of the Jewish Holiday
Yom Kippur, considered the holiest of holidays in the Jewish religion, is a day for solemn reflection, prayer and atonement.
Unlike Christian and secular holidays, which follow the solar calendar, Jewish holidays are marked by the lunar calendar, meaning the dates of each holiday vary from year to year. In 2018, Yom Kippur starts at sundown on Tuesday and ends at sundown on Wednesday.
While often believed to have begun out of a need to tell time without clocks, beginning Jewish holidays at sundown is identified in the Torah, as days are said to begin in the evening instead of at midnight. As stated in Genesis: "And there was evening, and there was morning, one day."
Starting with Rosh Hashanah, Yom Kippur is the culmination of the Ten Days of Repentance, a time for people who are Jewish to reflect on their sins and transgressions over the past year. Yom Kippur marks a period of fasting, during which Jews abstain from eating or drinking in an act of self-denial and to foster compassion.
Isaiah 58, the haftarah portion that is read on Yom Kippur, addresses the fast: "No, this is the fast I desire: To unlock fetters of wickedness and untie the cords of the yoke to let the oppressed go free; to break off every yoke."
The passage goes on to encourage people to share bread with the hungry, take in the poor, clothe the naked and to not ignore family.
While most Jewish people will observe the fast, there are medical exceptions, including for women who are pregnant, nursing, children under the age of nine and those who are ill. Along with fasting, work is prohibited on Yom Kippur, as it is on the Sabbath.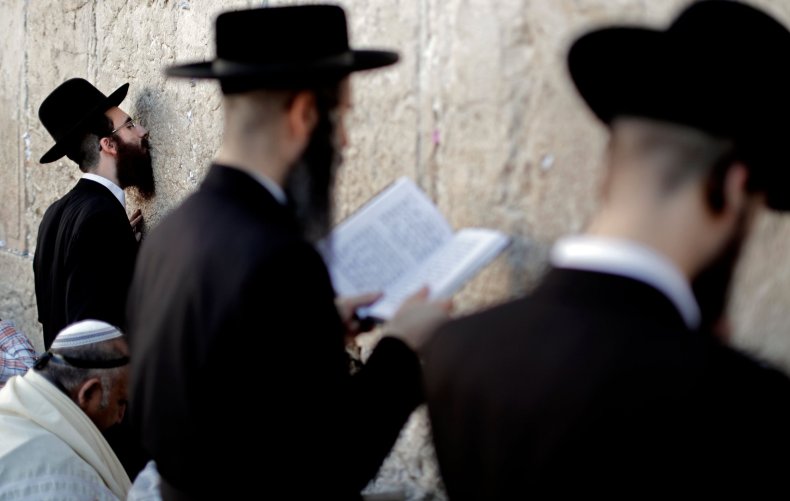 After the exodus from Egypt, Moses ascended Mount Sinai and prayed to God for forgiveness for worshipping a golden calf, according to Chabad.org. When Moses came down from the mountain on the 10th day of the month Tishrei, he'd obtained forgiveness, and the day came to be known as Yom Kippur, or the Day of Atonement.
Most of Yom Kippur is spent in synagogue attending five prayer services, identified by Chabad.org as:
Maariv, a Kol Nidrei service occurring on the eve of Yom Kippur
Shacharit, a morning prayer including a reading from Leviticus
Musaf, a description of the Yom Kippur Temple service
Minchah, reading of the Book of Jonah
Neilah, a "closing of the gates" service at sunset followed by a shofar blast
Following services, friends and family gather for a special meal that's been prepared for breaking the fast. The chosen meal varies in accordance with family traditions but often includes bagels, lox and cold salads.
During the early hours of Yom Kippur, some customs take part in Kaparot, the passing of a live chicken over one's head while reciting specific prayers, according to Chabad.org. The chicken is then killed in a humane manner and donated to a charity, such as an orphanage, to be eaten. However, not everyone partakes in Kaparot and some rabbis have criticized the custom.
In the 1880s, composer Max Bruch created a Kol Nidrei composition for cello and orchestra. Given that Kol Nidrei is a prayer recited on Yom Kippur, many believe Bruch was Jewish and paying homage to his religion. Bruch was Protestant, not Jewish, and his middle name was actually "Christian."
Bruch was living in Berlin in the 1880s and became friendly with the city's cantor-in-chief, Abraham Lichtenstein, according to WRTI. After learning about the Kol Nidrei melody from Lichtenstein, the captivating beauty of the chanting led to him to compose the Kol Nidrei for a cellist who had asked him for a piece.
Given that Yom Kippur isn't a particularly joyous holiday, it's rare for people to wish each other a "happy" holiday. Instead, it's common to wish someone an "easy fast" or "Gemar chatimah tovah," which means "a good final sealing."
This year, Yom Kippur will take place just days after Hurricane Florence, now downgraded to a tropical depression, hit the Carolinas with a vengeance. Flooding from the storm destroyed homes, claimed lives and cut Wilmington, North Carolina, off from the state entirely.
Getting food and supplies to the people of Wilmington has been a challenge and with the holy day rapidly approaching, Chabad-Lubavitch rabbis and volunteers are attempting to arrange an airlift of kosher food.
"We have a truckload of kosher food for the community," Rabbi Bentzion Groner told Chabad.org, "but no way to get it to them."
Among the options Groner has explored are asking military bases if their helicopters could assist with the transport or sending supplies with Red Cross planes. Whether the kosher food arrives in time for breaking fast, Rabbi Chana Lieblich told Chabad.org that services will continue. Lieblich explained that enough Jewish people in Wilmington decided not to evacuate that he felt he had to stay as well.
"If there's any one time that we have to be here for Wilmington's Jews," he said, "this is that time."