How Russian Bots Rallied on Election Day to Smear Hillary Clinton and Put Donald Trump in the White House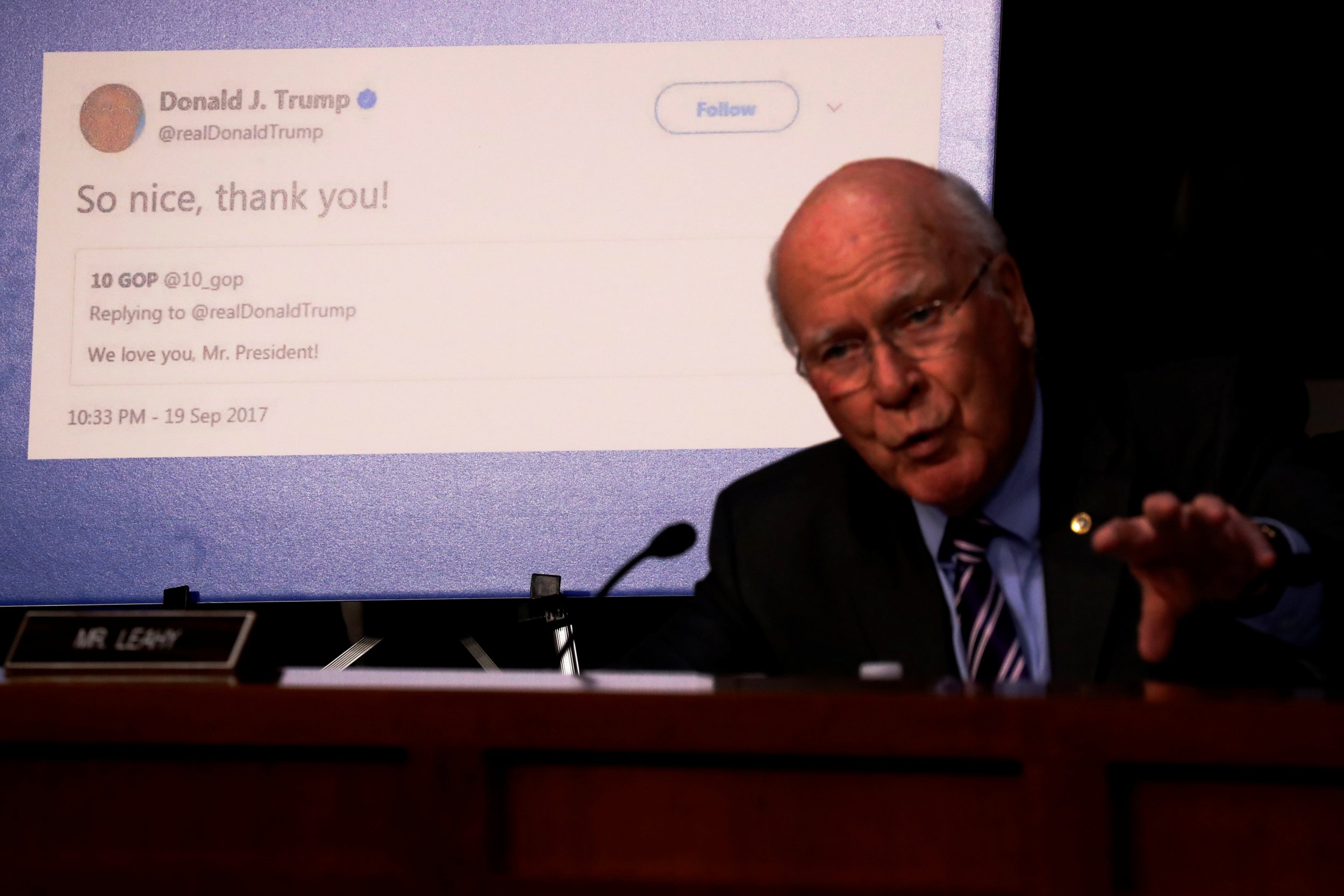 Fake Russian Twitter accounts designed to rally support for Donald Trump during the U.S. election joined forces on polling day to smear his opponent and the credibility of the vote in a flurry of tweets.
News site the Daily Beast reconstructed the final day of the presidential campaign to reveal that at least 80 of the thousands of fake accounts linked to Russia burst into action on election day, one year ago on Wednesday.
Many of the accounts were operated from a St Petersburg-based Russian troll factory, with some posing as Russians, others as foreigners and many as local news outlets in dozens of U.S. cities.
"VOTE TRUMP to save ourselves from the New World Order," one account said. "Time to MAKE AMERICA GREAT AGAIN."
"Last chance to stop the Queen of Darkness! Vote Trump!" said another, referring to Trump's rival, Hillary Clinton.
One account called "World News Politics," that was less than three weeks old at the time, began publishing scheduled tweets, tearing into Clinton and her Democratic party.
"Hillary's Violent Paid Protesters Attack Trump Supporters in Chicago," it wrote on election-eve, following up with a swipe at Clinton's health: "HILLARY STUMBLES AGAIN! Watch The 15-Second Video That Just Made Trump President."
Other accounts spread rumors of election fraud even as voters were going to the polls. An account named Phoenix Daily News—a fake newspaper title (the city's daily paper is the Phoenix New Times)—posted "Group to watch for voter fraud on Election Day."
Another, World News Politics, said: "Democrats BUSTED Breaking Election Law on VIDEO in Ohio," and "BREAKING: Mass Election Fraud, Voting Irregularities and Discrimination Against Trump Voters Reported #VoterFraud."
The posts came thick and fast over the space of 33 hours, spanning polling day across the U.S. timezones.
One infamous fake account, TEN_GOP, presented itself as an outlet run by Tennessee Republicans and tweeted a legitimate report of a single voting machine glitch in Pennsylvania as: "BREAKING: Machine Refuses to Allow Vote For Trump in Pennsylvania!!," with the hashtag #VoterFraud.
That tweet alone amassed 14,000 retweets by the end of the day, alongside a handful of other similar posts, TEN_GOP propelled itself to the seventh most mentioned Twitter account on Election Day, according to George Washington University.
Twitter has subsequently unveiled it as one of over 2,000 fake accounts operated from the St. Petersburg farm.
The messages were relayed by accounts such as that of Pamela_Moore13, who claimed to be a Texan woman and retweeted the Clinton voter fraud claims to 24,020 followers.
"Man PROVES software stole votes in ALL 'Hillary won' counties! DNC rigged elections! Voter Fraud is Real!"
Fake account America_1st_ then its 24,744 followers that "massive" election fraud was taking place in Colorado, that swing state Florida was likely suffering from absentee voter fraud and assured that a "Van Full Of Illegals" had come "To Vote Clinton At SIX Polling Places!"
The bots even made provisions for a MarchForTrump via an account secretly run from St. Petersburg which promoted its own Voter Fraud hotline.
"This election is being rigged! REPORT VOTER FRAUD: 888 486 8102 (Being Patriotic hotline) [...]," one of the posts read.
Google, Twitter and Facebook have since estimated the full reach of Russian influence during the campaign could have reached up to 126 million Americans on Facebook and published around 131,000 Twitter messages.
All of the U.S. intelligence agencies have concluded that Russia, despite the Kremlin's denials, tried to influence the election. Separate investigations are taking place to determine whether or not Trump's own team was privy to any pact or had an inappropriate relationship with the Russian government prior to the vote.