When to Expect Another Stimulus Deal? Mnuchin Confirms Democrats, GOP Agreement on Timeline
One of the few agreements Democrats and Republicans have been able to reach during coronavirus relief negotiations is that if a package is going to be passed, they want it done next week.
Treasury Secretary Steve Mnuchin and White House Chief of Staff Mark Meadows, who are representing Republicans in negotiations, met with Speaker Nancy Pelosi and Senate Minority Leader Chuck Schumer for the seventh time on Tuesday. Negotiators say they're inching closer to a deal on certain issues but remain far apart on other provisions, including how much the package should cost.
Expanded unemployment benefits and eviction moratoriums expired in July and legislators are working against the clock to pass the fifth package before the Senate recess begins. So, they agreed that if a bill is going to be passed, they'll do it by the end of this week, Mnuchin told reporters on Tuesday.
If the two parties can reach an agreement on the overall package by Friday, both chambers could vote on it next week. With the Senate recess scheduled to officially start on August 10, passing the package would require a delay, a move that Republican legislators are pushing for.
Senator John Cornyn, who is up for reelection this November, told Politico that leaving Washington, D.C., without a deal would look "like a dereliction of duty." Senator David Perdue, who is also campaigning to keep his seat in Congress, said legislators need to "stay here and wrestle this to the ground."
Senate Majority Leader Mitch McConnell delayed the March recess so legislators could pass the Coronavirus Aid, Relief and Economic Security (CARES) Act, a $2.2 trillion relief package. But, he hasn't commented on whether he'll push the August recess to a later date, as well.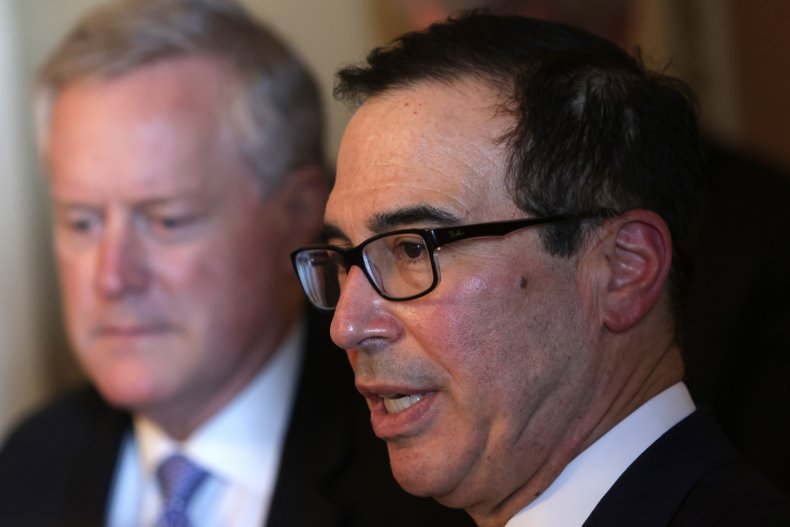 On Sunday, Mnuchin said the two sides agreed on another round of stimulus checks, but the two were unable to reach a consensus on expanded unemployment benefits. Republicans proposed decreasing the additional $600 weekly payments to $200 and Democrats want to continue benefits as they are.
While once considered a potential deal breaker in negotiations, McConnell indicated it could be an area where the two sides could find common ground. The Senate leader told reporters on Tuesday that he is "prepared to support" a package that extends unemployment benefits by $600 per week if everyone else was on board with it.
"Wherever this thing settles between the president of the United States and his team that have to sign it into law and the Democrats, a not-insignificant minority in the Senate and majority in the House, is something I'm prepared to support, even if I have some problems with certain parts of it," McConnell said.
Schumer said both sides made "concessions" that were appreciated and Meadows called Tuesday's discussion "probably the most productive meeting we've had to date." However, Meadows claimed the concessions made on their side were "far more substantial" than what the Democrats gave and there's still potentially a $2.4 trillion gap between the sides.
Republicans are looking to keep the price tag of the forthcoming package around the $1 trillion mark, while the Democrat-backed HEROES Act was worth $3 trillion. That price tag has since increased and Pelosi told CNN on Tuesday that the dollar amount she's willing to settle for is $3.4 trillion.
Upping the amount of money Democrats want to cover the package's provisions demonstrates their "unseriousness," White House press secretary Kayleigh McEnany said during Tuesday's briefing.
"We're not going anything close to $3.4 trillion," Mnuchin told reporters, according to CNN. "That's just ridiculous."