When It Comes to Gender Pay Gap in Hollywood, Jessica Chastain Plays by Her Own Rules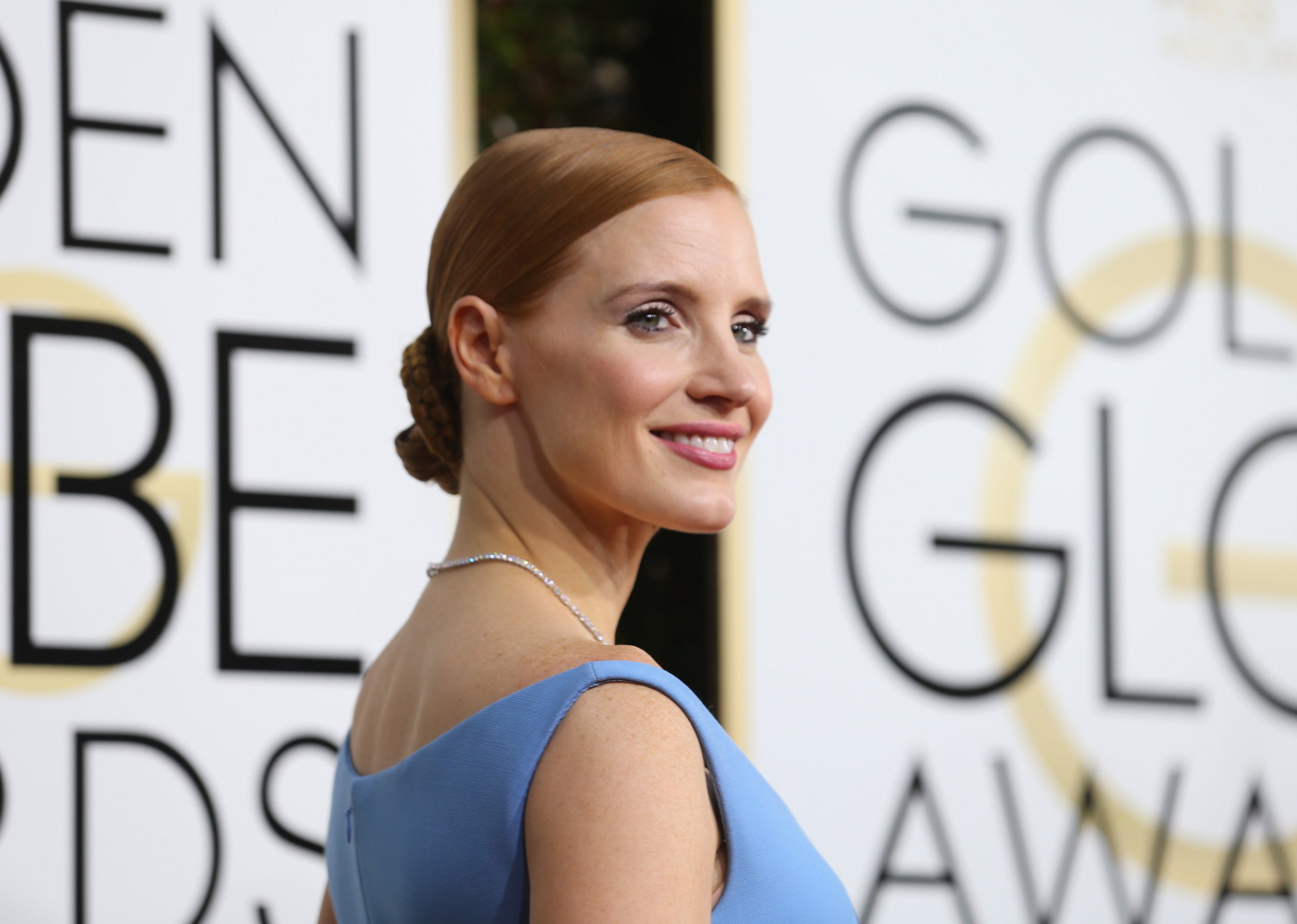 In one of her latest roles, Jessica Chastain plays Miss Sloane, a political power-player taking on the gun lobby in Washington DC. In real life, Chastain is taking on Hollywood and the gender pay gap, and "drawing a line in the sand" to demand pay equality.
The Oscar-nominated actor has regularly spoken out about the substantial difference in salaries male Hollywood stars make compared to female actors. She told Variety magazine recently, that she has set rules for herself when the time comes to negotiate.
"What I do now, when I'm taking on a film, I always ask about the fairness of the pay. I ask what they're offering me in comparison to the guy. I don't care about how much I get paid; I'm in an industry where we're overcompensated for the work we do. But I don't want to be on a set where I'm doing the same work as someone else and they're getting five times what I'm getting," she said.
Chastain previously discussed how she was paid less than a quarter than her co-star Matt Damon, the male lead in Oscar-nominated movie The Martian. In the interview with Variety, Chastain said she would often be offered roles but wouldn't get the salary offer until the male actor was cast, so her pay would come out of what was left in the budget. "Now, if someone comes to me and has an offer but wants to wait, I'm like, 'Goodbye.' If you want me in your film, do a favored-nation clause. Don't determine my worth based on what's left over," she said.
Chastain described how her new strategy has cost her a major role recently. At first, she said, she wondered whether she made the right choice, but then she realised it was a small loss worth the loud message it sent to the industry. "Even though I lost that film, I've created a boundary. I drew a line in the sand," she said.
The issue of gender pay gap in Hollywood took centre stage after Patricia Arquette's passionate acceptance speech at the Oscars in February 2015, after winning Best Supporting Actress for her role in Boyhood. After thanking her family and friends, she dedicated the award to "every woman who gave birth, to every taxpayer and citizen of this nation, we have fought for everybody else's equal rights. It's our time to have wage equality once and for all and equal rights for women in the United States of America."
Read more: How the gender pay gap compares State by State
A few months later, Oscar-winning actor Jennifer Lawrence penned an essay in which she recounted how she got mad at herself after discovering that her male co-stars in the Oscar-nominated American Hustle were paid more than she was because she failed to negotiate. She gave up a fight over millions of dollars because "frankly, due to two franchises, I don't need" more.
Lawrence admitted the struggle for pay equality in Hollywood was more a matter of principle than one of necessity. "It's hard for me to speak about my experience as a working woman because I can safely say my problems aren't exactly relatable."
Her point was echoed by Scarlett Johannson in an interview with Cosmopolitan in April 2016. Johansson, who is one of the industry's highest-paid actors, said she was fortunate enough not to have to discuss pay inequality as a personal issue. "I think every woman has [been underpaid], but unless I'm addressing it as a larger problem, for me to talk about my own personal experience with it feels a little obnoxious," she said. "It's part of a larger conversation about feminism in general."
Arguably, there is value in having actors who are a source of inspiration for women and girls speak publicly about the inequality they face in their own line of work, even when in a position or relative power and notoriety.
In a magazine interview with Marie Claire, Oscar winner Natalie Portman suggested the gender pay gap in Hollywood was even more extreme than in other industries. "Compared to men, in most professions, women make 80 cents to the dollar," Portman told Marie Claire. "In Hollywood we are making 30 cents to the dollar." In 2011, Portman earned three times less than her co-star Ashton Kutcher for No Strings Attached, describing the difference in pay as "crazy".
Robin Wright, star of the Netflix hit drama House of Cards, called the gender pay gap a "pandemic" and revealed in May 2016 how she had to fight to be paid the same as her co-star Kevin Spacey. "You have to shame them and guilt them into it" she said at an event in New York where she was campaigning for an end to the pillage of Congo's natural resources. "I said, you better pay me or I'm going to go public - and they did."
According to Amy Pascal, co-chair of Sony Pictures Entertainment, part of the issue of gender pay gap in Hollywood is due to the scarcity of leading female roles in high-paying blockbusters and franchises. "The problem is the averages don't work, because there are not enough parts for women to star in to get paid," she told Forbes in 2013. "So when you are looking at the total amount that women make as compared to men, it's paltry. I think that the whole system is geared for them [women] to fail and we're going to have to change a lot of what we do in order for that to happen."
The gender pay gap is part of a larger issue with diversity in show business, exemplified recently in the #OscarsSoWhite controversies of recent years, in which the large majority of nominees were white. If a white woman in the U.S. makes 80 cents to a dollar earned by white man, a black woman earns 64 cents to the dollar.
Forbes' list of highest paid actors rarely include performers from black and ethnic minorities, who often struggle to be cast for roles in the first place. Oscar-winning actor Viola Davis made this point when she became the first black woman to win an Emmy for a leading role in a drama in 2015. "The only thing that separates women of color from anyone else is opportunity," Davis said when accepting the award. "You cannot win an Emmy for roles that are simply not there."