When is Letitia James' Announcement? How to Watch NY AG Press Conference
Letitia James, the New York Attorney General who has been investigating the Trump Organization over the past three years over possible fraud, is due to make a "major announcement" at 11.30 a.m. Eastern Time.
This will take place at the Office of the Attorney General on 28 Liberty Street in Manhattan, with the media invited to attend. Details on exactly what the announcement relates to have not been provided.
Members of the public can watch the press conference live on the NY Attorney General website.
In previous court fillings James said her investigation found evidence of potential fraud by the Trump Organization.
Specifically, there are claims the company altered the value of its assets fraudulently, in order to claim tax breaks and secure lucrative loans.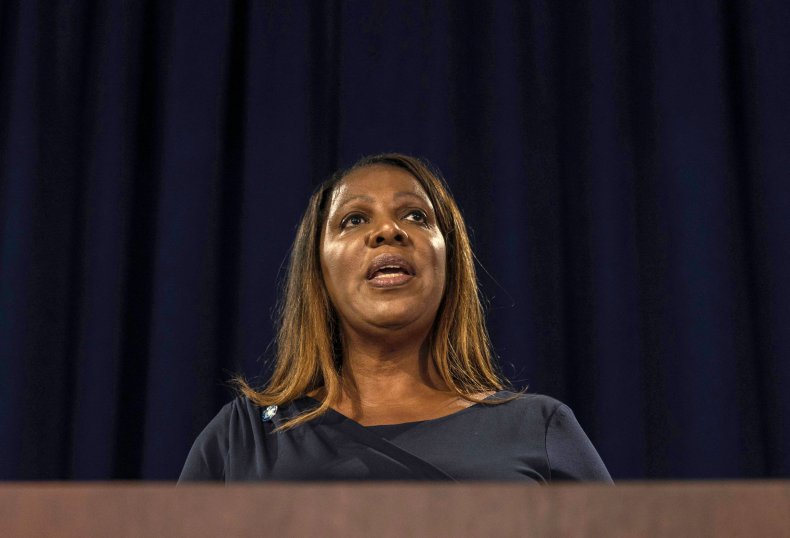 The New York Times reports James rejected at least one settlement offer from Trump's legal team earlier this month.
During a six-hour deposition in New York last month Trump pleaded the Fifth Amendment, his constitutional right against self-incrimination, at least 440 times.
Trump said James, a Democrat, is "openly campaigning on a policy of destroying me" and branded the probe a "witch hunt."
In a statement Trump said: "I once asked, 'If you're innocent, why are you taking the Fifth Amendment?' Now I know the answer to that question.
"When your family, your company and all the people in your orbit have become the targets of an unfounded, politically motivated Witch Hunt supported by lawyers, prosecutors and the Fake News Media, you have no choice.
"Accordingly, under the advice of my counsel and for all of the above reasons, I declined to answer the questions under the rights and privileges afforded to every citizen under the United States Constitution."
Trump is currently locked in a number of legal battles, including criminal inquiries.
The former president is being investigated over alleged breaches of several federal laws, including the Espionage Act, after the FBI recovered classified documents from his Mar-a-Lago Florida residence during a raid in August.
If convicted under the Espionage Act, Trump could face up to ten years in prison, a fine or both.
Separately, the Justice Department has charged more than 830 people in its investigation into the January 6, 2021 storming of Congress by Trump supporters, aiming to stop the 2020 presidential election result being certified.
It is unclear to what extent this inquiry will focus on Trump personally, but legal experts have suggested he could be investigated for obstructing Congressional business and conspiring to defraud the United States, both criminal offenses.
A grand jury in Georgia is also investigating Trump's efforts to overturn Joe Biden's election win in that state, including a notorious January 2021 phone call with Georgia Secretary of State Brad Raffensperger who Trump asked to "find 11,780 votes."
Donald Trump has been contacted for comment.