When, Where are 'Nobody Is Above the Law' Protests? March to Protect Mueller From Trump and Matthew Whitaker
Hundreds of protests billed "Nobody Is Above the Law" are planned across the United States and Canada following the forced resignation of Attorney General Jeff Sessions, stemming from concerns that President Donald Trump is moving to hinder special counsel Robert Mueller's investigation.
The protests, organized by the progressive advocacy group MoveOn, are slated to start Thursday, November 7, at 5 p.m. local time in dozens of cities in the U.S., Canada and even some in Europe.
MoveOn said it believes that Trump "has undercut the independence of the investigation" by naming Matthew Whitaker acting attorney general on Wednesday and putting him in charge of overseeing Mueller's probe into ties between the Trump campaign and Russians in the 2016 presidential election. Whitaker has previously argued for limiting the scope of Mueller's probe.
"Donald Trump has installed a crony to oversee the special counsel's Trump-Russia investigation, crossing a red line set to protect the investigation," MoveOn said in a statement on its website. "Whitaker has publicly outlined strategies to stifle the investigation and cannot be allowed to remain in charge of it," MoveOn stated.
The "Nobody Is Above the Law" network has demanded that Whitaker "immediately commit not to assume supervision of the investigation."
Organizers have planned at least one demonstration in every state of the U.S. California has the most events listed—at more than 100 cities—followed by New York, Florida, Washington, Texas, Massachusetts, Illinois, Pennsylvania and Oregon with more than 25 cities each.
Here are some major cities listed for the demonstrations: New York, Los Angeles, San Francisco, Chicago, Boston, Philadelphia, Dallas, Houston, San Antonio, Miami, Seattle, Portland, Oregon, Denver, Atlanta, Detroit, Minneapolis, Newark, New Jersey, Albuquerque, New Mexico, Las Vegas, Albany, New York, Columbus, Ohio, Cleveland, Cincinnati, Oklahoma City, Providence, Rhode Island, Nashville, Salt Lake City, Arlington, Virginia, Milwaukee, and Washington, D.C. San Juan and Mayaguez, in Puerto Rico are also participating.
Cities participating abroad include Amsterdam, Brussels, Calgary, Alberta, Halifax, Nova Scotia, Montreal, Rome, Toronto, Ontario, and Vancouver and Victoria, British Columbia
For a full list of events and to browse by zip code, click here.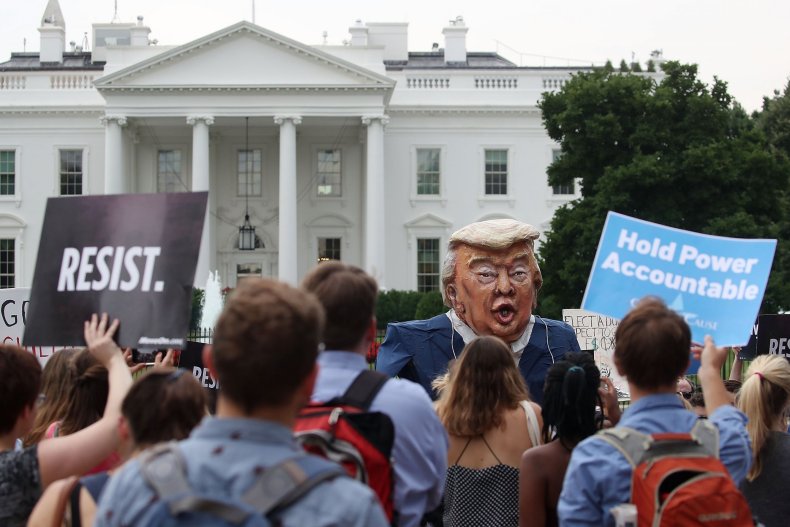 "Donald Trump just crossed a red line, violating the independence of the investigation pursuing criminal charges in the Trump-Russia scandal and cover-up. Trump putting himself above the law is a threat to our democracy, and we've got to get Congress to stop him," MoveOn stated. "We're mobilizing immediately to demand accountability, because Trump is not above the law."
Trump has called Mueller's probe a "witch hunt," and Democrats have demanded that Whitaker recuse himself from the oversight role.