When is Oktoberfest 2018? Why The German Celebration Starts In September
It's a curious misnomer of sorts—Oktoberfest, the famously boozy German celebration—actually begins in September.
The 2018 festival, for instance, is scheduled to get underway on Saturday and last through October 7.
So... why does it begin in September? Basically, it comes down to good weather.
Here's what the Oktoberfest website has to say about it:
"The historical background: the first Oktoberfest was held in the year 1810 in honor of the Bavarian Crown Prince Ludwig's marriage to Princess Therese von Sachsen-Hildburghausen. The festivities began on October 12, 1810 and ended on October 17th with a horse race. In the following years, the celebrations were repeated and, later, the festival was prolonged and moved forward into September.

By moving the festivities up, it allowed for better weather conditions. Because the September nights were warmer, the visitors were able to enjoy the gardens outside the tents and the stroll over 'die Wiesen' or the fields much longer without feeling chilly. Historically, the last Oktoberfest weekend was in October and this tradition continues into present times."
If country music has taught us anything, it's that a cold beer outside in warm weather is a pretty good thing. So it makes sense the German celebration would be moved to make that happen.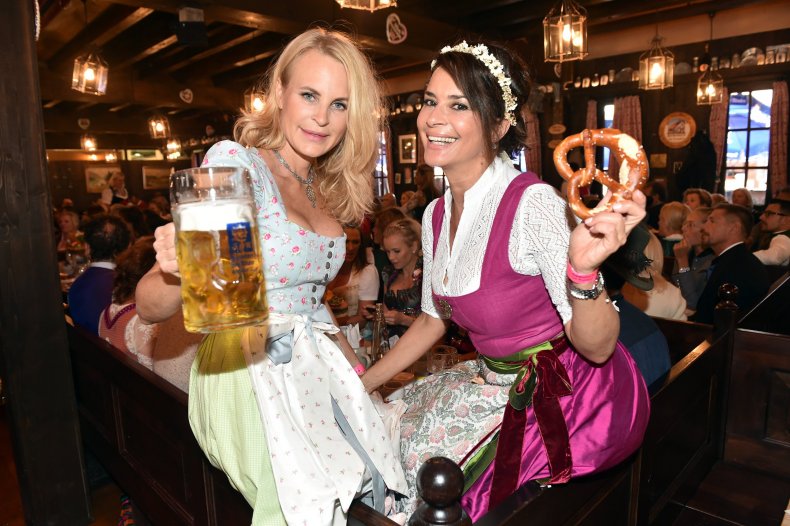 Unfortunately, it doesn't seem like the September start is going to do German revelers any favors this year. Accuweather forecasted on Thursday that the weather in Munich—currently sunny and beautiful—was due for a wet and chilly turn just as Oktoberfest is scheduled to get going. The temperature was expected to drop from about 80 degrees Fahrenheit on Friday to about 60 degrees on Saturday, with a chance of rain throughout the weekend.
Still, it's not likely the dreary weather will stop the fun. Revelers typically consumer about six to seven million liters of beer throughout the celebration—so a little rain isn't likely to get them down.