When Will Prince William Be King? He Ends Pilot Service to Take on More Royal Duties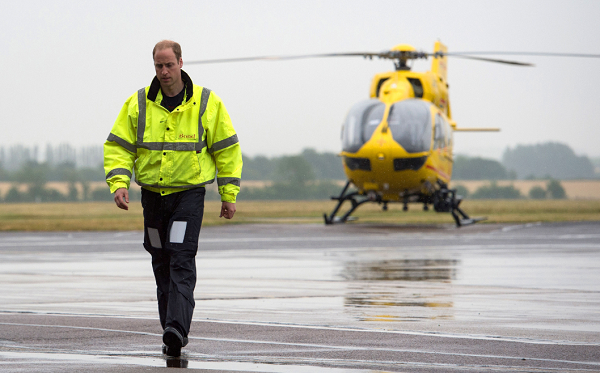 Prince William is ending his role with the East Anglian Air Ambulance. The Duke of Cambridge, who has been working with the EAAA's search-and-rescue team for the last two years, announced his departure in an open letter on Thursday, thanking his colleagues for allowing him to serve and make a difference in their country.
"Over the past two years I have met people from across the region who were in the most desperate of circumstances. As part of the team, I have been invited into people's homes to share moments of extreme emotion, from relief that we have given someone a fighting chance, to profound grief," William wrote in the statement. "I have watched as incredibly skilled doctors and paramedics have saved people's lives. These experiences have instilled in me a profound respect for the men and women who serve in our emergency services, which I hope to continue to champion even as I leave the profession. I am hugely grateful for having had this experience."
While serving as a pilot for the EAAA, William flew doctors and paramedics to patients involved in severe accidents. The helicopter the 35-year-old flew could take flight within four minutes of receiving an emergency call. And although the chopper was only used in 1 percent of ambulance calls, the team could arrive anywhere in the region within 25 minutes.
"I have watched our medical team perform surgery on a patient within minutes of jumping off the helicopter—their level of skill is astounding. As a pilot at the scene, we will sometimes try and help by coordinating the area around the medical team, carrying their kit and doing whatever it takes to ensure they can focus on their work," he wrote. "It is a joint effort, and everyone plays his or her role with great professionalism and dedication. As a team, we travel to some very daunting incidents and we have been through some incredibly tough times together, witnessing some appalling tragedies."
In the letter, William recalled some of his most uplifting and heartbreaking experiences, including one instance when a young man committed suicide, which launched William's crusade against the stigmas associated with mental illness. Since 2016, William and his wife, Kate Middleton, the Duchess of Cambridge, along with his younger brother, Prince Harry, have been advocating about the importance of mental well-being, leading to the creation of the family's Heads Together campaign.
Following his final flight with the team, William will be taking on more royal responsibilities—as requested by his grandparents, Queen Elizabeth II and Prince Phillip, Duke of Edinburgh. Phillip, who turned 96 in June, will attend his final royal engagement on August 2 before officially retiring from his public duties.