Republicans Slam Hillary Clinton in Fox Business GOP Debate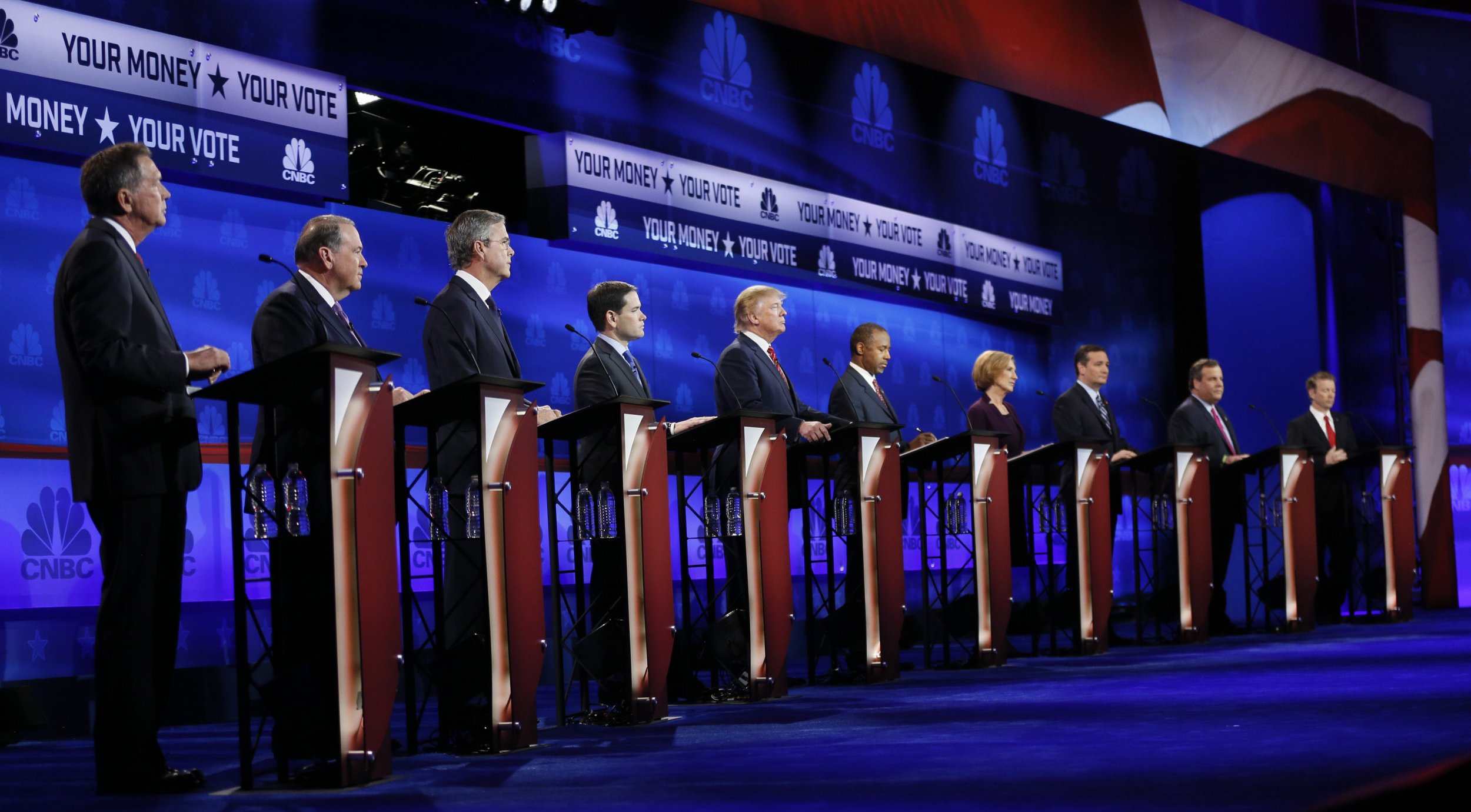 When reporters entered the Milwaukee Theater on Tuesday ahead of the fourth GOP debate of the 2016 presidential race, they were given an unusual wireless Internet password: StopHillary. It was the first of many attacks launched by members of the Repulican party against Democrats on debate day.
During the undercard debate between the four lowest polling candidates, an American Action Network advertisement targeted the Consumer Financial Protection Bureau and prominent Democratic leader Elizabeth Warren. "They call it CFPB, Washington's latest regulatory agency designed to interfere with your personal financial decisions," an ominous voice says as a Communist-era room of identically dressed employees stamps "Declined" notices on loan applications.
The CFPB does not issue loans. It is a watchdog agency for the financial lending sector and has been criticized as limiting by conservatives. Warren created and has long supported the agency.
The attacks continued on stage. New Jersey Governor Chris Christie went after Hillary Clinton repeatedly, naming her at least five times in answers to the moderators' questions. "Hillary Clinton believes she can make decisions for you better than you can make them for yourself," Christie said at one point. "Hillary is coming for your wallet, everybody. Don't worry about Huckabee or Jindal; worry about her," he added later.
When asked to name a single Democrat that the undercard candidates "admire," each of them dodged the question to talk about a separate issue: Mike Huckabee discussed the Veterans Administration, Christie talked about police officers, Rick Santorum got heated while talking about infrastructure and Bobby Jindal compared the question to the last debate on CNBC, which was heavily criticized by the Republican candidates' campaigns.
The Democratic party offered a simple reply to the series of attacks during the debate:
In the main debate, nearly every candidate took a moment to express their disdain for Clinton, particularly after a moderator referred to her track record as "impressive." In her closing statement, Carly Fiorina said she was the only candidate capable of taking on Clinton in the event the former first lady wins the nomination. "Hillary Clinton embodies the cronyism of Washington," Ted Cruz said. Donald Trump agreed: "We cannot let Hillary Clinton, who is the worst secretary of state in the history of our country, win this election," he said in his closing statement.
Clinton offered this response:
Additional reporting by Jack Martinez.