When Rockets Hit Israel From Gaza, Egypt Is Partly to Blame | Opinion
This month, Egyptian officials reportedly brokered a ceasefire between Israel and the Islamic Jihad, ending the latest round of violence between terror organizations in Gaza and Israel. Israeli and U.S. leaders were quick to praise and thank Egypt for its successful mediation efforts. That's absurd.
The Gaza Strip has always been closely connected, perhaps even integral, to Egypt. Israel conquered it from Egypt in 1967 and controlled it until 2005, after which Israel withdrew unilaterally and left Gaza to the Palestinian Authority. However, Hamas was quick to seize the strip in 2007, and has been controlling it ever since, making it one of the first territories in the world to be governed by an internationally recognized terror organization. True to its jihadi creed, Hamas waged its first large-scale campaign against Israel in 2009, followed by others in 2012, 2014 and 2021. According to rough estimates, since 2007 Hamas and the Islamic Jihad have fired at least 15,000 rockets at Israel from Gaza, killing dozens of Israelis and wounding hundreds, while simultaneously bringing ruin and destruction on the impoverished area under its control.
The Gaza Strip borders Israel, the Mediterranean Sea and Egypt. Israel controls the first two borders, but one border remains open, and is the main enabler of Gazan terror against Israel. Under the 7.5 mile Egypt-Gaza border, a sprawling array of commercial tunnels are active. It's through those tunnels that Gazan terrorists import all their weapons. Had it not been for those tunnels—and Egypt allowing traffic through them—Hamas and the Islamic Jihad would have been forced to employ far more creative ways to obtain their Iranian-funded weapons.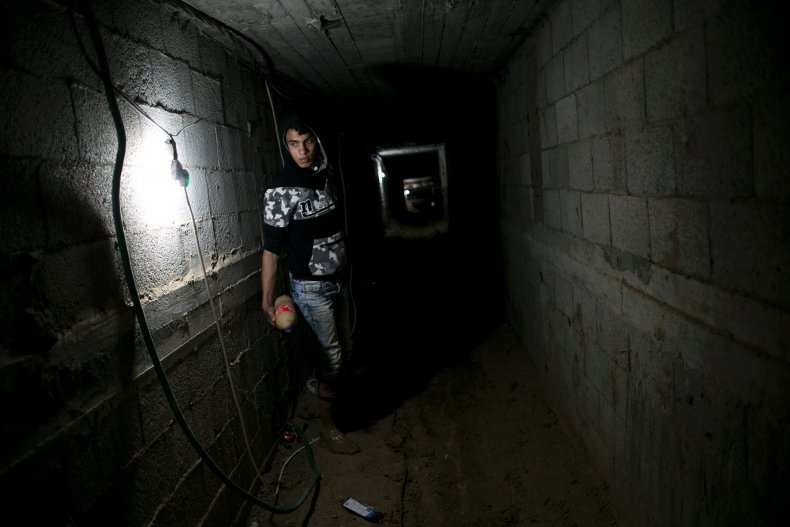 This is a strange thing for Egypt to do. The country is considered perhaps the most vocal Arab opponent of Iranian expansionism in the Middle East, and supposedly views Iranian extremism as a threat to its own security. It's odd that Egypt has allowed Iran to establish its most prominent Sunni proxy in the Arab world, Islamic Jihad, right at its doorstep.
The Sinai Peninsula, which borders Gaza, has been practically lawless for years, suffering from chronic mismanagement, lack of infrastructure, and most recently Islamic extremism. Before the local Islamic State affiliate claimed control of the peninsula in 2017, various Jihadi organizations controlled parts of the territory and wreaked havoc against Egyptian troops and civilians. It was reported by the Washington Post and others in 2018 that Israel was very active in assisting the Egyptian military in its struggle with the Jihadis, providing real-time intelligence and effective aerial attacks over Egyptian soil. At Egypt's request, Israel has all but allowed the complete gutting of the military annex of the 1979 Peace Treaty between the countries, which determined severe limitations on the presence of Egyptian military capabilities in Sinai.
In response to previous Israeli requests, Egypt has made efforts to block, flood, or collapse some of the tunnels running from Egyptian Rafah to the Gazan side over the years. The scars in the desert soil are still visible in some parts, created by giant U.S.-made trenchers, designed to dissect the tunnels and then flood them. Recently, however, Egypt has made no efforts to stop the flow of arms and no one is holding it accountable for the violence and suffering that enables on both sides of the conflict. Just last week, six Gazan civilians died when an Islamic Jihad rocket misfired, fell short, and exploded over Jabaliya. That is not to mention dozens of Israelis traumatized by the constant rocket fire from Gaza.
From a pure military perspective, I find it inconceivable that Egyptian security forces fail to stop the steady flow of weapons through Sinai to Gaza. I know, because I was the deputy commander of the Gaza Division in the IDF, and it was my mission to defend Israel from the terrorists in Gaza. There is essentially one road to and from Rafah, and if blocking tunnels is too advanced for the Egyptians, maybe they should try intercepting the shipments of weapons before they enter the tunnels in the first place.
I find it shameful that neither the Israeli not the U.S. governments demand any substantial action by Egypt to stop the bloodshed, instead fawning over its belated mediation efforts. Since 1980, Egypt has received roughly $1.2 billion every year in foreign aid from the U.S. The United States has reminded Egypt of the conditional nature of that aid several times in recent history, usually when Egyptian human rights abuses became too much to stomach.
But Egyptian inaction against the flow of weapons to Gaza warrants U.S. attention and clear demands that Egypt to take effective and immediate action.
Egypt has its hands on the levers of war between Gaza and Israel and the United States and Israel are doing nothing about it. That must change in the immediate future, for the sake of Israel and everyone else involved. If not, the next round of fighting between terrorists in Gaza and Israel is just a matter of time.
Amir Avivi is the founder and CEO of Israel's Defense and Security Forum, which is comprised of more than 5,000 high ranking reserve and retired IDF officers. He retired from the IDF in 2017 as a brigadier general.
The views expressed in this article are the writer's own.