When Is Shark Week 2022? Schedule, Highlights and How to Stream
The Discovery Channel's Shark Week 2022 is almost upon us—and here's all the key details for those who want to tune in to the event.
Shark Week, as the name suggests, is a whole week of programming on the network that is dedicated to the fascinating creatures that are sharks. The annual summer event, which originally aired in 1988, is now in its 35th edition and has become something of a cultural phenomenon.
In fact, it is now the longest-running cable TV programming event in history, regularly drawing in millions of viewers.
Shark Week 2022 schedule
This year's installment premieres on July 24 and will feature around 25 hours of original TV programming hosted by master of ceremonies Dwayne "The Rock" Johnson. In addition, there will be a podcast to listen to and a sweepstakes competition you can enter for the chance to win a shark dive trip for two and $20,000 in cash.
Below is the programming schedule for this year's Shark Week event: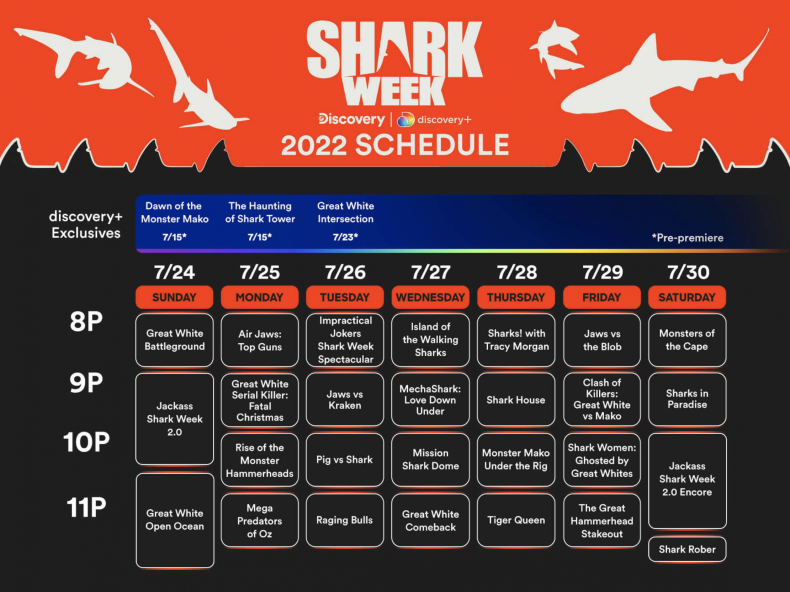 How to Watch Shark Week 2022
You can watch Shark Week on the Discovery Channel if you have it on cable or satellite. Alternatively, you can stream the event on Discovery+ with a subscription.
At this time, Discovery+ is offering the first two months for $0.99/mo, after which you will be charged $4.99/mo.
Another option is to sign up to an Unlimited plan on Verizon, which will give you six months access to Discovery+ for free. If you're already an Unlimited member, you can retroactively get access as well.
Shark Week 2022 Highlights
Among the highlights of Shark Week 2022 is the "Island of the Walking Sharks" featuring broadcaster, adventurer and conservationist Forrest Galante.
The program, which premieres on July 27 at 8 p.m. ET/PT, follows Galante as he travels to Papua New Guinea where epaulette sharks can be seen "walking" on land.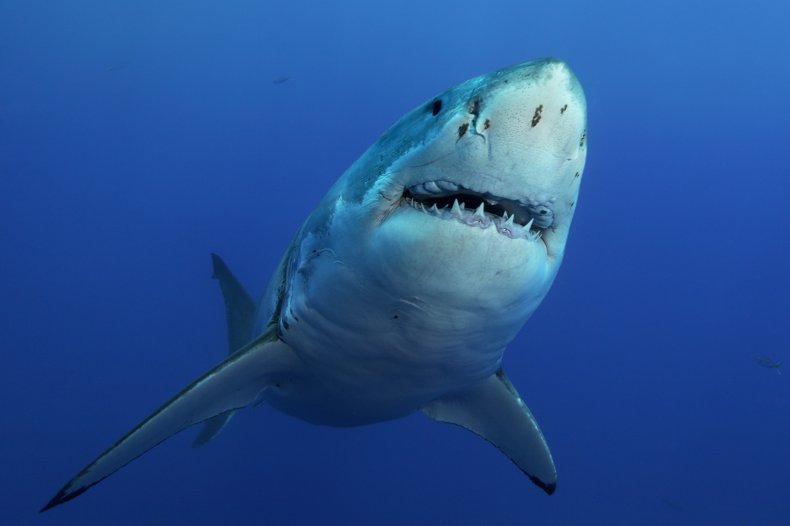 "These sharks typically choose to move by using their pectoral and pelvic fins to walk along the seafloor rather than swim like we see in most other shark species. Several species have even been documented walking out of the water in isolated tidal pools and reefs, but none in Papua New Guinea," Galante told People.
Shark Week will also feature a show hosted by the Impractical Jokers. The program, "Impractical Jokers Shark Week Spectacular", will air on Tuesday, July 26 at 8:00 p.m. ET/PT.
"This year, Shark Week is bringing the laughs and the facts! The Impractical Jokers have spent a decade attempting to out-dare and humiliate each other and now they're ready to use their antics for the greater good—shark education!" a description of the show reads.
"For the first time these comedians are taking on Shark Week embarking on a hysterical adventure that could only come from the Impractical Jokers."