What Donald Trump Said About the Central Park Five Will Be Highlighted in Netflix's 'When They See Us'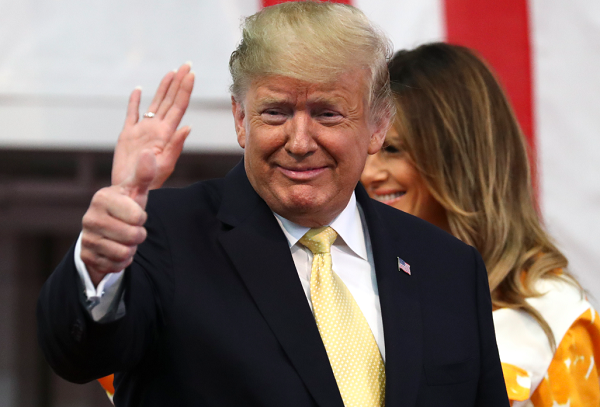 The year was 1989. President Donald Trump had only begun hinting at potentially running for president one day, but the real estate mogul was already using his bravado and fortune to extend his opinions on the many issues affecting American society. Trump wanted to crack down on the rampant crime flooding the streets of New York City and insisted New York on reinstating the death penalty.
Trump took the tale of the Central Park Five as an opportunity to help expound his point. Five young boys of color were accused of brutally assaulting and raping a white woman. The only problem was that Trump, who became president in 2016, was wrong. And so was everyone else who accused the Central Park Five.
Trump's comments and conjecture about the boys—Raymond Santana, 14; Kevin Richardson, 15; Antron McCray, 15; Yusef Salaam, 15 and 16-year-old Korey Wise—is spotlighted in Netflix's new original series, When They See Us, out Friday.
While no actor was cast to play the role of the president in the Ava Duvernay-directed film, authentic media coverage and footage of the hysteria surrounding the case is scattered throughout the four-episode project.
The teenagers—dubbed the "wolf pack" in headlines—were blasted as "monsters" for the brutal rape of Trisha Meili, a 28-year-old investment banker, who was jogging through Central Park when she attacked on April 19, 1989.
Meanwhile, Trump, who was a notable real estate broker at the time, spent $85,000 on full-page ads in four of New York's most popular newspapers—New York Times, New York Daily News, New York Post and New York Newsday—with the blaring and bold headline, "BRING BACK THE DEATH PENALTY. BRING BACK OUR POLICE."
In the ad, Trump harped on crime-riddled New York City. He claimed families were not able to enjoy a stroll or a jog in the park due to the incessant "wild criminals" roaming neighborhoods throughout the city.
"At what point did we cross the line from the fine and noble pursuit of genuine civil liberties to the reckless an dangerously permissive atmosphere which allows criminals of every age to beat and rape a helpless woman and then laugh at her family's anguish?" Trump wrote. "I want to hate these murderers and I always will. I am not looking to psychoanalyze or understand them, I am looking to punish them."
He continued: "I no longer want to understand their anger. I want them to understand our anger. I want them to be afraid."
The outrage surrounding the incident was widespread. The victim was a Yale-educated white woman who was viciously attacked, and people felt bad for her, but the spin was on the assailants. The media and Trump created a narrative about a gang of out-of-control black and Latino boys from impoverished and underserved communities being guilty.
But there were some major problems with pinning the attack on the Central Park Five. Most notably was that authorities were never able to find DNA evidence that tied the boys to the crime scene.
After prolonged interrogation by detectives, the New York Police Department obtained shoddy, coerced and false "confessions" from each of the boys. They were already guilty in the eyes of the public.
When They See Us explicitly details some of the aggressive and violent techniques officers used to strong-arm the boys into confessing to the crime, as well as the department's efforts to string their confessions together through tape editing.
During the trial—which resulted in all five of their convictions—Trump continued to use the teens' plight as a platform to advocate for the death penalty. "I don't see anything inciteful, I am strongly in favor of the death penalty," he said in an interview with Larry King Live in 1989.
"I am also in favor bringing back police forces that can do something instead of turning their back because every quality lawyer that represents people that are trouble, the first thing they do is start shouting police brutality," he continued.
Trump lamented on the extensive support the ads got from people like former White House adviser Pat Buchanan, who not only agreed with Trump but wrote Wise should be "hanged in Central Park" for his alleged role while the other boys should be "stripped, horsewhipped and sent to prison."
"I have never done anything that's caused a more positive stir. I've had 15,000—15,000—letters in the last week and a half," Trump said to King. "I don't know of more than two or three that were negative out of 15,000. The ad's basically very strong and vocal, and they are saying bring back law and order. And I'm not just referring to New York. I'm referring to everything."
Flash forward some 13 years later—after the Central Park Five had served convictions ranging from six to 12 years in juvenile and, in Wise's case, prison—the young men's innocence was finally revealed. Serial rapist and convicted murder Matias Reyes came forward with his confession of attacking Meili. DNA evidence backed up his claim.
Wise, Santana, Richardson, McCray and Salaam were exonerated of the crime in 2002. The men were later awarded a $40 million settlement in a civil rights lawsuit in 2014.
Despite Reyes' confession, Trump held his stance on the Central Park Five. He shared his opinion of their lawsuit victory in an op-ed for New York Daily News in 2014, writing, "My opinion on the settlement of the Central Park Jogger case is that it's a disgrace. A detective close to the case, who has followed it since 1989, calls it 'the heist of the century,'" he wrote.
He added: "Settling doesn't mean innocence."
Trump continued to stand by his position when was questioned about the Central Park Five during an interview with CNN at the height of his presidential campaign in 2016. "They admitted they were guilty," he said, ignoring the fact that their false confessions were coerced by police.