When to Turn Your Football Career Into an Acting Career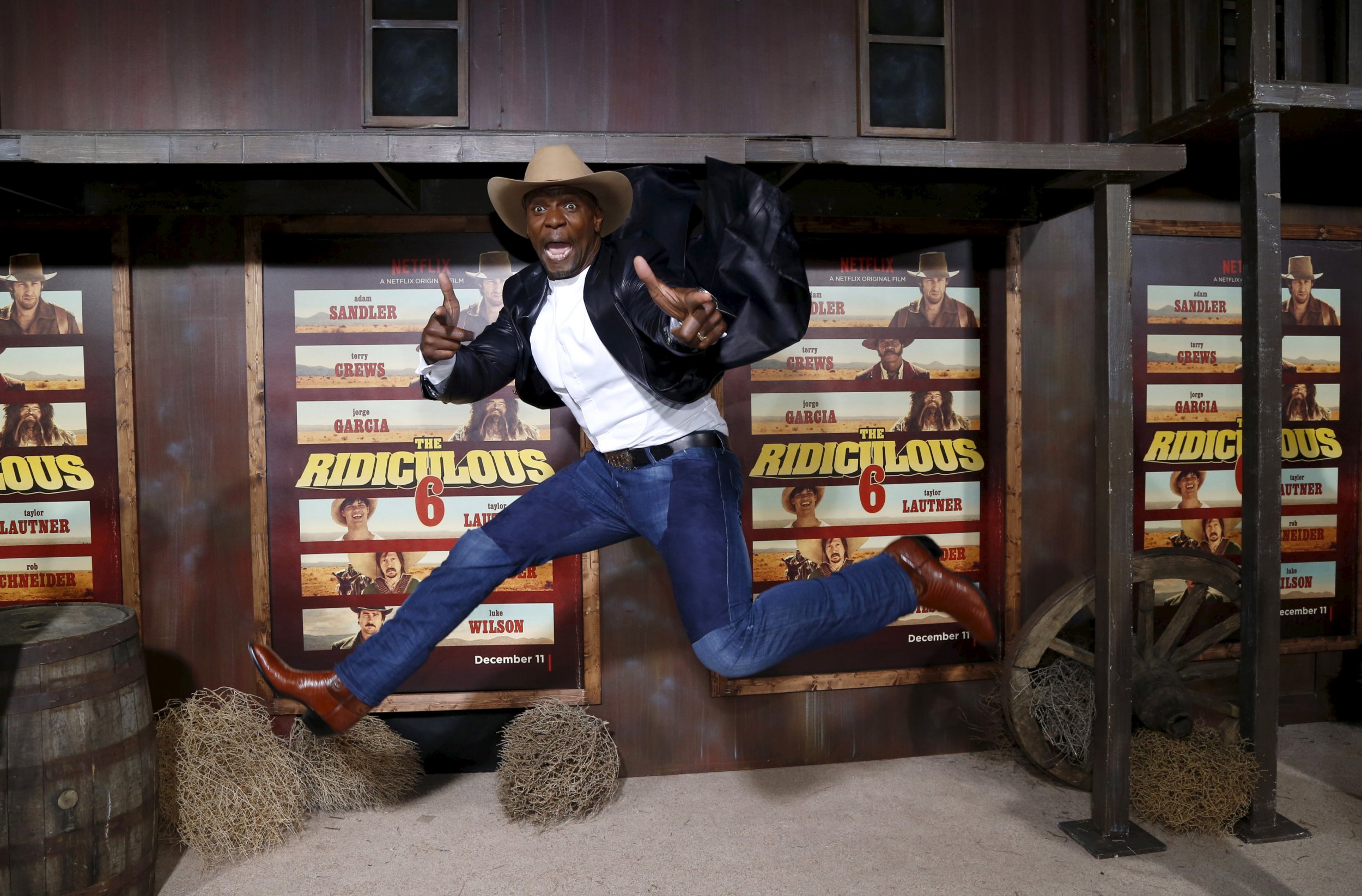 Football is a lucrative American institution, albeit one continually confronted with serious claims about its safety. With the release of the film Concussion, starring Will Smith, later this month, the NFL is navigating another national debate about the sport's dangerous nature and whether parents should even allow their children to play. It's an important topic, one that NFL Commissioner Roger Goodell and his friends should approach with transparency and consideration. As such, Goodell (played by Luke Wilson in the movie) has reason to be nervous.
This week, however, another film featuring Luke Wilson is being released that slightly tweaks the sport's nagging PR troubles. The Ridiculous Six is the latest product from Adam Sandler's production company Happy Madison, another troubling American institution. Out on Netflix, the comedy Western boosts an impressive array of glib comedy stars and actual actors, from Sandler and Rob Schneider to Nick Nolte and Harvey Keitel.
Among them is Terry Crews, current spokesman for Old Spice and a comedy staple/character actor (his President Camacho in Idiocracy is a personal favorite). He also spent much of the early and mid-'90s bouncing around the NFL as a defensive end and linebacker. While many former NFL players have transitioned into successful post-play careers—including former GOP vice presidential candidate Jack Kemp—few have rivaled Crews's knack for slapstick.
In fact, over the decades, it hasn't been uncommon for athletes to use football as a steppingstone to an acting career, often channeling their imposing statures and frequently larger than life personas into comedy or action roles. The results have been mixed. For every Burt Reynolds, former Florida State halfback, or Dwayne "the Rock" Johnson, member of the Miami Hurricanes, there is Firestorm, Howie Long's ridiculous attempt at becoming an action star. And let's not forget the abysmal Failure to Launch, featuring a naked Terry Bradshaw as Matthew McConaughey's dad.
Still, the history of the football athlete-performer is worth highlighting, particularly for its unsung contributions to the world of black cinema. Here's a look at several other notable NFL players-turned-actors and their (occasionally unorthodox) forays in Hollywood.
Exhibit A: Jim Brown
Athletic achievements: An All American at Syracuse University, Brown led NFL rushers eight times as a fullback for the Cleveland Browns. He was elected in his first year of eligibility to the Pro Football Hall of Fame, and many of his stats still hold up 50 years after his retirement. He holds the record for total seasons leading the NFL in all-purpose yards and is the only rusher in history to average over 100 yards per game for a career. Brown remains Cleveland's all-time leading rusher.
Beyond football: Making his screen debut as a Buffalo Soldier in the John Wayne-inspired western Rio Conchos, Brown opted to retire from football at the tender age of 29 after being forced by the Browns' owner to choose between the team and acting during the filming of the classic World War II film The Dirty Dozen.
He quickly became perhaps the first black action hero—he was certainly one of the most prominent movie stars of the blaxploitation era. Highlights include the prison-themed Riot, in which Brown faces off against Gene Hackman in a precursor to more high-profile B-movie fare like Con Air. For more, watch Spike Lee's excellent documentary Jim Brown: All American, which chronicles his contributions to civil rights, entertainment and sports.
Exhibit B: Carl Weathers
Athletic achievements: Weathers was a linebacker for John Madden's Oakland Raiders in the early '70s, where his most noteworthy contribution was an alleged dirty hit against the New York Jets' Roy Kirksey. As the story goes, Kirksey was an aggressive tackler who eventually drew the ire of the Raiders, resulting in Weathers's clipping during an August preseason game, effectively ending the guard's career. "I think about Weathers every day when the weather turns cold and that ankle starts hurting," Kirksey later said. "I think about how that one play messed up my career." Weathers then moved to the Canadian Football League (where, incidentally, Dwayne Johnson would later play in the mid-'90s). Playing until 1973, Weathers continued his education during the offseason, graduating with a degree in drama from San Francisco State University in 1974.
Beyond football: Weathers is best known for his role as Rocky's nemesis turned friend Apollo Creed (the same character whose son is currently the subject of the film Creed, which made over $40 million over Thanksgiving weekend). Initially modeled on the flashy Muhammad Ali, Weathers's Creed is featured in every Rocky sequel until IV, when he's famously dispatched in the ring by Ivan Drago.
His iconic work did not end there, with a role in the first Predator alongside Arnold Schwarzenegger and Jesse Ventura. He also played Chubbs Peterson, the golf mentor who loses his hand to an alligator in Happy Gilmore, before appearing as a thrifty, stew-loving version of himself on Arrested Development.
This is Action Jackson, people—that used to mean something in this world.
Exhibit C: Fred Williamson
Athletic achievements: Studying architecture at Northwestern, Williamson joined the Pittsburgh Steelers in 1960 as an unsigned free agent. Switching to defense, he quickly became known as The Hammer, thanks to his hard-hitting tackles. After making three All Star teams with the Raiders in the early '60s, Williamson appeared in the first Super Bowl while as a member of the Kansas City Chiefs in 1967.
Beyond football: Retiring after a short stint playing in the CFL, Williamson was motivated to go to Hollywood after chafing at the prospect of a 9-to-5 job and noticing that the eponymous character in pioneering black sitcom Julia never had a recurring boyfriend. Making his film debut in Robert Altman's classic film MASH, Williamson soon joined Jim Brown as a blaxploitation leading man.
During his heyday, he held a press conference announcing his decision to audition filmmakers—not the other way around—and posed for Playgirl. He eventually became a successful director and producer in his own right—his Boss trilogy was cited by New York Times film critic Vincent Canby as "a pleasant surprise," with Williamson portraying "an immensely self-assured parody of the Man With No Name played by Clint Eastwood in Sergio Leone's films." Younger moviegoers may remember him as Frost in the first From Dusk Till Dawn.
Exhibit D: Rosey Grier
Athletic achievements: As a talented defensive tackle in the '60s, Grier was a member of the infamous "Fearsome Foursome" for the LA Rams, one of the best defensive lines in football history. He was selected for two Pro Bowls and three All-Pros before retiring.
Beyond football: Grier was one of the first football players to launch a successful acting career, appearing in over 70 television shows. He also starred in The Thing With Two Heads, in which the head of dying racist Ray Milland is transplanted onto the body of a death row inmate played by Grier. Other notable film work includes Carter's Army (sometimes called Black Brigade), a TV-movie knockoff of The Dirty Dozen featuring Richard Pryor and Billy Dee Williams.
Grier's post-football accomplishments go beyond acting. An example of the "gentle giant" and the redefinition of masculinity in the '70s, Grier put out a book on needlepoint in 1973. A true renaissance man, he cofounded American Neighborhood Enterprises, which encourages vocational training and assistance for inner city youth, and was ordained a minister in 1983. His song "It's All Right to Cry" from Free to Be…You and Me was prominently featured in the Ryan Gosling film Half Nelson.
Grier was guarding Ethel Kennedy, the pregnant wife of his friend Robert F. Kennedy, when the senator was assassinated at LA's Ambassador Hotel on June 5, 1968. Grier joined George Plimpton, Olympic gold medalist Rafer Johnson and others in tackling Kennedy's killer, Sirhan Sirhan.
Exhibit E: O.J. Simpson
Athletic achievements: Before he became a tabloid fixation, the subject of an upcoming Ryan Murphy miniseries and the focus of numerous punch lines on SNL, O.J. "Juice" Simpson was one of the premier players in NFL history. He was the first NFL player to rush for more than 2,000 yards in a season and was selected for six Pro Bowls as a Buffalo Bill. He was inducted in the Pro Football Hall of Fame in 1985.
Beyond football: Simpson's post-football legacy has received intense scrutiny, most famously for his possible role in the murder of his ex-wife in 1994. However, before that he was widely celebrated for both his football heroics and his acting chops. Like Crews, he was a spokesman, appearing in commercials for the Hertz rental car company and Pioneer Chicken. Also like Crews, he appeared in high-profile comedies, serving as a straight man in the Naked Gun trilogy in addition to hosting Saturday Night Live in 1978.
He also dabbled in dramatic work, appearing in the original Roots miniseries, which set ratings records when it first aired. At the time of his arrest, Simpson had filmed a pilot for NBC that cast the athlete as the leader of a group of former U.S. Navy SEALs. One scene depicted Simpson threatening a woman at knifepoint. It was never aired.
Exhibit F: Michael Strahan
Athletic achievements: A seven-time Pro Bowler for the New York Giants, Strahan is ranked fifth all-time for sacks and also holds the single season record with 22.5. He was inducted in the Pro Football Hall of Fame in 2014.
Beyond football: Before being selected in 2012 as Regis Philbin's co-host replacement on Live! with Kelly Ripa, Strahan pursued a brief acting career. The short-lived Fox sitcom Brothers—run by Arrested Development's Mitchell Hurwitz—cast Strahan as Mike Trainer, a former pro football player who moves back in with his father (played by Carl Weathers) and brother after losing his money due to embezzlement. He also appeared in the Magic Mike sequel and did a recent guest spot on Blackish.