Breakthrough cases of COVID-19, where a vaccinated individual contracts the virus, are popping up across the country, but there are only a few times a person who's been vaccinated needs to consider getting tested to see if they have COVID-19.
It's rare for a person who's vaccinated against COVID-19 to contract the virus, and the vaccines are known to reduce the risk of someone spreading it or getting seriously ill. Given the effectiveness of the vaccines against current variants, vaccinated individuals really only need to be tested ahead of certain travel or if they have symptoms.
"If you were in a situation where it's become clear to you that someone was positive and you feel you have symptoms I would go get tested," Catherine Curley, interim director for Villanova's Center of Public Health, told Newsweek. "I don't know if it's necessary to be tested for the sake of it."
Before vaccines were available, health officials recommended people get tested for COVID-19 if they experienced symptoms, were potentially exposed to the virus and before all travel. Some states allowed travelers to present a negative COVID-19 test to bypass quarantine requirements, but many of the precautions that were in place with regards to testing were lifted for those who decided to get inoculated.
The Centers for Disease Control and Prevention recommends testing for anyone who's been vaccinated and experiencing symptoms. If a person isn't experiencing symptoms, it's unnecessary to get tested even if they've had a known exposure unless they work or live at a correctional or detention facility or a homeless shelter.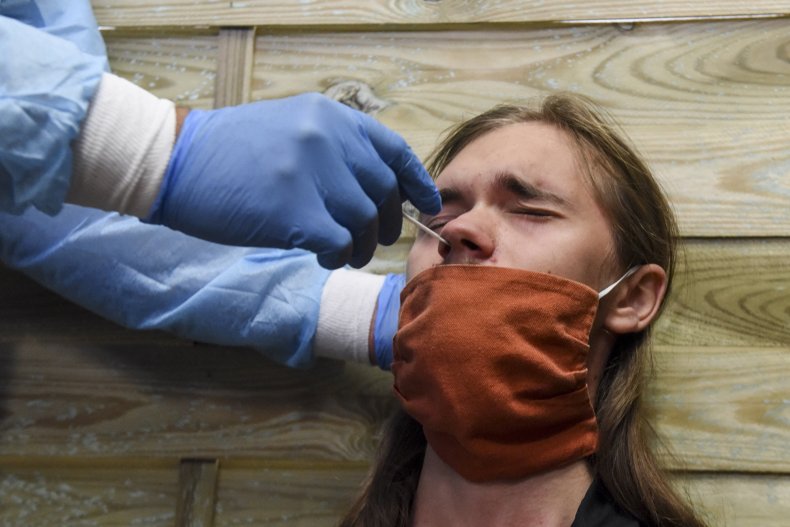 Since COVID-19 symptoms mirror many other ailments, a vaccinated individual may be unsure when to take their symptoms as run-of-the-mill viruses or a sign of a possible COVID-19 infection. Curley advised people to focus on respiratory symptoms, such as coughs and shortness of breath, and noted that allergies often come with sneezing and runny eyes, which aren't typical of COVID-19.
Testing is no longer recommended for domestic travel unless required by state or local authorities, however, it is necessary for international travel. Countries may require a negative COVID-19 test to enter the country and everyone entering the United States from abroad must have a negative test regardless of vaccination status. The CDC also recommended travelers get a COVID-19 test within three to five days after traveling.
No vaccine is 100 percent effective so breakthrough cases were expected to occur, but they're the exception, not the norm. Some of the most noteworthy breakthrough cases involved a group of Texas Democrats who tested positive after traveling to Washington, D.C., in an attempt at blocking Republicans' ability to vote on controversial legislation. Several vaccinated congressional staffers and a member of Congress also tested positive, and Dr. Brain Monahan, the attending physician for Congress, urged people to get vaccinated because of the threat the Delta variant posed.
Far from proving vaccines aren't effective, officials have noted that the breakthrough cases have shown the vaccine is doing what it's supposed to do. Unvaccinated individuals account for about 90 percent of hospitalizations and deaths nationwide, and of the 159 million people who have been vaccinated in the U.S., the CDC noted only 5,492 of them were hospitalized or died from COVID-19 as of July 12.
In the early days of the pandemic, one of the main concerns about COVID-19 was that hospitals would be overwhelmed and unnecessary deaths would skyrocket. Vaccines are helping to prevent hospitalizations from straining health care systems and Curley noted that even if a vaccinated individual tests positive, they have protection against becoming seriously ill or dying that they wouldn't have if they weren't vaccinated.