One day, 65 bands, and thousands of moshing former emos and pop-punks? The newly announced When We Were Young festival sounds too good to be true—and many people suspect that might be the case.
My Chemical Romance and Paramore are headlining the event, which is slated to take place in October at the Las Vegas Festival Ground.
A Day To Remember, The Used, Taking Back Sunday, Avril Lavigne, Dashboard Confessional, Jimmy Eat World, Alkaline Trio, The All American Rejects, and dozens more are on the lineup.
The jam-packed concert is being organized by Live Nation, the same company behind the Astroworld festival in November which left 10 people dead and hundreds injured.
This fact alone set alarm bells off among potential When We Were Young revelers, with the deadly crush that happened at Astroworld still fresh in everyone's minds.
Live Nation is currently facing multiple lawsuits and a probe into its handling of the Travis Scott fronted event, and has now assured punters that they will be in safe hands at When We Were Young.
"The safety of fans, artists and staff is thoroughly planned for among event organizers and in coordination with local authorities," a spokesperson for the festival told Newsweek.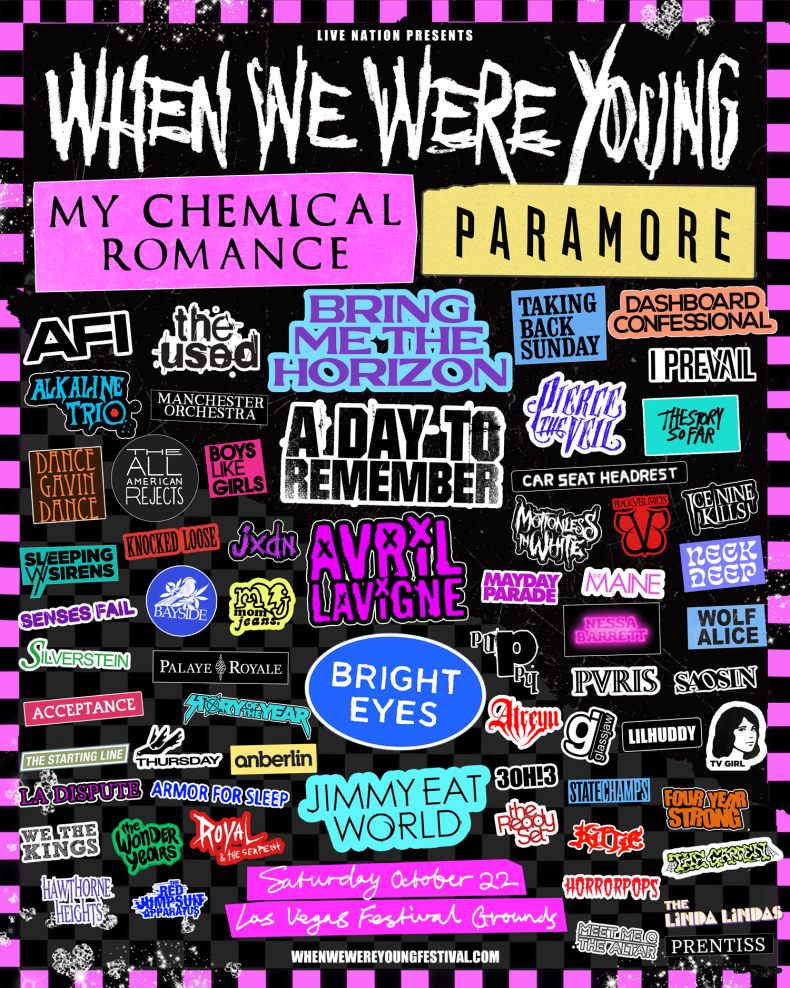 "We have seen a lot of excitement around this festival and we look forward to putting on an incredible event for all of the fans this October. We encourage fans to check the festival website and socials for all of the latest updates."
But how will it work?
Despite initial reports (such as from Rolling Stone) stating that the festival was to feature three stages, that information has now been updated to "multiple stages."
Hence, When We Were Young is due to have "multiple stages of varying sizes" installed across the one-day event with different acts, and headliners performing simultaneously at the Las Vegas Festival Ground, organizers confirmed to Newsweek.
Set times will vary with earlier bands having shorter sets and the headliners having the longest.
Organizers have said it is typical for earlier acts to play 20-30 minute sets at large-scale festivals while headliners often perform longer, playing closer to 45 to 60 minutes or more.
They have further stressed their focus on safety on their website, writing: "Your safety is our #1 priority. Please help by reporting any suspicious activity to security, police or any festival team member."
Live Nation has confirmed it is assisting local authorities in their investigations around Astroworld and that it is "heartbroken" by the tragic events that occurred.
"We are assisting local authorities in their investigation and will of course share information with the Committee as well. Safety is core to live events and Live Nation engages in detailed security planning in coordination with local stakeholders, including law enforcement, fire and EMT professionals," the company previously said in a statement to Newsweek.
"We are heartbroken by the events at Astroworld, and our deepest sympathies go out to the families and friends of the victims."