When Will Beaches Open? New Jersey, New York and Other States to Open for Memorial Day
Beaches in New York, New Jersey, Connecticut and Delaware will reopen for Memorial Day weekend, however, this will come with its own set of restrictions.
New York Governor Andrew Cuomo made the announcement during his Friday briefing, saying that a coordinated response was required to prevent people from overcrowding one area. The four states agreed to allow beaches to reopen beginning on May 22—the Friday before Memorial Day—at 50 percent capacity to be enforced at entry and exit points.
Along with allowing fewer people to spend time at the shore, group contact activities, such as volleyball and football, are prohibited and concession and communal areas, such as playgrounds and picnic areas, must be closed. All employees and visitors are required to wear masks when social distancing is not possible.
The measures apply to state and local beaches and lakeshores, only, and states may have additional rules, according to Cuomo.
Beach visitors are vital to shore communities in New Jersey and business owners were left in limbo as to whether they'd get the green light for the summer season. Acknowledging that the shore is "central to our Jersey identity," Governor Phil Murphy announced on Tuesday public and private beaches would reopen for the summer kickoff holiday weekend.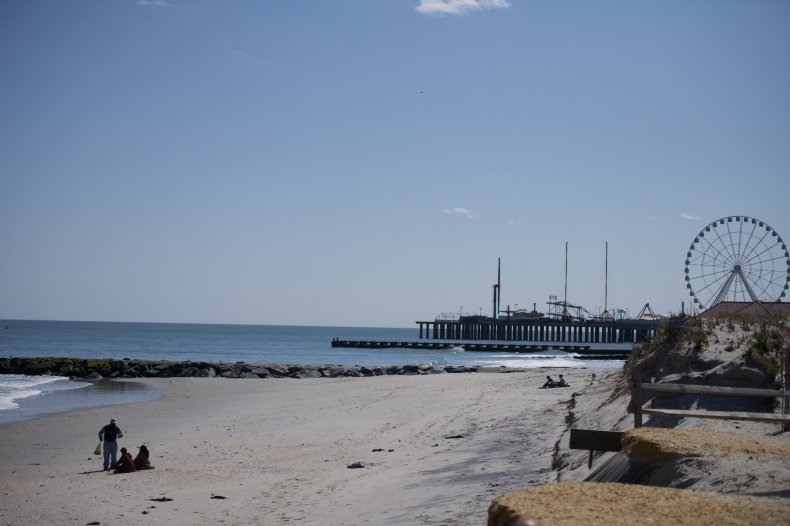 Public and private beaches that open must adhere to social distancing policies that include closing certain areas, placing six-feet demarcations in certain areas and not holding special events. He signed the official executive order on Thursday, which will go into effect on May 22, still limits beachside bars and restaurants to takeout and delivery service only.
Cuomo told reporters on Friday that his decision to reopen came out of a desire to work in conjunction with the other states. With other governors making decisions to reopen, Cuomo said if New York stayed closed, there would be an influx of people going to the Jersey Shore and other coastal communities.
"That would then put New Yorkers in jeopardy there because the problem with the beach is if it's overcrowded," Cuomo said. "If other states were opening and New York wasn't, you'd have millions of people flooding those beaches.… So I think this plan makes the most sense."
For beaches that are under the jurisdiction of a local government, Cuomo said the decision to reopen will be left to those officials. If they choose to open, they must follow the state's requirements and the public must be notified by May 20.
Knowing if local beaches will be reopening is important, Cuomo said, because staying closed could put increased demand on state beaches. He urged a "smart" reopening and encouraged officials to learn from the "lessons that are around us."
The four East Coast states have a combined 528,442 cases of the new coronavirus, accounting for about 40 percent of the total cases in America. Connecticut, New Jersey and New York have all seen positive trends in the data and on Friday, Cuomo announced hospitalizations and deaths were both down. New cases in New York increased from the day before, but it was only a slight uptick.
To keep the outbreak under control as states reopen, officials emphasized the need for additional testing and contact tracing capabilities. By identifying cases early, isolating those who test positive and monitoring people who may have been exposed, experts say areas can limit the possibility of a resurgence of the virus.
As states increase contact tracing and testing capabilities, Cuomo told businesses and individuals to continue playing their part in preventing a spike in cases by practicing social distancing.
"The amount of personal responsibility here to keep oneself safe, to keep one's family safe I cannot stress highly enough," Cuomo said. "Do not underestimate this virus, and do not play with this virus."