Bullet Train is hitting theaters on Friday, August 5, and it promises to be an action-packed caper with Brad Pitt at the helm.
The Fight Club actor stars as an assassin named Ladybug, who is faced with other ruthless killers on board a Japanese shinkansen, or Bullet Train as its known in English, while trying to complete a job.
Here is everything you need to know about when the film will be released on streaming services.
When to Expect 'Bullet Train' to Be Released on Streaming Services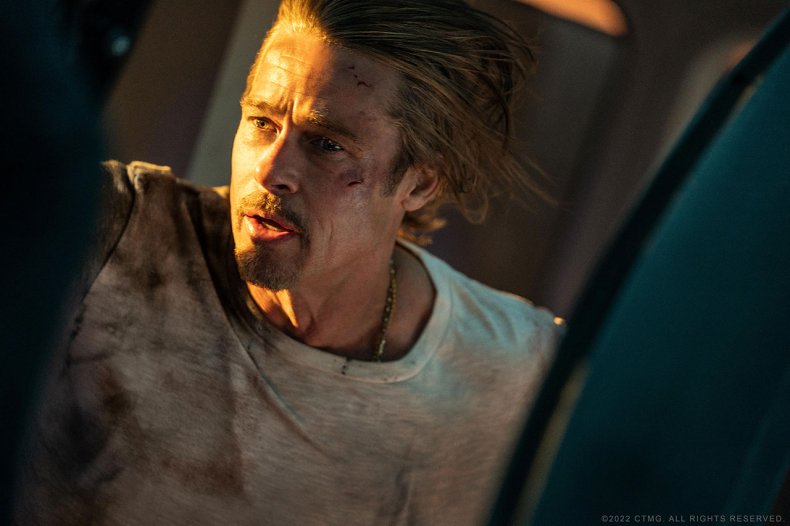 Bullet Train is being given an exclusive theatrical release, which means that it won't be available to stream for quite some time.
Films that come out only in theaters tend to remain there for a minimum of a 45-day run, though depending on how well a film does at the box office this can also be increased to a 90-day theatrical release.
As a result, Bullet Train is unlikely to be available to rent on VOD until at least mid-September at the earliest, but if the film does well at the box office then this can be extended to an even longer period.
The Brad Pitt film, which also stars Aaron Taylor-Johnson, Brian Tyree Henry and Joey King, is being released by Sony Pictures which means it will become available to stream on multiple platforms.
First off, Bullet Train is likely to become available to stream on Netflix before it is expected to come to Disney streaming services' Disney+ and Hulu.
The reason why Bullet Train will become available on multiple platforms is because Sony made a deal with Netflix in April 2021 to give the platform the exclusive rights to stream Sony Pictures' films in the U.S. about 9 months after a film's release.
Per a report from Variety, the deal between Sony and Netflix will last for five years so Bullet Train will most certainly be included in the streaming platform's roster and it is expected to come out on Netflix either in late 2022 or in early 2023.
At the time, Netflix global film head Scott Stuber said in a statement: "Sony Pictures is a great partner and we are thrilled to expand our relationship through this forward-thinking agreement.
"This not only allows us to bring their impressive slate of beloved film franchises and new IP to Netflix in the U.S., but it also establishes a new source of first run films for Netflix movie lovers worldwide."
Sony Pictures also made a deal with Disney in April 2021 which gave the company the streaming rights for Sony films in the pay 2 window, meaning it will get Sony films about 18 months after their theatrical release. As a result, Bullet Train will likely arrive on Hulu or Disney+ in February 2024 at the very earliest.
An exact streaming release date for Bullet Train has not yet been confirmed by Sony Pictures.
Bullet Train is out in theaters now.