When Will California Stimulus Checks Arrive? $600 Payments Coming Soon
Most Californians have been eagerly awaiting new $600 stimulus payments promised by Governor Gavin Newsom, a Democrat, back in May, now those checks are about to be sent out.
Newsom's office issued a press release on Thursday touting the importance of the new stimulus checks, saying that Californians would begin receiving the payments as soon as Friday. Under the program, California taxpayers earning $75,000 per year or less will receive a $600 payment. Those with dependents will receive an extra $500.
"The Golden State Stimulus is key to lifting up those hit hardest by the pandemic and supporting California's economic recovery, putting money directly in the hands of folks who will spend it on basic needs and within their local communities," Newsom said.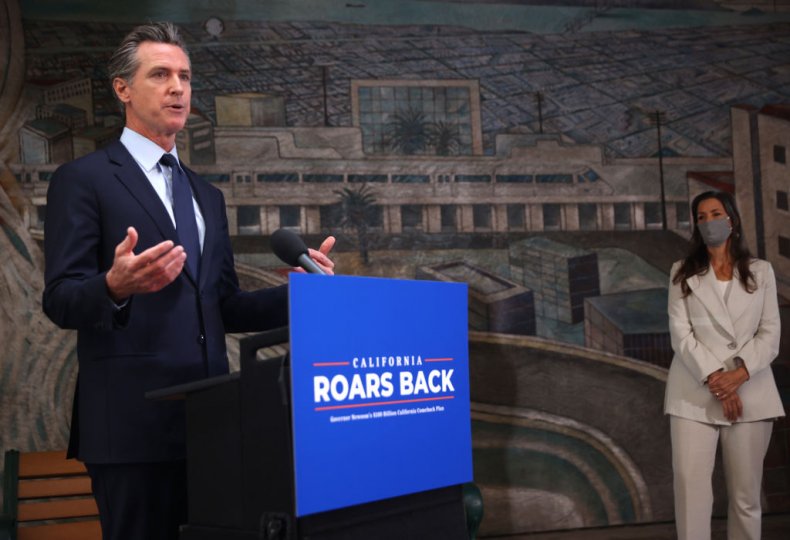 Although some Californians will start receiving the checks on Friday, the state's Franchise Tax Board said it anticipates most residents will receive the payments between the beginning of September and October 15, KTLA 5 reported.
A Newsom spokesperson supplied Newsweek with a link to a video of the governor touting the stimulus payments, saying the stimulus is "on its way." Newsom asserted that "no other state in U.S. history" had previously provided this level of tax rebates to its residents.
The stimulus checks are funded by an approximately $75 billion budget surplus California saw in 2020. In total, about $12 billion of that surplus has been set aside to fund the California stimulus program, giving some of the money back to local taxpayers. The governor's office estimates that two out of every three (or 66 percent) of Californians will be eligible for the payments.
Back in May, Newsom announced that the payments would be sent out later in the year. "$600 checks are coming to 2/3 of Californians. And if you have a kid, you can benefit from an additional $500," the governor tweeted at the time.
Undocumented immigrant families will also receive money. They are eligible to receive $500 if their earnings are $75,000 per year or less. Migrant families with dependents will also receive an additional $500.
"We're providing direct relief to struggling families and money into the pockets of small business owners across the state. Your incredible resilience and perseverance have brought our state to this moment, and California is committed to making you the foundation of our recovery," Newsom said in a statement to Newsweek back in July.
Previously in the spring, California sent out the first round of direct stimulus checks to lower-income residents. That program provided $600 to Californians making $30,000 or less per year.
Most Californians should have also received three rounds of stimulus payments from the federal government since the outset of the COVID-19 pandemic. In March 2020, Congress passed bipartisan legislation that, among many other things, supplied one-time $1,200 payments to most Americans. In December 2020, Congress approved further bipartisan aid related to the COVID-19 pandemic that gave most Americans checks of up to $600. After President Joe Biden took office, Democrats and Congress pushed through another large COVID-19 package that included stimulus checks of $1,400.
More than 2.84 million people have signed an online petition on Change.org demanding that the federal government provide $2,000 per month for every American until the end of the COVID-19 pandemic. However, it appears unlikely that any more stimulus checks will be sent out by the federal government in the near future.
Update 8/27/2021 - 1:00 p.m. - This article has been updated with further comment from Newsom and a tweet from the governor's office.