When Will Carson Wentz Be Back? Eagles QB Nears Return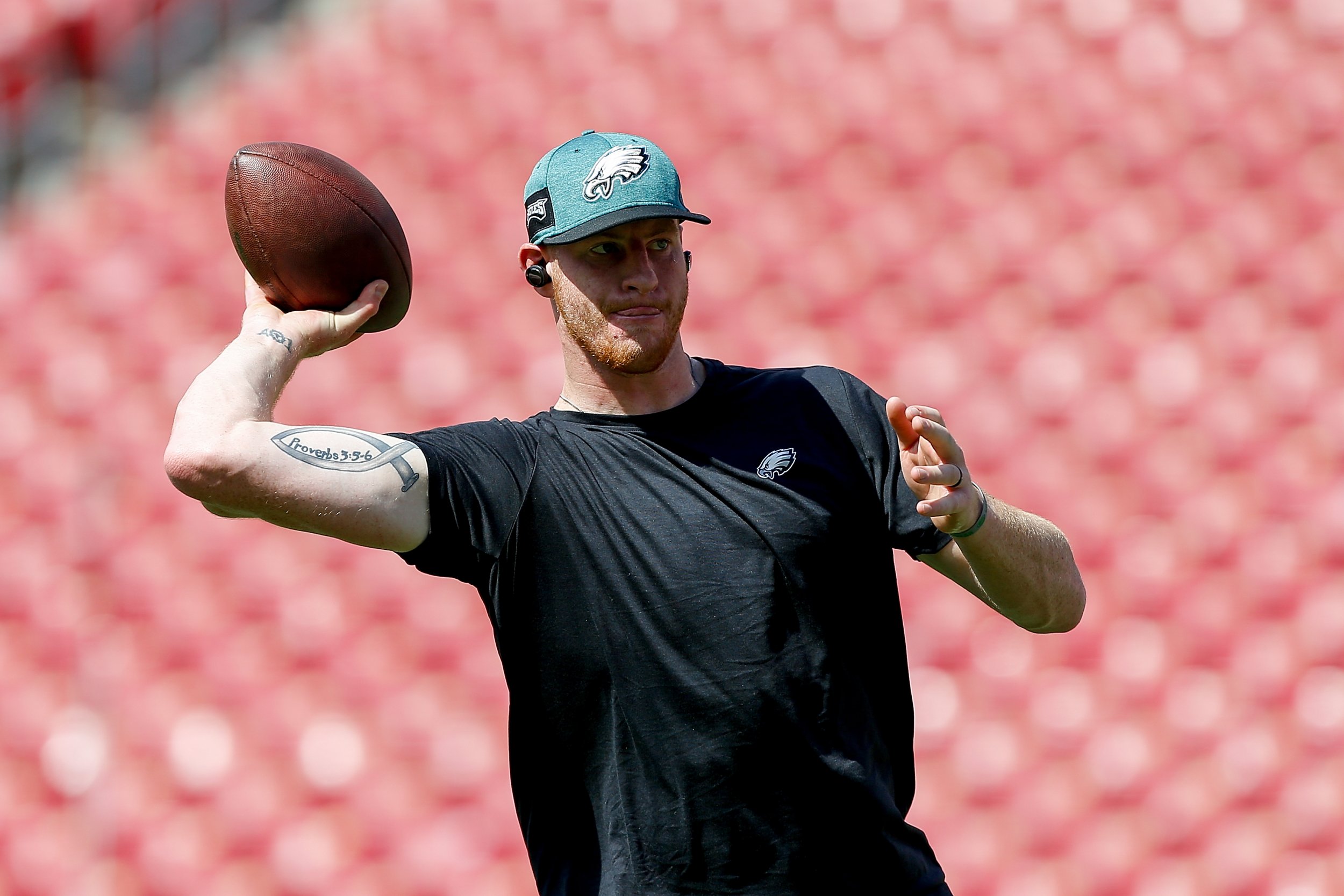 The Philadelphia Eagles have been handed a massive boost ahead of Week 3, with reports suggesting Carson Wentz could be involved next weekend.
According to league sources quoted by ESPN, the Eagles quarterback could finally make his long-awaited comeback on Sunday afternoon, when the defending Super Bowl champions host the Indianapolis Colts.
Wentz has been out of action since he tore his left ACL in Week 14 last season during a 43-35 win against the Los Angeles Rams. While he has since returned to training, the Eagles have been wary of rushing him back and the 25-year-old is yet to be officially cleared for contact by the team's medical staff.
On Sunday evening, Eagles coach Doug Pederson gave nothing away about Wentz's circumstances, suggesting he would "talk more about it" on Monday. Last week, Pederson revealed the player-tracking data the Eagles use in training showed Wentz was making rapid progress in his recovery.
"That's what we've seen really since he came back into 11-on-11 as training camp progressed," Pederson said when asked to confirm Wentz's GPS data.
Eagles tight end Zach Ertz, meanwhile, cautioned against getting carried away with Wentz's return, irrespective of when that might be.
"We can't expect him to be Superman, either," Ertz told reporters. "This is going to be his first NFL game in nine months […] We've got a lot of talent on the offense where he shouldn't have to feel like he's got to come in and solve all our problems."
Prior to his injury, Wentz had completed 265 of his 440 attempted passes last season, throwing for 3,296 yards at an average of 7.5 yards per pass. Crucially, despite only playing 13 games, he had thrown for 33 touchdowns, more than twice the number of passing touchdowns he completed in the previous season, when he played all 16 regular season games.
In Wentz's absence, Nick Foles has stepped up expertly in the role, leading the Eagles to the Super Bowl and being named the game's MVP as Philadelphia defeated the New England Patriots 41-33 in February.
Foles is 6-2—including regular season and postseason—since replacing Wentz, and went 35-for-48 for 334 yards and a touchdown pass on Sunday. That, however, was not enough to prevent the Eagles from losing 27-21 in Tampa Bay against the Buccaneers.
Philadelphia is now 1-1 for the season and faces a trip to Tennessee after their home game against the Colts next weekend, followed by a home game against the Vikings in Week 5 and by an NFC East matchup on the road against the New York Giants the following week.