When Will Kids Get COVID Vaccines?
So far, more than 93 million COVID-19 vaccine doses have been administered in the United States, figures from the Centers for Disease Control and Prevention show.
But the currently available vaccines in the United States are only authorized for use in adults with the exception of the Pfizer-BioNTech shot, which can be administered to individuals aged 16 and older.
So when will vaccines authorized for use in younger teens and children be available?
Before this can happen, clinical trials testing the vaccines on thousands of young individuals need to be completed in order to ensure that the shots are safe and effective. Vaccines do not necessarily have the same effect in children as they do in adults, so scientists cannot assume that they will work in the same way.
Earlier this month, Anthony Fauci, the U.S. government's top infectious disease expert, told Congress he expected vaccinations to begin in high school students by the fall of 2021, although elementary students may have to wait until the first quarter of 2022.
Both Moderna and Pfizer began testing their vaccines in young people as young as 12 earlier this year, with the companies expecting to have data from the trials by late spring or early summer.
If the vaccines are shown to be safe and effective, experts are hopeful that young people aged 12 and older could be eligible for vaccination before the start of the school year this fall, as Fauci predicted.
The graphic below, provided by Statista, shows the countries with the highest rate of COVID-19 vaccination.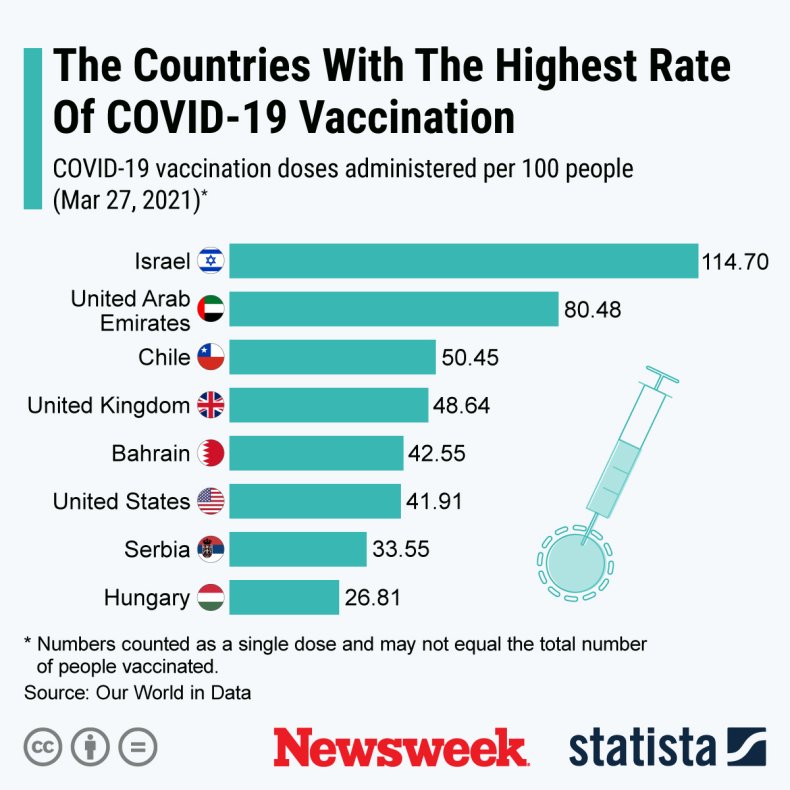 In fact, Buddy Creech, director of Vanderbilt University's Vaccine Research Program and an investigator in Moderna's pediatric trials, told CNN that he thinks shots could be available for high-risk children aged 12 and older by as early as July or August.
Creech, however, expects that vaccines won't be available for children under 12 until November or December at the earliest.
James Wood, an assistant professor of clinical pediatrics at Indiana University School of Medicine, wrote in The Conversation that "realistically," younger children likely won't be eligible for the vaccine until late fall or winter at the earliest.
Moderna announced on March 16 that they had begun testing their vaccine on children aged six months to 11 years. Pfizer-BioNTech, meanwhile, announced that a similar trial of its vaccine had commenced last week, with the U.S. pharmaceutical company hoping that the shot could be available to children under 12 by early 2022, Reuters reported.
Johnson & Johnson also plans to test its vaccine in children, with the company's CEO Alex Gorsky predicting that it would have a shot available for people aged under 18 by September. And in February, the University of Oxford announced that it would begin testing the vaccine it developed in collaboration with AstraZeneca in young people aged six to 17.
Newsweek, in partnership with NewsGuard, is dedicated to providing accurate and verifiable vaccine and health information. With NewsGuard's HealthGuard browser extension, users can verify if a website is a trustworthy source of health information. Visit the Newsweek VaxFacts website to learn more and to download the HealthGuard browser extension.