When Will Disney World Reopen? Resort Unlikely to Open Soon Despite Florida Lifting Lockdown Restrictions
Walt Disney World is unlikely to reopen before July, according to industry insiders. Despite Florida lifting its lockdown restrictions, the Orlando resort is not expected to reopen anytime soon.
Disney World first announced that it would be closing in mid-March, but has since extended its closure indefinitely. When the extension was announced in late March, a Disney spokesperson said: "As a result of this unprecedented pandemic and in line with direction provided by health experts and government officials, Disneyland Resort and Walt Disney World Resort will remain closed until further notice."
Florida will reopen its non-essential business today, including stores and restaurants, after Gov. Ron DeSantis unveiled a step-by-step plan to reopen the state last week.
Phase 2 of Florida's reopening plan states: "Theme parks may consider re-opening with capacity limits, strict social distancing and proper measures to clean and disinfect." However, with phase 1 beginning today, it is unclear when phase 2 could be put into effect.
The state of Florida's task force also issued guidelines that theme parks are advised to follow once they reopen, including initially reopening at 50 percent capacity before increasing to 75 percent capacity. Guests would also have to remain six feet apart when lining up for rides.
Employees would have to wear face masks and have their temperatures taken, and anyone with a high temperature would be sent home. There would have to be touch-free sanitizing stations at rides and ticketing areas and staff would regularly wipe down surfaces.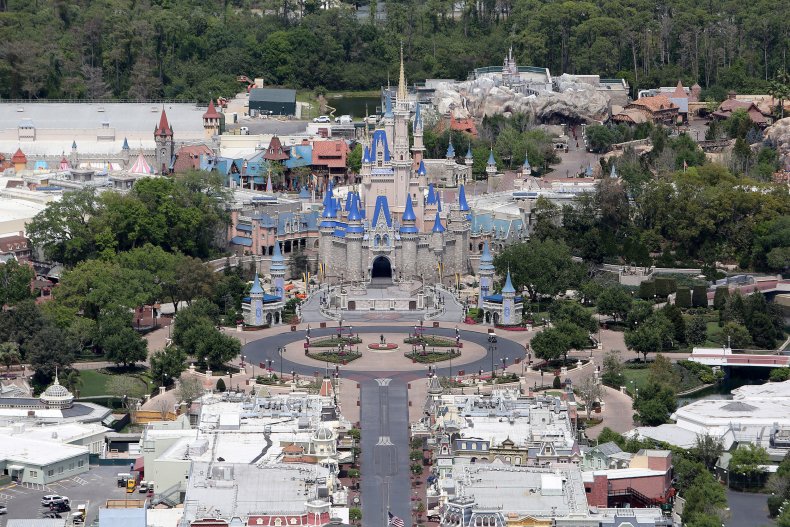 However, according to The Telegraph, The Walt Disney Company's senior vice-president Thomas Mazloum said: "The document produced is simply a starting point for conversation and does not constitute any recommendation by the Task Force. These are not guidelines for the re-opening of Walt Disney World."
Orange County Economic Recovery Task Force co-chairman Chuck Whittall added: "The theme parks shall develop their own specific guidelines using Centers for Disease Control (CDC) recommendations and best practices to protect the life, health and safety of employees and guests. They will be permitted to open at their own discretion with an internally determined level of safe capacities through phases."
Disney parks around the world are closed, including Disneyland Paris and Tokyo Disneyland. While the Shanghai Disneyland park remains closed, since closing on January 25, it reopened parts of its resort, including hotels and shops, on March 9.
However, one Disney fan didn't let the park closure stop him from enjoying a trip to the happiest place on Earth. Last week, an Alabama resident was allegedly arrested for camping at Disney World's abandoned Discovery Island.
Other fans have taken to Twitter to imagine coronavirus-themed takes on Disney World rides, like "Splash of Hand Sanitizer Mountain" and "Personal Space Mountain."