When Will Georgia and Nevada Be Done Counting Votes, Report Results?
"Election Night" in the U.S. has stretched into its third full day as the last remaining states continue counting mail-in ballots. Among them include Georgia and Nevada—two crucial swing states whose results will determine the presidency.
The Associated Press has not yet called either state. Elections officials in both Georgia and Nevada claimed they would be ready to report an updated vote total by noon Eastern on Thursday, but that deadline has come and gone.
Georgia Secretary of State Brad Raffensperger said that as of 12:45 p.m. ET Thursday, approximately 50,401 ballots are still outstanding in Georgia, WSB-TV reported. In Nevada, approximately 398,000 ballots remained, according to NPR.
President Donald Trump currently leads Democratic candidate Joe Biden by about 14,000 votes in Georgia, according to the AP. More than half the remaining ballots were in counties that traditionally lean Democratic, including the suburbs of Atlanta and the city of Savannah, The New York Times reported.
"Officials in numerous counties are continuing to count ballots, with strong security protocols in place to protect the integrity of our election," Raffensperger said Thursday morning. "It's important to act quickly, but it's more important to get it right."
Raffensperger initially said to expect results from Georgia no later than noon, according to WSB-TV. But other state officials said Thursday morning that they are still processing outstanding ballots, which would continue throughout the day and into the evening if necessary.
Just before 1 p.m., elections officials in Fulton County, home to Atlanta, said they were officially done counting over 145,000 absentee ballots. Those votes will be finalized and added to statewide totals throughout the afternoon.
In Nevada, Biden's lead over Trump widened around 12 p.m. ET by about 12,000 after newly-tabulated votes were reported in Clark County, which includes Las Vegas. But the state has an estimated 12 percent of votes remaining until its winner can be determined.
Nearly every county in the surprise swing state has outstanding ballots left to count, suggesting that Nevada could still go either way. While the majority of the state's counties are solidly Republican, two Democratic strongholds contain Reno and Las Vegas, the state's largest cities.
Nevada officials indicated they would update results Thursday at noon Eastern, according to the Times.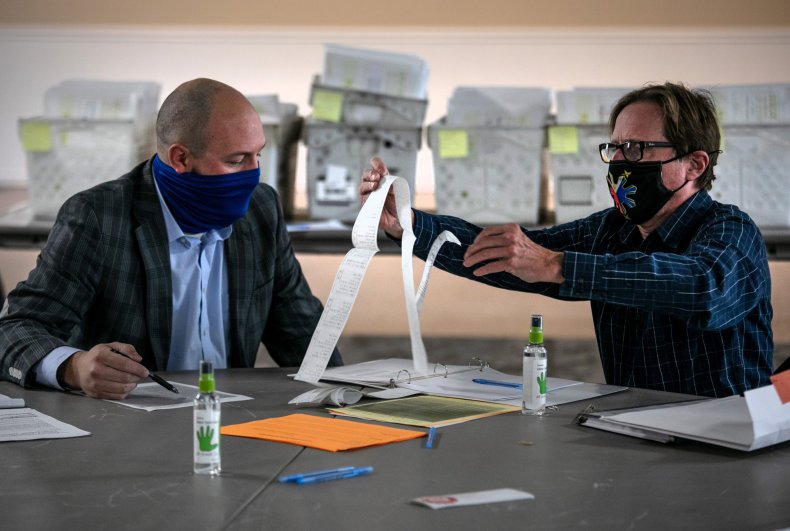 Biden currently leads Trump in both the popular and electoral votes, as he has 264 electoral votes compared to Trump's 214. Nevada has just six electoral votes while Georgia has 16. But Biden has a higher chance at securing Nevada than he does Georgia, and his victory there would put him right at the 270 electoral votes needed to win the presidency.
In addition to Nevada and Georgia, the AP has not yet called Alaska, North Carolina or Pennsylvania. Alaska will almost certainly go for Trump, as he is leading Biden by almost double the votes there. But only 50 percent of the state's ballots have been counted so far, leaving the final outcome unknown.
Similarly, Trump is leading Biden in North Carolina by nearly 77,000 votes, according to the latest tally. There are still a significant number of mail-in ballots remaining which could take several days to work through.
Trump also currently leads Biden by more than 115,000 votes in Pennsylvania, according to the AP. But about 12 percent of the state has outstanding ballots to report as elections officials continue working through mail-in ballots.