'No Cave!' Trump, Nancy Pelosi Backing Into Corners With No End in Sight to Government Shutdown
Congress is expected to pass spending bills in the coming days that would reopen the federal government, but the partial shutdown is not expected to end soon, as the House and Senate will vote on differing proposals.
House Speaker Nancy Pelosi and President Donald Trump continued to back into their respective corners Tuesday morning, vowing not to give in to each other as the House and Senate prepared to take diverging paths this week on spending legislation. The House will again vote on bills that include money for border security and natural disaster relief, but not Trump's wall, while Senate Majority Leader Mitch McConnell has promised to bring Trump's most recent proposal to the Senate floor. Due to chamber rules, McConnell told reporters Tuesday afternoon the proposal would likely be brought up on Thursday.
"This week, [House Democrats] will vote on more bipartisan bills to re-open government, and act to bolster funding for border security solutions that work," Pelosi wrote on Twitter Tuesday morning. "[Trump] and [McConnell] need to stop holding Americans hostage, stop blocking these bills, and #EndTheShutdown now."
In his proposal announced Saturday, Trump offered some concessions. In exchange for the inclusion of his requested $5.7 billion in border wall funding, the president offered temporary protections for Deferred Action for Childhood Arrivals (DACA) recipients and those with temporary protected status (TPS). Democrats have denounced the proposal as "hostage taking." If McConnell and Senate Republicans pass the bill, it is expected to be dead on arrival in the Democrat-controlled House.
The president praised McConnell and Republicans Tuesday morning for being "so united on an issue as they are on the Humanitarian Crisis & Security on our Southern Border."
"Without a Wall our Country can never have Border or National Security," Trump tweeted earlier Tuesday morning. "With a powerful Wall or Steel Barrier, Crime Rates (and Drugs) will go substantially down all over the U.S. The Dems know this but want to play political games. Must finally be done correctly. No Cave!"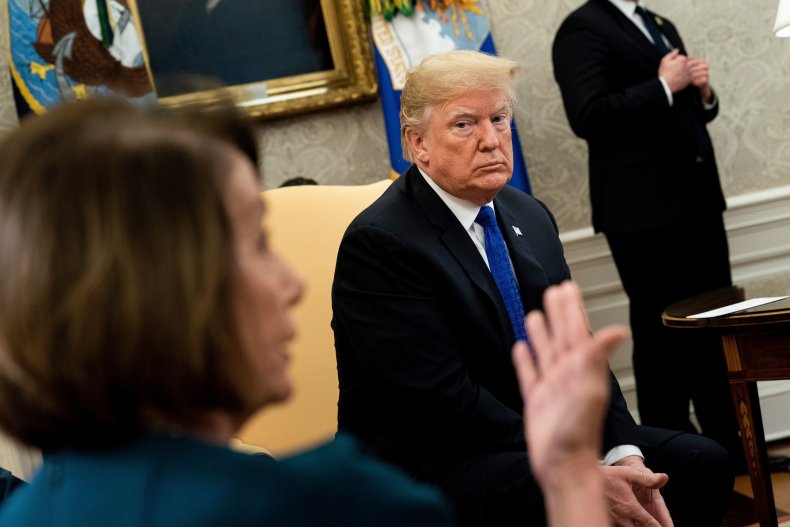 The president's proposal to Democrats over the weekend included three years of protections for recipients of the Obama-era DACA program and immigrants with TPS. Officially filed Monday evening, it would also provide $5.7 billion for the wall, $12.7 billion for hurricane and wildfire disaster relief and additional funding for immigration judges and other border security measures.
Previously, the Trump administration has tried to rescind DACA, a program that protects roughly 800,000 migrants who were brought to the country illegally as youths. But the move has been blocked by the courts, and on Tuesday the U.S. Supreme Court declined to take up the case during this session, essentially keeping the program in place unless Congress otherwise acts. The president has also tried to scale back TPS, which protects hundreds of thousands fleeing conflict or natural disasters in other countries.
The Supreme Court's decision will make it more likely that the president's proposal will not succeed in the Senate, improbable that it could pass the 60-vote threshold to advance for a final vote.
Democrats came out against the deal prior to Trump's official announcement, saying they would not accept temporary protections and highlighted that they've advocated for solutions that offer a pathway to citizenship. Pelosi called the proposal a "non-starter," while senior Democratic aides with direct knowledge of negotiations told Newsweek it was "inadequate," and that Democrats were not consulted about it.
Update 1:30 p.m. ET: McConnell told reporters in the Capitol that Trump's proposal would be voted on in the Senate on Thursday.