When Will India Overtake China in Population?
The two most populous countries in the world are set to trade places this decade as India continues to record a population growth nearly double that of China, which saw its slowest-ever growth since 1960.
India's average growth rate of 0.99 percent in 2020 was the first time in over three generations that the figure dipped below 1 percent, following explosive population growth next to the People's Republic of China since the 1950s.
China reached 1 billion people in 1980, 17 years ahead of India. On Tuesday, the country's National Bureau of Statistics revealed its latest census count of 1.41 billion, but China's southern neighbor is close behind.
India, at 1.38 billion people, is forecast to overtake China as early as 2026, when both countries reach the 1.46 billion mark, according to a study by the World Economic Forum.
While India is predicted to experience further growth and reach 1.6 billion around 2060, China's population is expected to fall shortly after being overtaken within the next decade—with concerning consequences.
The country's once-a-decade census showed an average growth rate of just 0.53 percent, down from 2010's 0.57 percent, which was itself halved from 10 years before that.
China is facing a shrinking workforce as well as fewer births. The composition of those aged 15 to 59 has shrunk nearly 7 percent to 63.35 percent since the last census, while only 12 million babies were born last year compared to 18 million in 2016—the year China scrapped its "one-child" policy.
Meanwhile, 13.5 percent of its population is now 65 or above, an increase of 190 million people from 8.9 percent.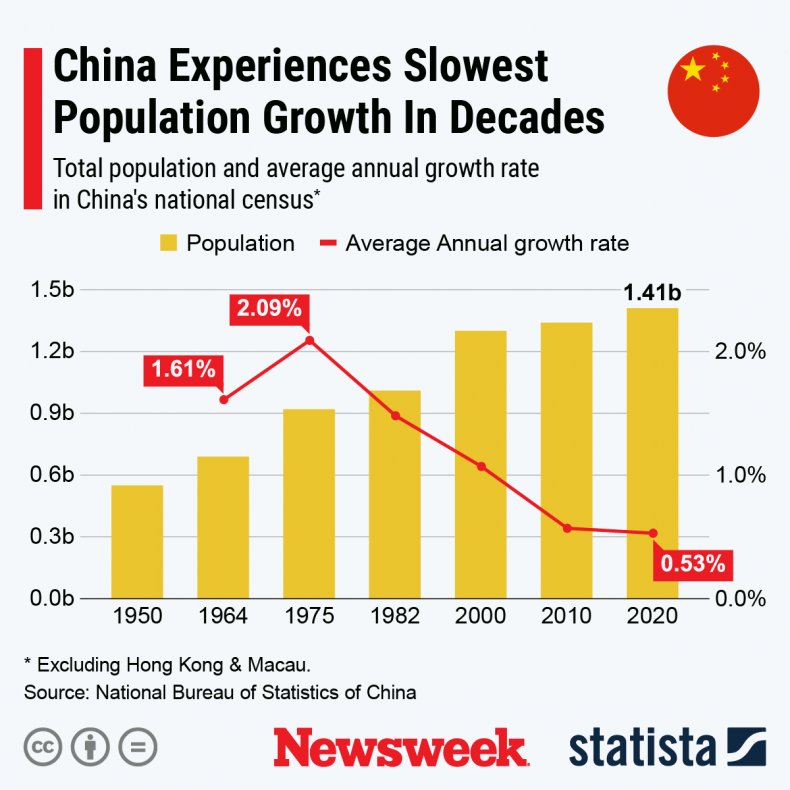 Ning Jizhe, bureau director, told reporters that the country's looming demographic crisis was the natural result of the nation's development. Delayed marriage as a result of higher education and lower childbirth due to the higher cost of living were both expected phenomena.
Experts in China say the country's aging population could begin to decline as early as next year, despite a reversal of its decades-long family planning regulations—among them the one-child policy introduced in 1979.
Although the policy never applied to the entire population—ethnic minorities, couples in rural China and parents who were themselves an only child were permitted more than one—it was revised to allow at least two children for all since 2016.
Policymakers are mulling over further incentives to encourage childbirth but could announce delays to retirement in order to sustain the labor force, according to local media reports.
China's 7th national census highlighted the country's growing gender disparity—a problem also faced by India. China has 34.9 million more men than women, an increase of 1 million from 2010, the latest data showed.
According to the World Economic Forum, India's projected overtaking of China's population in 2026 will reverse a trend of over 300 years, which consistently saw more people in China than in India.