When Will It Stop Snowing? Fourth Nor'easter This Month Slams Atlantic Coast
The wintery conditions which have engulfed the Northeast coast will continue as the fourth nor'easter in a matter of weeks looks set to bring record-breaking amounts of snow in some areas.
Several inches of snow has already fallen in some parts of the mid-Atlantic, with more expected to hit in areas such as Washington and Philadelphia.
According to flight-tracking site FlightAware, there have already been more than 3,000 canceled flights across the U.S. Wednesday because of the weather, mainly in the Northeast.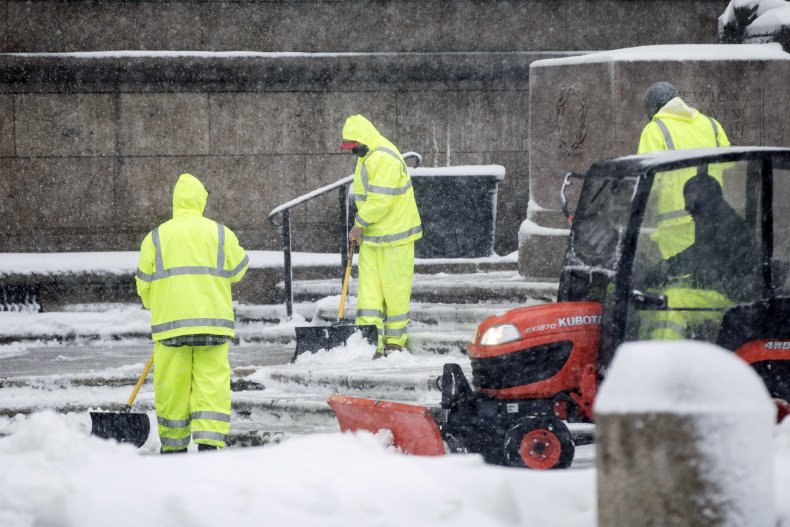 According to forecasts, New Jersey, Maryland, Delaware and parts of eastern Pennsylvania will be among those to experience the worst of the snow in the latest winter storm.
Up to 16 inches of snow is expected to fall in New York City in what would be the largest ever amount of snowfall recorded for the first day of spring. The current record of 11.8 inches of snow for New York occurred on March 21, 1958.
In a tweet, New York Mayor Bill de Blasio confirmed that all public schools in the state will be closed on March 21 due to the snow.
Philadelphia could even get slightly more snow, with local residents venting their frustration at the continuing wintery conditions.
"I'm outside all day long. So having the weather constantly fluctuating has driven me a little mad," Dog walker Emily DiFiglia told the Associated Press. "Mother Nature, let's get some warm weather!"
There are also warnings of possible power outages and coastal flooding as gusts of wind blowing up to 35 miles per hour are expected to blast shore communities.
The National Weather Service said the snow will start to ease off towards the end of the week
A forecast said: "Another coastal low/nor'easter is underway as the surface low located in the Carolinas will move into the Atlantic by tonight [Wednesday, March 21]. Meanwhile, a swath of precipitation will move across the Ohio Valley into the Appalachians, Mid-Atlantic, and Northeast.
"For today, the rain/snow line will stretch from New Jersey southward into the Washington, D.C. metro area through southern Virginia. North of that line, areas will experience mostly snow especially throughout the Ohio Valley and central Appalachians.
"Snow will continue across Mid-Atlantic and coastal areas of the Northeast and New England through Wednesday as the low tracks northward along the East Coast; however, parts of coastal New England can expect precipitation to change over to rain by Wednesday afternoon.
"On Thursday, most of the precipitation will be in the form of snow in the New England region as the low treks northward towards the Canadian maritimes. Snow may linger by Thursday evening in the interior of New England but the significant snowfall will come to an end at that point."
When Will It Stop Snowing? Fourth Nor'easter This Month Slams Atlantic Coast | U.S.