When Will Joe Biden Accept the Nomination? Watch, Live Stream His DNC Speech
Former Vice President Joe Biden will formally accept the nomination to represent the Democratic Party on the ballot in November, delivering a speech Thursday night from his hometown of Wilmington, Delaware.
Given that the field of Democratic candidates for president narrowed down to just Biden in April, the former vice president has been largely treated as the nominee. However, he didn't get the official nomination until Tuesday, when a virtual roll call of delegates gave him the 1,991 votes needed.
Biden is set to deliver his acceptance speech at the Democratic National Convention (DNC) virtually at 10 p.m. ET. The speech will focus on Biden's vision for uniting America to "move us forward out of constant chaos and crisis," according to the DNC.
To live stream Biden's speech, viewers can tune in to the DNC's YouTube channel or watch it on TV on CBS, ABC, NBC, CNN or Fox.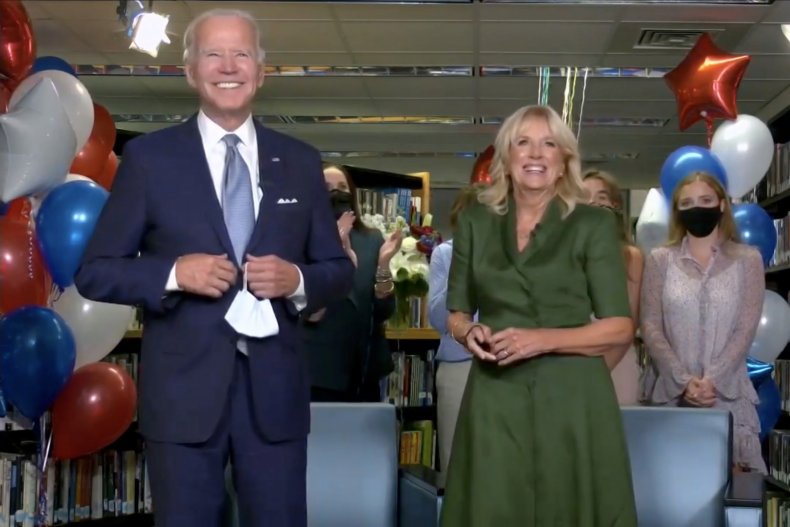 Biden first made a bid for the White House in 1987, after 10 years as a senator. However, charges of misattribution marred his campaign, and he dropped out three months after entering the race. In announcing he was ending his presidential bid, Biden acknowledged that the plagiarism accusations and his exaggerations of his academic credentials were too great to overcome.
"I'm angry with myself for putting myself in the position of having to make this choice," Biden said at the time.
Twenty years later, Biden again entered the presidential fray, in January 2007. He dropped out after a year and was later selected as candidate Barack Obama's vice president.
This time around, Biden was the one picking a running mate and on Wednesday, Senator Kamala Harris will formally accept the vice presidential nomination.
In the race against President Donald Trump, polls put Biden ahead. A CNN poll released Sunday gave the Democratic Party ticket a 4 percentage point lead. This was a significant decrease from June, when Biden held a 14-point lead. However, days before the DNC started, surveyed voters were more enthusiastic about casting their ballot than they were two months before.
Sixty-six percent of respondents said they were "extremely" or "very" enthusiastic to vote in the presidential election, compared with the 63 percent that responded the same way in June. Enthusiasm among registered voters was higher, at 72 percent.
Following Tuesday's DNC roll call, which solidified Biden's nomination, the former vice president tweeted that it was the "honor" of his life to accept the nomination.