When Will Las Vegas Reopen? Strip, Casinos Set Tentative Summer Date
Nevada Governor Steve Sisolak said that Nevada may begin reopening casinos on June 4, as phase two of the state's reopening during the coronavirus pandemic.
According to a statement tweeted by the governor Friday, the reopening date is not finalized, and he will hold a press conference on Tuesday to further discuss the second phase.
"Pending the evaluation of trends in Nevada's COVID-19 data, along with the results of the Gaming Control Board meeting on Tuesday, the Governor has set a target date of June 4, 2020 for reopening Nevada's gaming industry," the governor's office shared in the statement on Twitter.
While the gaming industry's reopening would certainly be a major move for sin city's phase two efforts, safety is still a chief concern.
"The Gaming Control Board remains resolute in ensuring that gaming operations in this State do not compromise the health and safety of Nevadans. In consultation with the Office of the Governor, as well as federal, state, and local health officials, the Board's Policies aim to diminish personal contact and increase the level of disinfection in high-use areas, and the Board expects full compliance with these Policies by each licensee," the statement announced. "The Board is firmly aware of its statutory duty to protect the public health and welfare of the Silver State's citizenry, while allowing the gaming industry to flourish through strict regulation."
If the gaming industry is allowed to resume business, it signals that Las Vegas casinos could be able to function while adhering to regulations.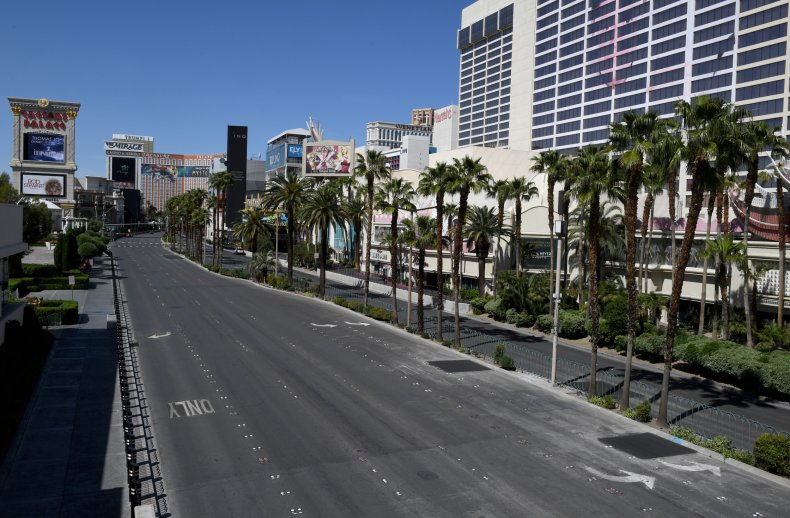 In another tweet, Sisolak also said the Gaming Control Board would also meet on Tuesday and "will consider any action necessary with regard to reopening."
Nevada began phase one of reopening on May 9, according to local ABC affiliate KTNV. As part of that phase, retailers could open at half-capacity, restaurants could also open while guests wait outside to be seated, and staff are required to wear masks. Barbershops, hair salons, and nail salons were also allowed to reopen as part of the plan.
In a video posted to celebrate Vegas' phase one reopening, Mayor Carolyn Goodman shared a video to her Twitter on May 20 to express her excitement. "We are coming back right now. This is so incredible," she said. "Here in downtown, it's been a really tough time for us all, whether you're out of work for a while or haven't been able to live your lives the way you love it. We're back. We are starting and especially in the heart of downtown."
The Las Vegas mayor's office and a press contact for Sisolak's office did not immediately respond to Newsweek's emailed request for comment.
When Will Las Vegas Reopen? Strip, Casinos Set Tentative Summer Date | Culture