LeBron James could be in the top three all-time NBA scorers by the end of the season but it will take an effort of Herculean proportions.
On Wednesday night, the three-time NBA champion passed Wilt Chamberlain in the NBA's all-time scoring list after taking 44 points in a 126-117 home win against the Portland Trail Blazers.
LeBron has now scored 31,425 points in his NBA career—six more than Chamberlain—and Michael Jordan and Kobe Bryant are now firmly in his sight.
MJ scored 32,292 points across his three spells in the league and is 867 points ahead of LeBron. The four-time MVP is averaging 27.6 points this season, meaning at the current rate it would take him just over 31 games to overtake the NBA's greatest ever player.
Ironically, provided LeBron stays fit, he could surpass Jordan's record when the Lakers host the Chicago Bulls on January 16 or when they travel to Oklahoma City two days later.
To overtake Kobe Bryant, the man ahead of MJ in the list, LeBron needs another 2,219 points.
To do so this season, he will either have to significantly increase his offensive contribution or wait until next season.
The former is a tough ask, given his current 27.6 points per game average is his highest in the last nine years and only Stephen Curry has scored more so far this season.
At his current pace, LeBron will take just over 80 games to reach Kobe's points tally. With 68 regular season games left, LeBron would need to take the Lakers at least to the Western Conference semifinals to have enough games to surpass Kobe's record this season.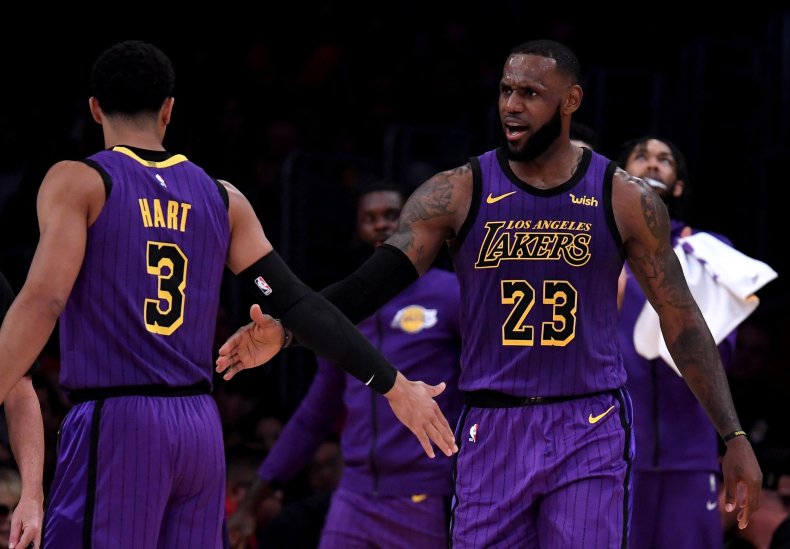 While it is only a matter of time until LeBron dethrones Kobe from the podium of all-time NBA scorers, reaching either of the top two spots could take a little longer.
At the current rate, LeBron would need just under 200 games to surpass Karl Malone's 36,928 points and a further 52 games to overcome Kareem Abdul-Jabbar's all-time record of 38,387 points.
That means he could reach the first target in the early stages of the 2020-21 season and potentially beat Kareem's record later in the same campaign. By then LeBron will be closing in on his 37th birthday, but he will have another season to run on the four-year deal he signed with the Lakers.
Don't bet against the kid from Akron.