When Will Marijuana Be Legal Like Alcohol?
A ban on recreational marijuana is the modern-day Prohibition, according to advocates who want the drug to be as mainstream as alcohol is for adults. And that's unlikely to change anytime soon.
Michigan voters could soon make their state the ninth place to legalize recreational marijuana—or, as the Marijuana Policy Project sees it, "ending marijuana prohibition" and allowing states to determine their own drug policies. If approved next year in a statewide vote, Michigan would join eight other states, plus Washington, D.C., in allowing recreational marijuana consumption at 21.
Marijuana Policy Project spokesman Morgan Fox said Michigan's approval could encourage grassroots movements in other states. The organization works to increase recreational marijuana acceptance, but there are hurdles, like obtaining signatures and convincing a large voting population to turn out for off-year elections.
That means you shouldn't expect to see marijuana in drugstores, grocery stores or specialty shops, next to the wine coolers and six-packs of beer, anytime soon.
The first successful ballot initiative to legalize recreational marijuana kicked off in Colorado in 2012. Since then, six more states and Washington, D.C., have regulated marijuana like alcohol— Alaska, California, Maine, Massachusetts, Nevada, Oregon and Washington.
"Traditionally, in terms of legalization laws, we've always pushed for ballot initiatives first," Fox told Newsweek. "The political support just wasn't there for the legalization in most statehouses, especially without a precedent for it."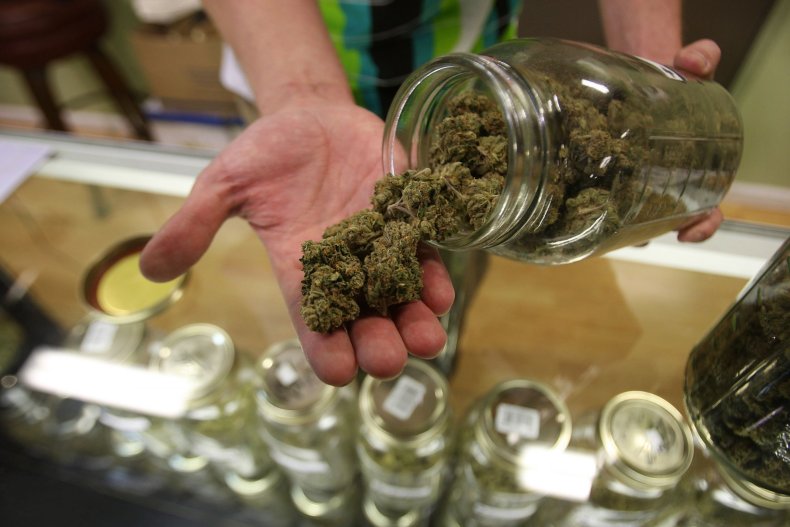 There are similarities between the reported benefits for moderate consumption of alcohol and the medicinal benefits of marijuana, said Josh Hovey, a spokesman for the Coalition to Regulate Marijuana Like Alcohol, a Michigan-based group working to legalize weed.
"It comes down to Prohibition when you look at the historic prohibition of alcohol and alcohol as a substance," Hovey told Newsweek. "Are there some health benefits to alcohol in moderate consumption? Yes, and there are also some medicinal properties in marijuana. There are a lot of similarities for the regulatory structure we're proposing, and we want to communicate that clearly to voters by equating the two."
At least one federal agency does not yet agree that alcohol and marijuana are comparable—the Food and Drug Administration has not approved marijuana as a "safe and effective drug" but supports controlled clinical research on its benefits. The FDA regulates some alcohol, like wine, by requiring the alcohol to be labeled by volume and shares oversight with the Alcohol and Tobacco Tax and Trade Bureau.
The American Medical Association did not immediately respond to Newsweek about a comparison of the two substances.
Related: Recreational marijuana is legal in these states
Michigan would establish a state-regulated system where marijuana is regulated and taxed like alcohol. Licensed marijuana businesses could cultivate and sell marijuana-infused products to adults with a sales tax, and adults could grow plants at home.
The recreational marijuana push is believed to have enough verified signatures to make it onto the state's November 2018 ballot. Michigan requires 252,523 valid signatures to put a proposed law on the ballot—the Coalition to Regulate Marijuana Like Alcohol submitted 365,000 signatures on Tuesday.
"We're feeling very good about our chances," Hovey told Newsweek. "We did the work as we collected the signatures to verify they were valid, so we're very confident that the state will accept them and certify us for the election."
The organization worked alongside the National Petition Management, a Michigan-based company that collects signatures and verifies petitions to ensure ballot initiatives meet the correct benchmarks. It raised and spent around $1 million to kick off the signature drive. Next on the coalition's agenda is raising awareness among voters about the anticipated vote in November 2018.
"We're very confident that as people learn about the initiative and have the facts, they'll vote in favor of what we're proposing," Hovey said.
This article has been updated to reflect Maine's House vote to uphold the sale of recreational marijuana.