When Will the NBA Come Back to Seattle? Sonics May Be Next After NHL Announces Franchise in City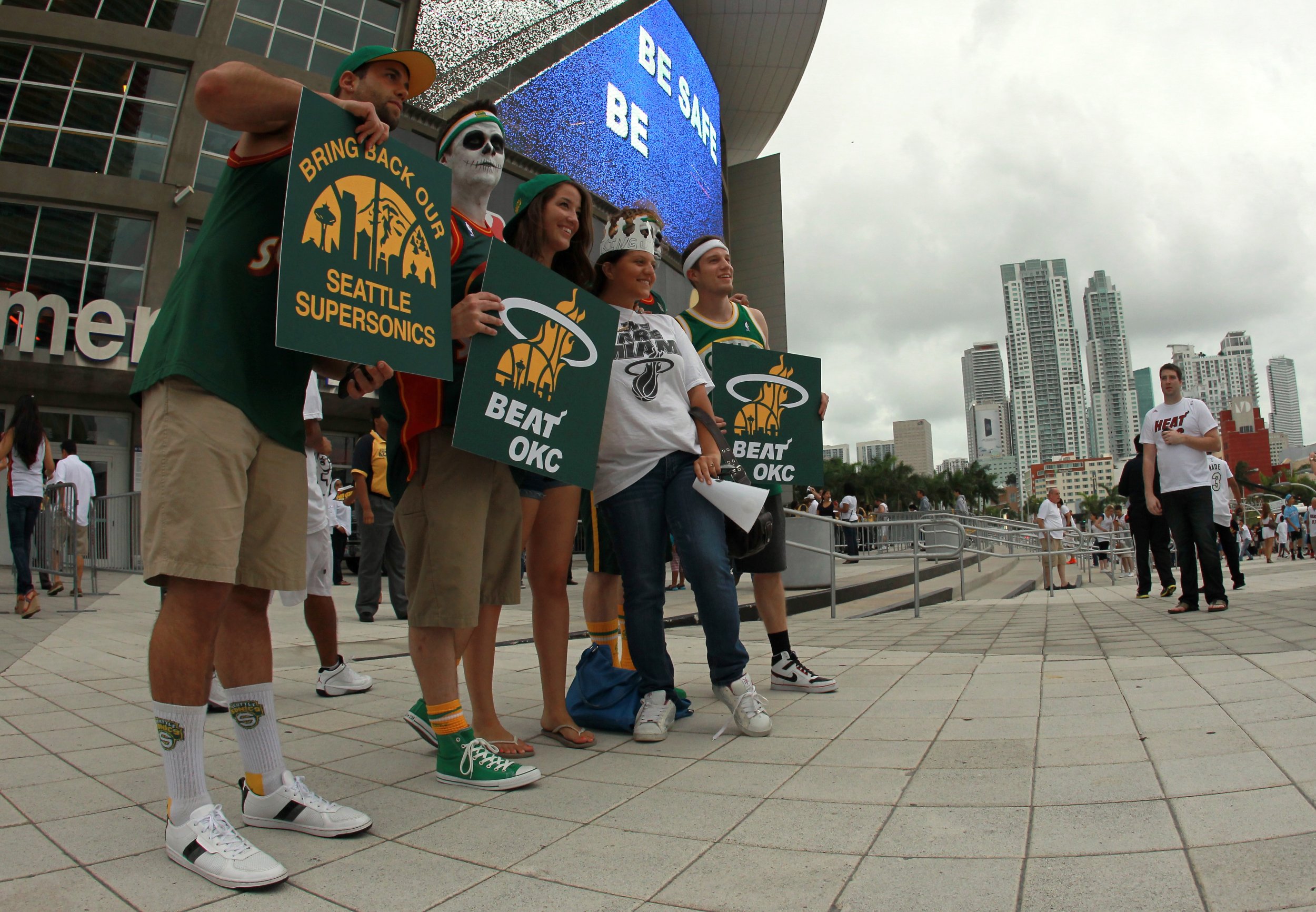 It was announced Tuesday that the NHL is officially headed to Seattle, with an expansion franchise reportedly starting up in the 2021-2022 season.
Immediately, there was a natural next question for NBA fans: OK, so when is our turn?
As Associated Press NBA writer Tim Reynolds succinctly put it on Twitter: "Your move, NBA."
But those hoping for a revival of pro basketball in Seattle might want to cool their jets, even amid the NHL news. Recent indications have suggested a return of the Seattle Sonics—assuming the hypothetical franchise revives the beloved name—might be further off than some might hope.
In October, ESPN's Brian Windhorst—a highly connected NBA writer—reported a return of the Sonics wasn't coming "any time soon." Citing unnamed sources, Windhorst wrote in the October article that "some prospective ownership groups that have met with NBA officials have been told expansion may not happen until 2025 at the earliest, when a new TV deal can be negotiated."
NBA commissioner Adam Silver didn't seem bullish on the return of a Seattle franchise in an October interview either, shortly after the city hosted a preseason matchup.
"I love Seattle," Silver said in a radio interview on ESPN's Golic and Wingo show. "Personally, I think it's a great market. They're doing all the right things in terms of building a new arena, or revitalizing KeyArena. It's just not on the agenda right now."
NBA owners are apparently skittish about giving up a share of the league's revenues to a new team. Silver also added that it would dilute the talent pool, although the NBA does seem to currently be in a talent boom.
"To me, what we're most focused on is ensuring that we have 30 strong teams right now, and we still have work to go," the commissioner said on the ESPN radio show. "Not only if you expand does it dilute revenue, but it dilutes talent. I think that's one thing that people don't always focus on—they hear big prices for expansion teams, but it's like selling equity. All of our teams now that own 1/30th of the global prospects of the league, if you expanded by two teams then [they would] own 1/32nd of the global prospects of this league."
Seattle certainly would love to have the Sonics back after the franchise was shipped off to Oklahoma City, Oklahoma in 2008 by owner Clay Bennett. He had demanded a new, $500-million arena in Seattle paid for mostly by taxpayers before moving the franchise.
A strong NBA fan-base remains in Seattle, a city that must interest the NBA, considering the deep pockets of the tech barons in the area. If and when the NBA expands (or a franchise decides to move), it seems nearly impossible Seattle won't be at the top of the list of destinations. In fact, the group that brought the NHL to Seattle said earlier this year that they wanted to get the NBA back as well.
With the NHL headed to the city, Seattle now has a franchise in three of the four major American sports. The NBA is a league surging in popularity and cultural cache. It seems so logical that the Sonics would come back to the city. But if you believe the recent reports, there might be a bit of a wait for that day to come.