When Will New York Reopen? Seventh Portion of State Cleared for Reopening
As of Tuesday, more than half of New York's 10 regions have started reopening. On Wednesday, the Capitol Region will be the seventh region to meet Governor Andrew Cuomo's criteria in a four-phase plan to end the state's coronavirus shutdown.
Western New York, Central New York, Finger Lakes, Mohawk Valley, North Country and Southern Tier are the regions that have entered Phase 1 of reopening. Long Island, Mid-Hudson and New York City have yet to meet the seven benchmarks.
Cuomo extended New York's stay-at-home order until May 28 for the regions that have not met the reopening criteria. Once a region meets all the requirements, it can begin Phase 1, which allows for construction, manufacturing and agriculture to resume. In addition, retail businesses will be permitted to begin curbside pickup.
Cuomo said a statewide two-week pilot program will allow increased visits at 16 hospitals. He also said Memorial Day gatherings involving 10 people or fewer will be allowed, although vehicle parades are preferred to in-person activities.
"We want to honor our veterans and make sure no matter what happens we still are honoring our veterans," he said. "It's important that the veterans be recognized. I think we can do it and do it safely."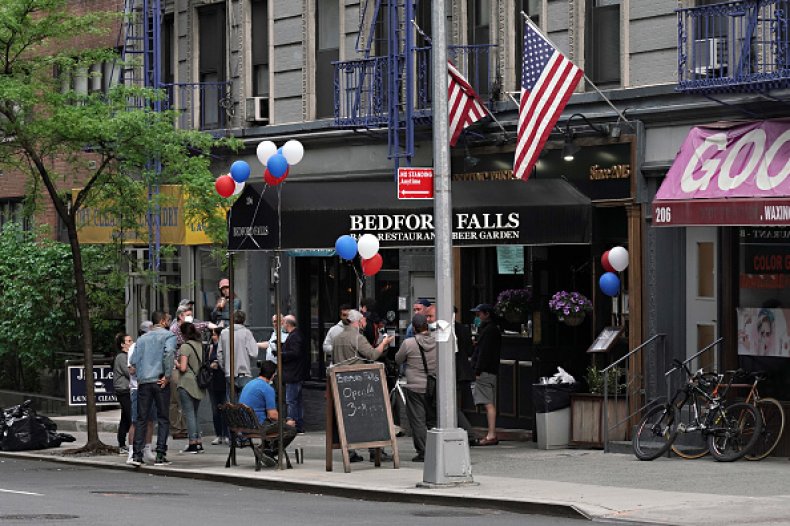 Phase 2 will expand businesses to include more retail, professional services, real estate and the finance and insurance sectors.
Each phase is expected to be evaluated after two weeks, at which point the regions can move onto the next phase if indicators remain positive.
The reopening of restaurants, bars and hotels will follow in the third phase. The fourth and final phase will be the arts and entertainment sectors as well as education.
New York City, likely the last of the state's regions to reopen, has been hit hard by the loss of the two sectors included in Phase 4. Theater, including Broadway, is vital to tourism and a major part of the city's economy, while 1.1 million public school students had to transition to virtual classes when city schools closed March 16.
At a press conference Tuesday, Mayor Bill de Blasio commended city educators' quick action in transitioning from in-person classrooms to online lessons. He also unveiled a summer school program for nearly 180,000 students who may need additional learning support.
The three metrics New York City still has to meet are increased capacity of hospital beds and intensive care unit beds—to at least 30 percent availability— and a sufficient number of contact tracers. De Blasio is hopeful the city will meet all seven metrics in June.
New York has been the nation's epicenter of the outbreak. The state has reported 356,278 confirmed cases of the coronavirus and 28,302 deaths from its disease, COVID-19, since the beginning of the pandemic.