When Will NYC Schools Reopen? Mayor De Blasio Outlines Fall Plan
New York City Mayor Bill de Blasio shared details on Wednesday about his administration's plans to reopen schools, outlining a "blended learning" model that calls for staggered in-person attendance starting this September.
Most of the city's 1.1 million public school students will return to classrooms in the fall, if they choose to do so. To allow for adequate social distancing, as recommended by health officials to prevent transmission of the coronavirus, the city plans to offer each student the opportunity to attend school in-person two or three days a week. They will continue to learn remotely during the remaining days.
"Of course, we understand some families will choose remote learning as the only option," de Blasio said during a news conference on Wednesday morning, which preceded remarks from New York City Department of Education Chancellor Richard Carranza. The mayor noted that parents who do not feel comfortable allowing their children to return to classrooms "have every right" to keep them home.
"Everyone is focused on health and safety first while maintaining a constant understanding that the best way to educate our kids is in the classroom," the mayor added, citing results of a health department survey of 400,000 New York City families that found 75 percent of parents supported schools offering in-person instruction this fall.
"This blended model, this kind of 'split schedule' model, is what we can do under current conditions," de Blasio said.
Newsweek reached out to de Blasio's office for comments but did not receive a reply in time for publication.
During Carranza's comments about the reopening plan on Wednesday, he explained that schools are required to adhere to an additional set of safety measures. He said students and staff must wear face coverings while inside school buildings, which will be sanitized throughout the day. Schools will alter hallway layouts and utilize large spaces, like gyms and cafeterias, for classes to allow for additional physical distancing.
De Blasio spoke last week about the city's intention to resume in-person school instruction, saying officials were "deep in planning" in a message shared to Twitter on July 2.
The same day, a spokesperson from New York Governor Andrew Cuomo's office released a statement that emphasized the state's role in finalizing decisions related to regional school reopening.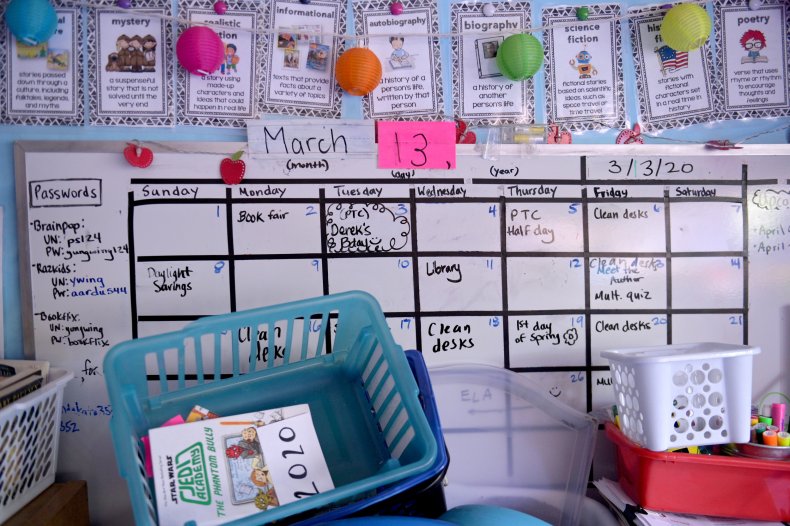 "The state law governing schools and business closings or openings has been in effect since the pandemic first started and all such decisions are made by state government and not local government," said the statement, issued by the governor's communications director, Dani Lever.
"When it comes to opening schools in New York City, we will consult with parents, teachers, health officials and local elected officials. But the governor has said any determination is premature at this point and we will need to see how the virus develops," Lever said.