When Will Saquon Barkley Return? Giants Running Back Unlikely to Play on Thursday vs. New England
The New York Giants' trip to Massachusetts on Thursday will in all likelihood come too soon for Saquon Barkley.
The second-year running back is still recovering from a high-ankle sprain he suffered in Week 3 during the Giants' 32-31 win at home against the Tampa Bay Buccaneers and he is unlikely to be fit in time to face the New England Patriots this week.
ESPN's Jordan Raanan reported on Tuesday that the star running back was yet to receive medical clearance despite returning to practice earlier than expected. The second overall pick of the 2018 draft was listed as a limited participant in Monday's practice—the Giants didn't actually train—and is expected to miss out the G-Men's first trip to Foxborough in eight years.
Barkley's absence will undoubtedly please Patriots head coach Bill Belichick, who on Monday admitted he would not relish coming up against the 22-year-old.
"He's an outstanding player," Belichick told Giants reporters in a conference call on Monday, as per the team's official website.
"You're right, we haven't faced him, and I hope we don't, but we need to be ready for him. He's a very competitive guy, I'm sure he's doing all he can to get ready to go. He was close last week, so we'll probably get him."
While initial reports ruled out Barkley for a period of between six and eight weeks, according to NFL.com the two foot and ankle specialists he visited after his injury did not provide any such timetable.
"How can anyone tell me how long I'm supposed to be out," Barkley explained while speaking to NFL Network's Kimberly Jones last week.
"Maybe because of my competitive nature. How are you going to tell me [that]? No one was in the doctor's office (with me), no one has seen my ankle, everyone's different. [...] Everyone's putting these messages out there and no one heard from my mouth that I'm out six-to-eight weeks. That made no sense at all."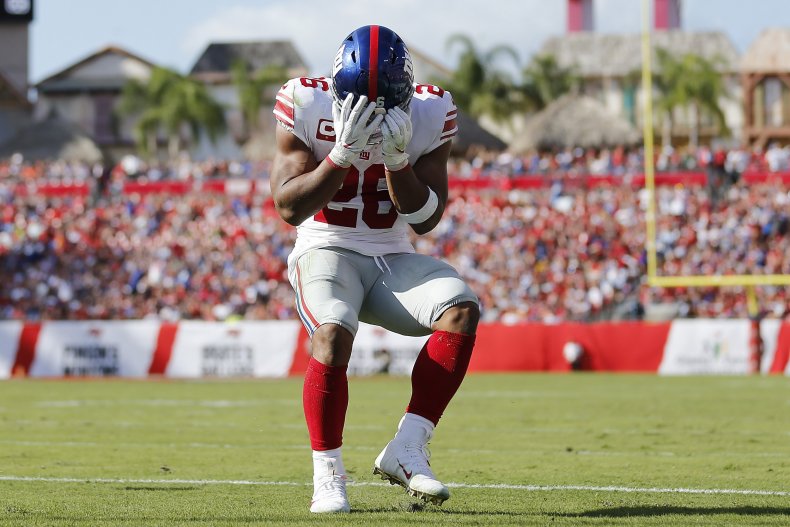 While an exact time for Barkley's return hasn't been officially disclosed, the understanding is that the former Penn State star is way ahead of his projected recovery timetable.
Ryan Flaherty, Nike's Senior Director of Performance, who works regularly with Barkley, indicated the running back should be ready to go in Week 7, when the Giants host the Arizona Cardinals.
"He 100 percent could play [in Week 7], but I agree with the plan by the team to take it slow given he is so young. No need to rush him at this point in the season.
"Saquon isn't human. And we did around-the-clock rehab as opposed to most athletes that will throw on a boot and rest it for four-to-six weeks. That's actually the worst thing you can do."
In his first season in the NFL, Barkley set a franchise record for a rookie in terms of most touchdowns, most rushing touchdowns and most rushing yards with 15, 11 and 1,307 respectively.
He also tied Randy Moss' record for most 50+ yard touchdowns from scrimmage and set an NFL record for receptions by a rookie running back with 91.
Barkley rushed for over 100 yards in both of the games he completed this season, scoring one touchdown and adding 47 receiving yards.