When Will Second Stimulus Checks Come? Pelosi and McConnell Indicate Liability Protections Could Kill Relief Package
Hopes for a second stimulus package before the August recess appear to be dwindling as Republicans and Democrats say there's little the two sides have been able to agree on.
The House of Representatives passed the HEROES Act in May and three months after Republicans called the package "dead on arrival," they released a proposal of their own, titled the HEALS Act. Although the plans share similarities with regards to another round of stimulus checks, Democrats criticized the GOP plan for not going far enough and with just a week before Congress is set to leave D.C., sticking points on expanded unemployment and liability protections could put the entire package in jeopardy.
America can't have an "epidemic of lawsuits on the heels of a pandemic," according to Senate Majority Leader Mitch McConnell, so Republicans are pushing for liability protections. The bill, drafted by Senator John Cornyn, would limit liability schools, colleges, nonprofit organizations, churches or businesses had for personal injuries that arose from potential COVID-19 exposures. Health care providers would also be shielded from lawsuits arising from the care a person received for coronavirus or services provided as a result of coronavirus.
There's "no chance" McConnell will bring legislation to the Senate floor if it doesn't include liability protections, but Schumer and Pelosi said there's no deal if the measure is included.
"When McConnell says no bill will come on the floor without this very extreme bill, maybe he doesn't want anything to pass altogether," Schumer told MSNBC on Tuesday.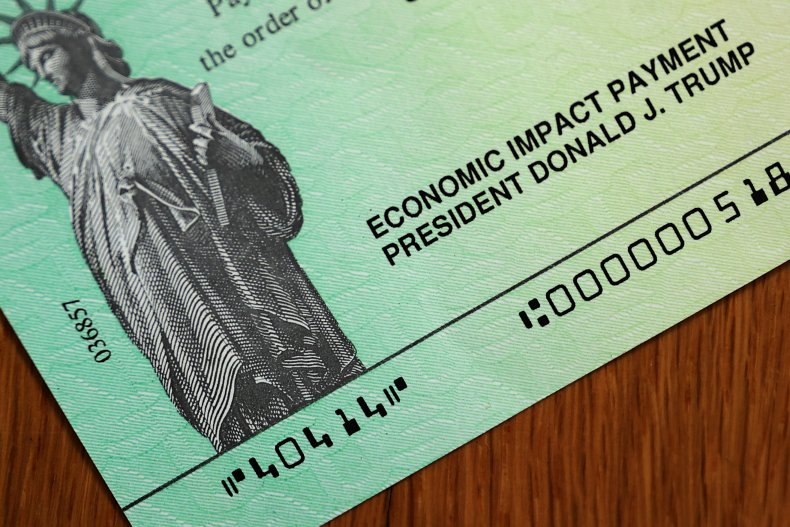 On Wednesday, Treasury Secretary Steve Mnuchin told reporters Democrats and Republicans were "very far apart" with regard to another stimulus package so he and President Donald Trump discussed a short term extension to unemployment insurance and the eviction moratorium to give lawmakers time to negotiate. Both benefits afforded under the CARES Act, a stimulus package that unanimously passed Congress in March, are set to expire on July 31.
"And the rest of it, we're so far apart, we don't care. We really don't care," Trump said. "We want to take care of the people. The Democrats aren't taking care of the people."
A short-term extension to unemployment benefits may buy legislators time, but Democrats indicated they aren't interested in a temporary fix. On Friday, Speaker Nancy Pelosi told reporters at a news conference that she would be "very much averse" to separating unemployment insurance from the package as a whole because they'd "lose all leverage for meeting all of the other needs."
The CARES Act boosted unemployment benefits by $600 per week and Democrats want to extend those payments. Republicans, however, criticized it for incidentally paying people more for being out of work than they were making at their job and proposed cutting benefits to 70 percent of a person's wages.
Senate Minority Leader Chuck Schumer said the unemployment proposal was "fraught with all kinds of problems" during a Tuesday press conference.
Republicans included a second round of economic impact payments in the HEALS Act that are vastly similar to those issued as part of the CARES Act. Base payments would once again be respectively $1,200 and $2,400 for eligible individuals earning $75,000 and joint filers earning $150,000. It would also include another round of $500 for dependents, but instead of being confined to children under 17 years old, as was the case with the CARES Act, additional payments would be made for all eligible dependents regardless of age.
Expanding dependent eligibility was a detail included in the HEROES Act, but that bill would increase additional payments to $1,200 and also make undocumented immigrants excluded under the CARES Act eligible for payments.
If a deal is reached, Mnuchin said in early July that the Treasury Department has the ability to get payments to people "very, very quickly." Following the timeline of the CARES Act, if a bill passes by August 17—more than a week after the congressional recess is expected to start—Americans could still see payments before September 1.
However, without passing a bill or a package that includes stimulus checks, there won't be another round of payments.
Republicans called their proposal a "starting point" for negotiations but a day of meetings on Wednesday concluded with no resolution in sight. Democrats continued to push for the passage of the HEROES Act and Republicans are unable to agree on their own proposal.
Senator Lindsey Graham told Fox News on Sunday that half of Republicans won't vote in favor of another stimulus package and "that's just a fact." So, if Republicans want to pass the HEALS Act they could need support from the majority of Democrats in Congress, giving Democrats the upper hand in negotiations.
As the clock ticks down, the optimism legislators once had for a deal may be weakening. White House Chief of Staff Mark Meadows told reporters on Wednesday he wasn't confident legislators would reach "any kind of comprehensive deal."
"No deal certainly becomes a greater possibility the longer these negotiations take," Meadows said. "We're nowhere close to a deal."