When Will Six Flags Reopen? CEO Targets Magic Mountain and Other Locations to Open in Mid-May
Six Flags is expected to open its parks in mid-May, with CEO Michael Spanos targeting six locations in Georgia, Missouri, Oklahoma, Texas, and Mexico to open first. The theme park chain has been closed since mid-March due to the coronavirus pandemic and stay-at-home orders nationwide.
On March 30, Six Flags announced that the closures would be extended until at least mid-May, and said that parks, including Magic Mountain in Santa Clarita, California, would open "as soon as possible thereafter".
But in a conference call on April 30, Spanos announced that the six locations expected to open first this summer are Six Flags Over Georgia, Six Flags St. Louis, Frontier City, Six Flags Over Texas, Six Flags Fiesta Texas, plus Six Flags Mexico.
According to Los Angeles Daily News, Spanos said on a call with analysts: "When you look at what's going on with the states, it would suggest that we should be staying close to Texas, Oklahoma, Georgia, Missouri, and Mexico.
"Those would seem to be the areas right now where we're watching the state or the country dynamics that would suggest, ideally, we could open at some point, hopefully in the summer. But again, time will tell."
Georgia and Oklahoma each have two locations while Texas has four, though it appears these states will open half their parks at first.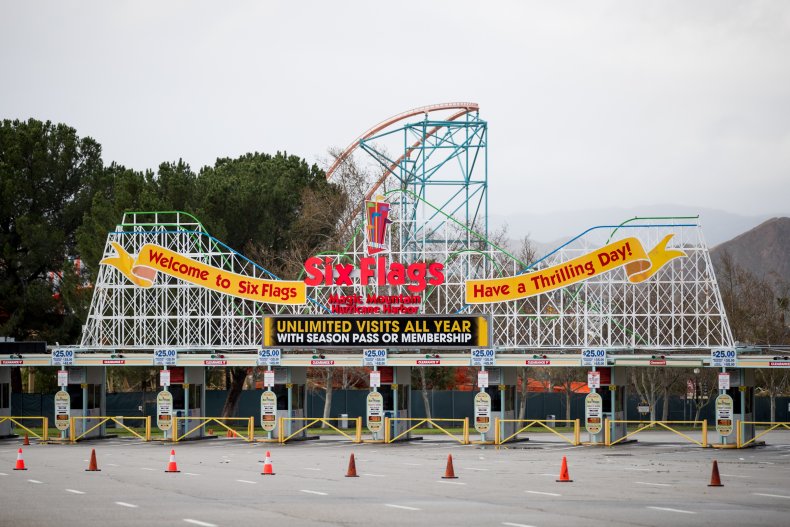 Once Six Flags parks reopen, strict safety measures will be in place, including face masks, temperature checks, and reduced attendance. Guests at Six Flags theme parks will experience mobile ordering and cashless transactions.
Social distancing measures will remain in place, with guests being asked to remain six feet from each other. Fewer guests will be admitted to rides and there will be floor markers to help people keep their distance. Six Flags has said that it is testing virtual queuing, which should be available in the next few months.
The parks will be sanitized more regularly, with rides being wiped down throughout the day and hand-washing and hand-sanitizing stations installed throughout Six Flags.
However, according to a poll by Reuters and Ipsos, 59 percent of Americans said amusement parks should not reopen until a vaccine is available and only 20 percent said they would visit a theme park when they reopen.
Six Flags has 23 locations in the U.S., with four locations in California, three parks in New York, and two parks in New Jersey. There are also parks in Arizona, Illinois, Maryland, Massachusetts, with international locations in Canada, Mexico, and Saudi Arabia.