When Will Stimulus Checks Be Sent And Who Will Get Them?
As the ongoing coronavirus pandemic rattled markets and continued to threaten a possible recession, President Donald Trump and Congress passed a $2 trillion emergency stimulus plan designed to curb the economic shock.
The 880-page emergency package signed off by the commander-in-chief contains a raft of measurements aimed at keeping businesses and households afloat—including a $250 billion expansion of unemployment benefits and $500 billion of loans to corporations.
"The virus is here. We did not invite it. We did not ask for it. We did not choose it," said the House Minority Leader Representative Kevin McCarthy as the bill passed through the chamber. "But we will fight it together until we win together."
One of the flagship proposals of the coronavirus stimulus package is its plans for individual checks to be sent to American households as they face uncertainty amid the pandemic.
The relief checks will start at a rate of $1,200 for adults that can increase or decrease depending on income and other factors.
Here is what you need to know about the size of stimulus checks and who will be eligible for the one-time payments.
When will people receive stimulus checks?
Treasury Secretary Steven Mnuchin told CBS News' Face the Nation on Sunday that Americans could expect to receive their stimulus checks within three weeks.
"We expect that within three weeks that people who have direct deposits with information with us will see those direct deposits in their bank accounts," he said.
He added that the department would create a "web-based system" for people who don't have a direct deposit, so they can upload it and get money immediately instead of a check in the mail.
Who is eligible for a stimulus check?
According to the bill, non-U.S. residents and estates or trusts are not eligible for stimulus checks. Payments will also not be available to some individuals and households with higher incomes.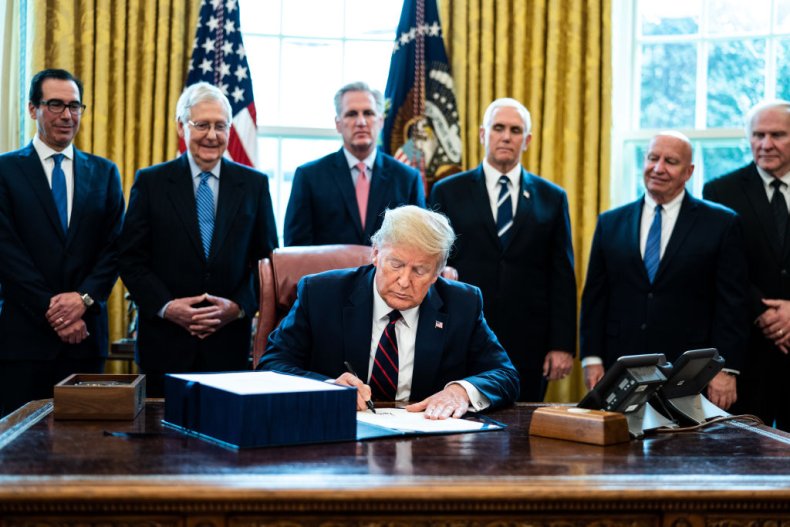 How much will I be paid?
According to the terms of the bill, the standard check paid to American adults will be $1,200 or $2,400 for couples filing joint tax returns. Families will receive an extra $500 for every child aged 16 and younger.
However, some individual checks will be lower depending on income. Your overall payment will be gradually whittled down by 5 percent if the adjusted gross income in your joint return exceeds $150,000 or $112,500 if you're registered as a head of household. Checks are phased out for couples with no children who earned a combined $198,000.
If you're filing a single tax return, the amount you receive will be cut down based on earnings over $75,000 until a cap of $99,000—when CNBC reports that payments are cut off altogether.
Will I receive a second payment?
As the situation stands you will only be eligible for one individual check under the emergency coronavirus package. But this may change if further bailout measures are passed in future bills.