When Will Tropical Storm Cristobal Hit Louisiana, Mississippi?
Tropical Storm Cristobal is expected to make landfall sometime Sunday evening in southeastern Louisiana, according to the National Hurricane Center.
The storm, which has whipped the coastal areas of the state of Yucatán and parts of Central American coastline with heavy rain and wind this week, weakened into a tropical depression as it remained partially overland. But Cristobal began to strengthen once again into a tropical storm as it moved slowly into the Gulf of Mexico at about 12 miles per hour.
Hurricane specialist Robbie Berg of the National Hurricane Center told Newsweek that Cristobal's sustained winds were at 40 miles per hour and emanating from the eye of the storm.
"The storm is moving to the north right now, and we expect the center of the storm to move off the Yucatán Peninsula and back into the Gulf of Mexico later today," he said.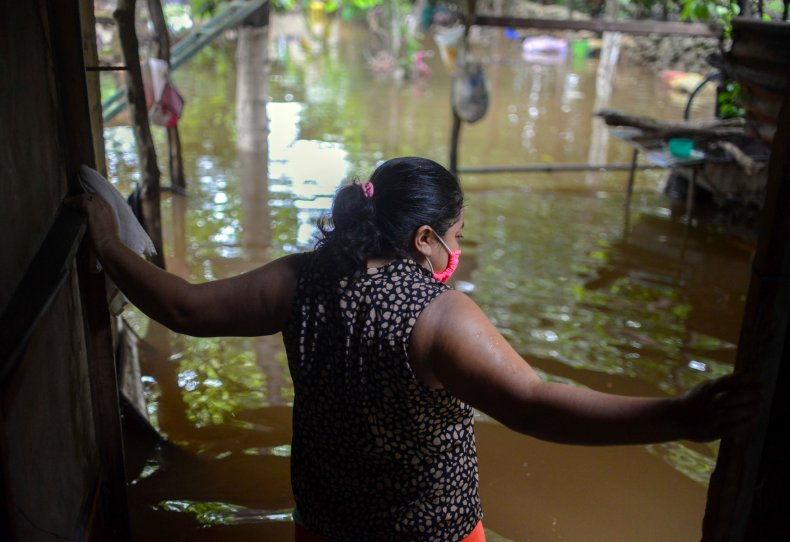 Cristobal's formation in the Gulf of Mexico marked a new record. This is the earliest that the Atlantic hurricane season has had a third-named disturbance, meteorologists said Tuesday.
On Friday, the National Hurricane Center issued a storm surge watch for the northern Gulf of Mexico coast, from Florida's Indian Pass to Aripeka, and from Grand Isle, Louisiana, to Ocean Springs, Mississippi. Meteorologists issue this watch when there is a threat of rising water moving inland from a tropical depression, tropical storm or hurricane.
The National Hurricane Center also issued a tropical storm watch for the northern Gulf of Mexico coast, from Intracoastal City, Louisiana, to the Alabama/Florida border, including Lake Pontchartrain and Lake Maurepas in southeastern Louisiana. This watch means tropical storm conditions are likely over a span of about 48 hours.
Berg said the hurricane center believes Cristobal will continue to strengthen as it moves northward in the Gulf of Mexico, but the storm is not expected to reach hurricane strength before it makes landfall later this weekend.
A tropical storm is classified as a Category 1 hurricane when sustained wind speed reaches at least 74 miles per hour. "Anything up to 73 [miles per hour] is still a tropical storm," Berg said.
Early models predicted the storm could strike between Corpus Christi, Texas, and New Orleans.
According to forecasters, as Cristobal continues on its northward path it will most likely make landfall in central or eastern Louisiana and will bring heavy rain along the U.S. southeastern Gulf Coast.
"The interesting thing about this storm is that it's very lopsided," Berg said.
That means that even if Cristobal makes landfall, residents east of New Orleans and as far as away as the western Florida coastline could experience storm surges, along with heavy rain and wind.
Berg advised residents in the storm's impact areas to listen to local officials and monitor weather forecasts this weekend in case an evacuation is ordered.