When Will the War in Syria Be Over? Soon, Says Top Assad Adviser as Cities Rebuild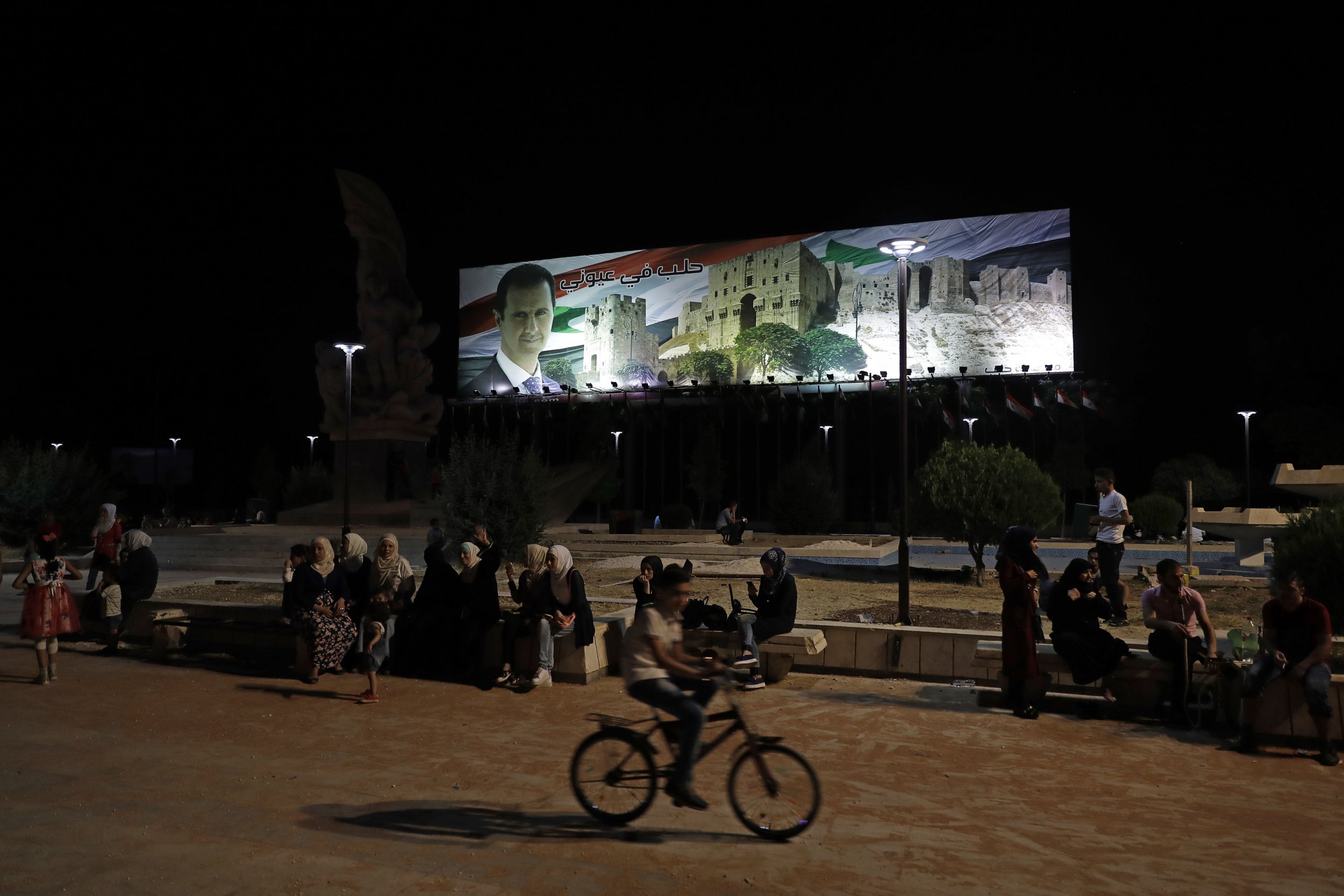 A top adviser to Syrian President Bashar al-Assad has said the government believes that its extended war with rebels and jihadis is drawing to a close and that unwelcome foreign powers may be its next target.
On the sidelines of the 59th Damascus International Fair, presidential political and media adviser Bouthaina Shaaban told regional media that the country's first such event in five years is a sign that Assad, who enjoys backing from Russia and Iran, had effectively won over opposition groups, Islamists and other factions attempting to topple him since 2011. With large parts of the country still outside of government control, including parts of the capital, however, she said the war's already staggering death toll would likely rise as Syria's armed forces and their allies pierce through territory held by the Islamic State militant group (ISIS) and confront other enemies of the state.
Related: Russia, Iran, other Assad allies and enemies cash in on success in Syria, but U.S. left out
"The return of the exhibition is a defeat for their plans [to overthrow the government], but it does not mean that we have won completely, and victory means more sacrifices. We are at the beginning of the road to the reconstruction and rebuilding of Syria," Shaaban told Lebanon's Al Mayadeen TV.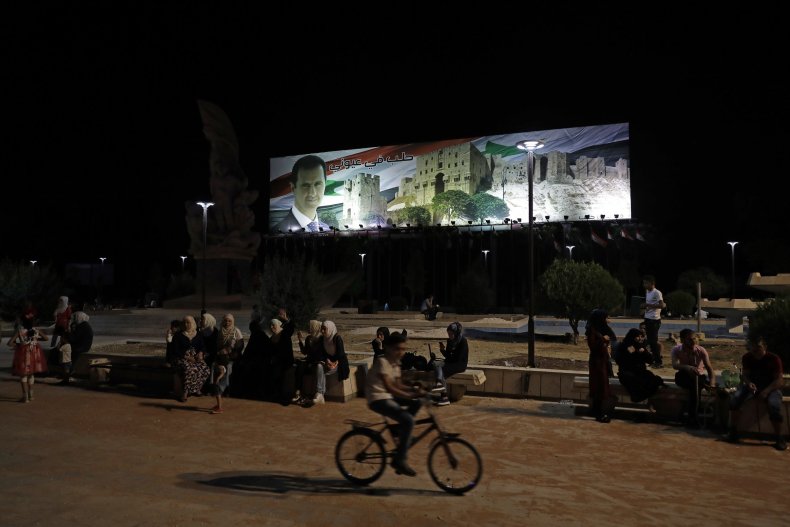 The war in Syria, which was sparked by a 2011 uprising against Assad's government, has killed hundreds of thousands and displaced millions. A number of Western countries, as well as Turkey and the Gulf Arab states, have accused Assad of committing human rights abuses and have supported insurgents trying to oust him. Many of these rebel forces have since been co-opted by ultraconservative Sunni Muslim movements like the former Nusra Front, an Al-Qaeda affiliate known now as Hayat Tahrir al-Sham, and ISIS. Over the 18 months, Russia's military intervention helped turn the tide of war for the beleaguered Syrian army and its allies, allowing them to secure virtually every population center in the country.
The Syrian military's success, along with Russia and Iran's sponsorship, has forced traditionally pro-opposition foreign powers U.S. and Turkey to avoid picking a direct fight with Assad in Syria. Washington has still called for the Syrian leader to ultimately be removed from power, but Shaaban said Thursday that if the U.S. and Turkish militaries did not withdraw from Syria after ISIS was defeated, then a new war could break out.
"As we defeated terrorism, we will fight against any illegal presence on our land whether being that of the United States or Turkey," Shaaban said, according to the official Syrian Arab News Agency.
Secretary of State Rex Tillerson stated earlier this month that the U.S. was "working closely with Russia and other parties" in order to avoid another "civil war" between U.S.-backed and Russia-backed factions in Syria. This relationship, however, has become further complicated by a new round of sanctions rolled out by Congress and reluctantly signed into law by President Donald Trump, who said the measures brought U.S.-Russia relations to an "all-time and very dangerous low."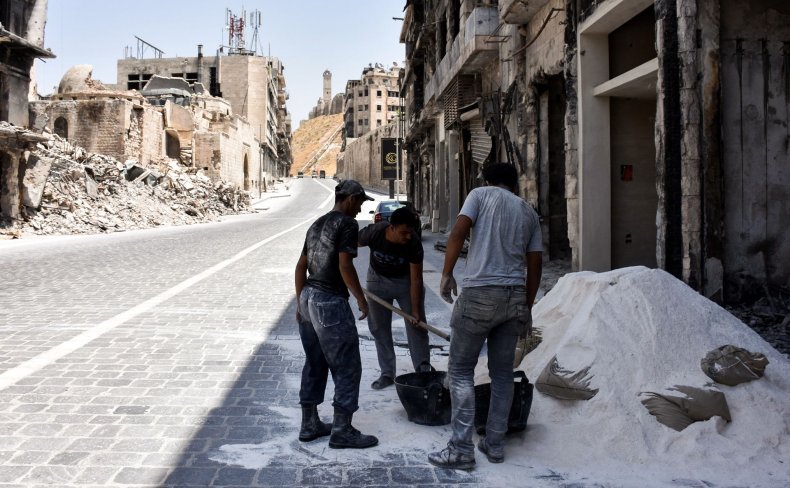 This year's Damascus International Fair, the first to host a foreign trade fair since the event's inception in 1954, has reportedly drawn representatives from 23 countries and business representatives from 20 more. While Syrian Prime Minister Imad Khamis said Thursday that nations such as Russia and Iran that have stood by Assad would be given priority for lucrative contracts as the government begins rebuilding the country's devastated infrastructure, the festival also attracted delegations from countries such as France, Germany and Spain.
India, which also was represented at the fair, has given the Syrian government millions to help the country's ailing steel industry and grim humanitarian situation. Shaaban told Indian media Thursday, however, that Damascus may reconsider its economic ties to New Delhi after Indian Prime Minister Narendra Modi visited his Israeli counterpart, Prime Minister Benjamin Netanyahu, last month. Israel is a staunch opponent of Assad and has staged airstrikes against his forces and their allies, including the Lebanese Shiite Muslim militant group, Hezbollah, in Syria.
"I can say that while we call for a role for China and a role for Russia, we are very hesitant to call for a role for India [in rebuilding Syria]," Shaaban told The Hindustan Times.