Where Is 'My 600-Lb. Life' Subject James 'L.B.' Bonner Now? Update on Weight Loss Patient
James "L.B." Bonner spent most of his life overweight, but it didn't hold him back—until he wasn't able to play football and then lost his leg in an accident in 2013 when he was 25 years old. That's when his health started to spiral out of control. He sought comfort in food and alcohol, which led to his weight ballooning to nearly 650 pounds. At that point, L.B. contacted renowned bariatric surgeon Dr. Younan Nowzaradan, which led to his appearance on Wednesday's episode of My 600-Lb. Life.
L.B., now 29, regretted waiting 4 years to start losing weight. "I wish I would've done something about it when I had my leg cut off," he told Newsweek in an email.
Dr. Nowzaradan is much smaller than the 6-foot-5-inch L.B., and yet meeting the surgeon was "intimidating."
"He's a huge presence when he walks into the room," the Lexington, South Carolina, native said. But after he was approved for weight loss surgery, he felt "euphoric," because "it gave me the sense that all of this was becoming real."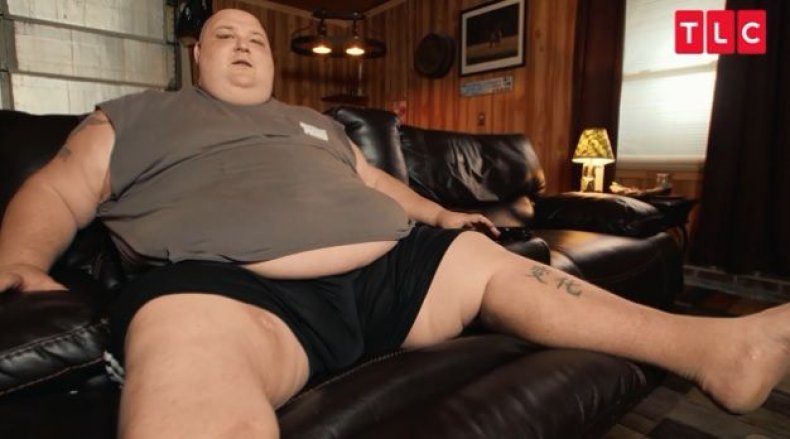 Wednesday's episode of My 600-Lb. Life featured L.B.'s strained relationship with his mother. But since losing weight, things have "dramatically" changed. "I've gained a certain level of independence," he said, and "it has given me some space away from her. It's definitely made our relationship stronger."
But the journey wasn't easy. "The hardest thing for me to give up was definitely potatoes and alcohol," L.B. said. But in the end, "Not only did I kick a food addiction and a food issue, I've also overcome an alcohol addiction as well."
Now he describes his indulegences as sautéed spinach and deer meat. "It's high in protein with good fat and it's got all the fiber," he said.
For anyone considering weight loss surgery, L.B. emphasized not focusing on the scale. "There are plenty of non-scale victories you can have that the scale wouldn't tell you, whether it's driving a smaller vehicle, sitting in smaller booth at a restaurant, standing up off the couch or even just being able to tie your shoes," he said.
"Focus on smaller victories every day to step out of your comfort zone because your comfort zone is what got you to 600 pounds in the first place," L.B. added. "The saying that's gotten me through my journey is, 'Small steps lead to huge results.'"
L.B. wants to continue to lose weight. And within the next six months, he hopes to compete in a "mini-mudder race," which is three miles long and has 11 obstacles.
My 600-Lb. Life airs Wednesdays at 8 p.m. ET on TLC.