Where is 'My 600-Lb Life' Patient Lee Sutton? Update on Him and Girlfriend Rena Kiser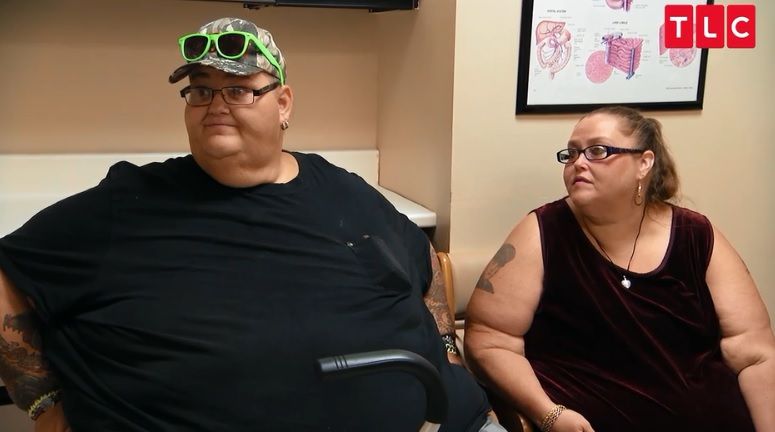 The hit TLC series My 600-Lb Life returned for Season 6 on Wednesday, featuring Lee Sutton and Rena Kiser, a couple who bonded over their addiction to food. Did their relationship survive their weight loss?
The two met at a weight-loss clinic. "I remember meeting Rena for the first time. Her brother was my roommate at the bariatric clinic," Lee says in promotional footage. "And I kind of felt jealous how she would make sure what he needed." Soon, their relationship blossomed, like Bonnie and Clyde.
But the clinic didn't allow patients to be in relationships—so they left. After dating for 11 years and struggling with food, they essentially became immobile. Rena used to take care of Lee, but now his sister, Cassie, looks after both of them.
In a sneak peek clip obtained by People magazine on Wednesday, Lee battles with bariatric surgeon Dr. Younan Nowzaradan. He originally ballooned to 714 pounds, but successfully lost 168 pounds after the gastric bypass procedure, which shrinks the size of a patient's stomach. After leaving the hospital, he only dropped 9 pounds on his own—and the doctor was unimpressed.
"What in the world is going on with you? You're choosing to overeat and you think it's okay?" Nowzaradan asks.
Sutton argues he's throwing up, which is why he's having problems with his weight. But Nowzaradan is unfazed. "That's how it works," the doctor says. "You throw up constantly because the surgery forces you to when you overeat now."
Sutton tries to defend himself, saying he's afraid of being malnourished.
"Do you look like you're malnourished?" Nowzaradan bites back. "You're overeating, and whatever you're overeating you're throwing up. It means the surgery is working to hold you back when you make bad choices, and it's the only reason that you didn't gain 100 lbs. these last two months."
"You have been given a tool to help you change your life," Nowzaradan continues. "Now that you've had the surgery, the physical drive to eat is gone. So you have to deal with what is driving you to eat. That's the hard part and you don't want to do it. And you're running from it and self-destructing."
Sutton shared an update with family and friends via Facebook in November, saying he wasn't allowed to post real photos of himself yet. Instead, he shared a drawing of himself with Rena with slender figures saying, "We're doing it!! 400 lb together."
"In Time The Scale Will Prevail & I Will Reach My Goals Of Being Healthy, Happy & Having A Normal Life, God Bless Everyone That Has Supported Me On This Journey So Far & Most Of All Thankful To The Almighty GOD Above Without Him None Of My Dreams Would Have Been Possible !!" Rena wrote in September on Facebook, sharing another drawing of herself.
Sutton did not immediately respond to Newsweek's request for comment.
My 600-Lb. Life airs Wednesdays at 8 p.m. ET on TLC.