Infowars founder and longtime conspiracy theorist Alex Jones—and the outlet he founded—became subjected to bans by major content platforms on Monday. The barrings followed many calls for Jones to be removed from major platforms for speech many deemed hateful and harmful—including his claims that the 2012 Sandy Hook school shooting that left 20 children dead was a hoax.
Jones has now been banned by most of the big-tech platforms except for Twitter, where he has a verified account. Jones, of course, was quick to respond, posting links to Infowars on Twitter, writing it was the "one platform that they CAN'T ban and will ALWAYS have our live streams."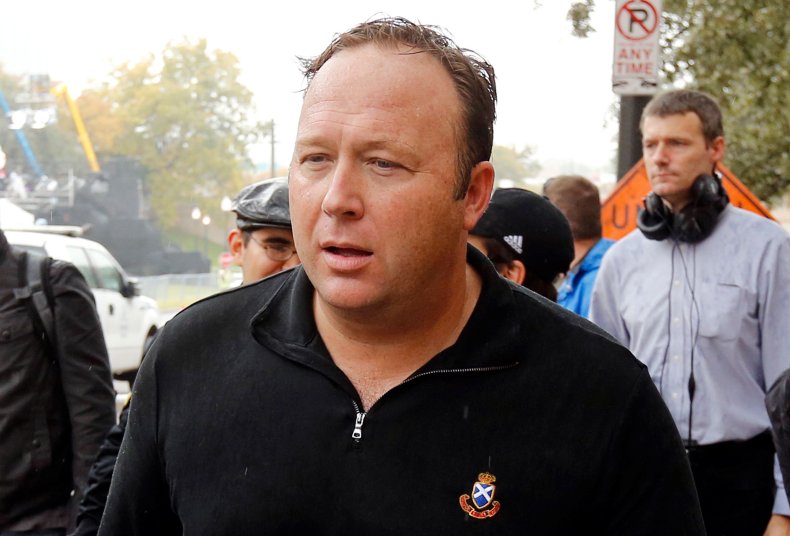 Here's a quick rundown of where Jones can no longer be heard.
Apple
The company led the way when it removed the library of five of six Infowars podcasts, including Jones's, BuzzFeed News first reported. "Apple does not tolerate hate speech, and we have clear guidelines that creators and developers must follow to ensure we provide a safe environment for all of our users," a company spokesperson told BuzzFeed.
Facebook
The social media giant said it unpublished the Alex Jones Channel page, the Alex Jones page, the InfoWars page and the Infowars Nightly News page. It also suspended Jones's Facebook profile for 30 days.
It said it removed the pages because "more content from the same Pages has been reported to us—upon review, we have taken it down for glorifying violence, which violates our graphic violence policy, and using dehumanizing language to describe people who are transgender, Muslims and immigrants, which violates our hate speech policies."
Stitcher
The company removed Jones's podcast. The company told Billboard that Jones "has, on multiple occasions, harassed or allowed harassment of private individuals and organizations, and that harassment has led listeners of the show to engage in similar harassment and other damaging activity."
YouTube
The massive video platform owned by Google removed Alex Jones's page, where he has millions of subscribers. "All users agree to comply with our Terms of Service and Community Guidelines when they sign up to use YouTube," Google told CNBC in a statement. "When users violate these policies repeatedly, like our policies against hate speech and harassment or our terms prohibiting circumvention of our enforcement measures, we terminate their accounts."
Spotify
The streaming platform removed Jones's podcast, it confirmed to BuzzFeed on Monday.