Where Do Alligators Go When There's a Hurricane?
A team at Florida Gulf Coast University (FGCU) has discovered where alligators go when a hurricane hits.
Using data from tagged alligators that live near the campus, professor of Ecology and Environmental Studies Edwin 'Win' M Everham III, and FGCU senior Nicky Kemp followed the gator's behavior as Hurricane Ian hit southwest Florida earlier this year.
"In this project, we are looking at the interaction between a native apex predator—alligators—and development and human presence," Everham told Newsweek.
Starting with seven tagged alligators, one had a radio fail and two lost radios from their attachment. Kemp and Everham continued to monitor the remaining four gators, hoping to better understand their use of the local area.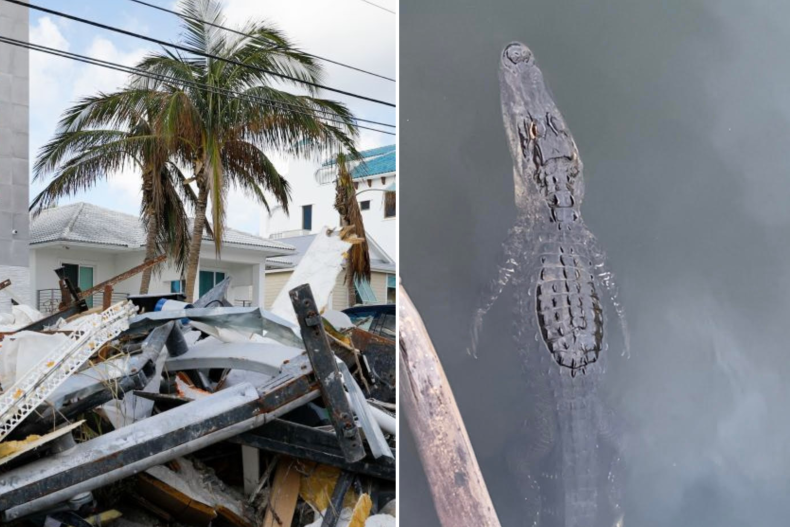 Though 50 percent of the campus is wetlands and conservation areas, they wanted to understand how the animals navigate the developed landscape—particularly where interactions with humans may occur.
"The main threat to American alligators is the loss of habitat by wetland draining and development," Kemp told Newsweek.
"As Florida's population and developed areas have grown, human and alligator interactions have increased. Understanding how alligators move and behave in such an urban landscape will be incredibly beneficial since there is very little research on alligators in urban landscapes."
When Hurricane Ian hit the area, Everham and Kemp watched closely to see how the gators would react to such a huge change in weather.
"Right before, and after the storm our ability to track was limited, there was too much to do to get ready and then recover," explained Everham. "Of the three we could get data on each day leading to the storm, one was in one of the campus forested wetlands and the other two moved from human-created, storm-water detention ponds to adjacent forested wetlands."
While the sample size in this case is very small, the results suggested that the alligators did react to the change in conditions.
"[This does] indicate they could sense the change in the weather and seek refuge in native systems—perhaps a wind refuge," said Everhsam.
Unfortunately, one female moved back after the hurricane to her pond near the freshman cafeteria which concerned Everham and Kemp.
"We have evidence that she is regularly illegally fed [there]," explained Kemp. "We work hard to educate new students on the illegality and danger of feeding alligators and have had students receive tickets on campus, but it's hard to fully fix stupid."
Kemp graduates next month, but the radios and permits should continue through 2023.
"We would like to continue tracking through a complete breeding season, and maybe include some finer temporal scale movement," said Everham.
"Although it would be good for our understanding of the species, we are hoping NOT to have another opportunity to track them during a hurricane."