Where Can Americans Travel Right Now? CDC Guidelines Explained
Amid the ongoing COVID-19 pandemic, the U.S. Centers for Disease Control and Prevention (CDC) currently is advising Americans to avoid traveling as "COVID-19 cases, hospitalizations, and deaths are extremely high across the United States."
"Travel has led—and continues to lead to—interstate and international spread of the virus that causes COVID-19," it said in early February.
The federal health body advises against all travel to certain destinations and all non-essential travel to other places. For a selection of countries currently deemed by the CDC to have a low "Risk Assessment Level for COVID-19," it advises Americans to follow several safety guidelines while traveling.
Those who are required to travel at this time should check their state, territorial, or local health department for information about quarantine requirements or other travel restrictions.
"CDC can restrict the travel of people known or believed to have COVID-19, or who have been exposed to a person with COVID-19, if they plan to travel. State, local, and territorial health departments and foreign public health authorities can also restrict travel of infected or exposed people within their jurisdictions," the health body says.
Travelers are advised to "get a viral test 1-3 days before you travel. Keep a copy of your test results with you during travel in case you are asked for them. Do NOT travel if you test positive."
They are also advised to wear a mask over their nose and mouth in all public settings. Face-coverings are required on "planes, buses, trains, and other forms of public transportation traveling into, within, or out of the United States and in U.S. transportation hubs such as airports and stations" under an order issued by the CDC in late January.
"Wearing masks that completely cover the mouth and nose reduce the spread of COVID-19. People who never develop symptoms (asymptomatic) or are not yet showing symptoms (pre-symptomatic) might not know that they are infected but can still spread COVID-19 to others. Masks also offer protection to the wearer," the CDC explains.
Crowds should be avoided and a distance of at least six feet should be maintained from anyone with whom you did not travel. "It's important to do this everywhere—both indoors and outdoors," the health body says.
See the CDC website for full details on mask requirements and other safety measures for traveling in the U.S.
International travel
The CDC advises against all travel to destinations within its "Level 4: COVID-19 Very High" risk assessment level category and against all non-essential travel to areas designated with the "Level 3: COVID-19 High" category.
"Travelers at increased risk for severe illness from COVID-19 should avoid all nonessential travel" to destinations within the "Level 2: COVID-19 Moderate" category, the CDC advises.
For those traveling to countries within the CDC's lowest risk assessment level category (Level 1: COVID-19 Low), it says: "All travelers should wear a mask, avoid crowds, stay at least 6 feet from people who are not traveling with you, wash your hands often or use hand sanitizer, and watch your health for signs of illness."
Below are destinations that currently fall within the CDC's "Level 1: COVID-19 Low" category, as of March 8:
American Samoa
Anguilla
Australia
British Virgin Islands
Brunei
Cambodia
Cayman Islands
China
Fiji
Greenland
Laos
Marshall Islands
Federated States of Micronesia
New Caledonia
New Zealand
Northern Mariana Islands
Palau
Papua New Guinea
Saba
Saint Kitts and Nevis
Saint Pierre and Miquelon
Sint Eustatius
Taiwan
Vietnam
All air passengers seeking entry into the U.S., including U.S. citizens, must have a negative COVID-19 test result or documentation of recovery from COVID-19 before boarding their flight to the U.S., under an order issued by the CDC that has been in effect since January 26.
The CDC said in early March: "If you plan to travel internationally, you will need to get tested no more than 3 days before you travel by air into the United States (US) and show your negative result to the airline before you board your flight, or be prepared to show documentation of recovery (proof of a recent positive viral test and a letter from your healthcare provider or a public health official stating that you were cleared to travel).
"Air passengers will also be required to confirm that the information they present is true in the form of an attestation."
The risks of travel
The CDC warns: "Air travel requires spending time in security lines and airport terminals, which can bring you in close contact with other people and frequently touched surfaces. Social distancing is difficult in busy airports and on crowded flights, and sitting within 6 feet of others, sometimes for hours, may increase your risk of getting COVID-19.
"How you get to and from the airport, such as with public transportation and ridesharing, can also increase your chances of being exposed to the virus."
Testing before and after traveling can help reduce the risk of spreading COVID-19 infection. While testing does not eliminate all risks, "when paired with a period of staying at home and everyday precautions like wearing masks and social distancing, it can make travel safer by reducing spread on planes, in airports, and at destinations," the CDC says.
See the CDC website for more information about traveling during the ongoing COVID-19 pandemic.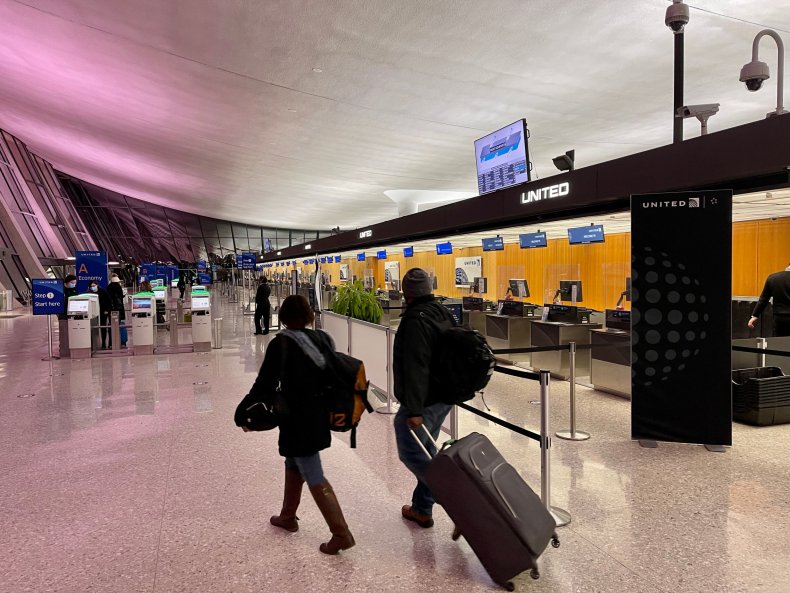 The wider picture
Coronavirus has infected more than 117.7 million people, including over 29 million in the U.S., since it was first reported in Wuhan, China.
More than 2.6 million people have died worldwide and more than 66.7 million have recovered as of Wednesday, according to Johns Hopkins University.
The graphic below, produced by Statista, illustrates countries with the most COVID-19 vaccine doses administered per 100,000 people.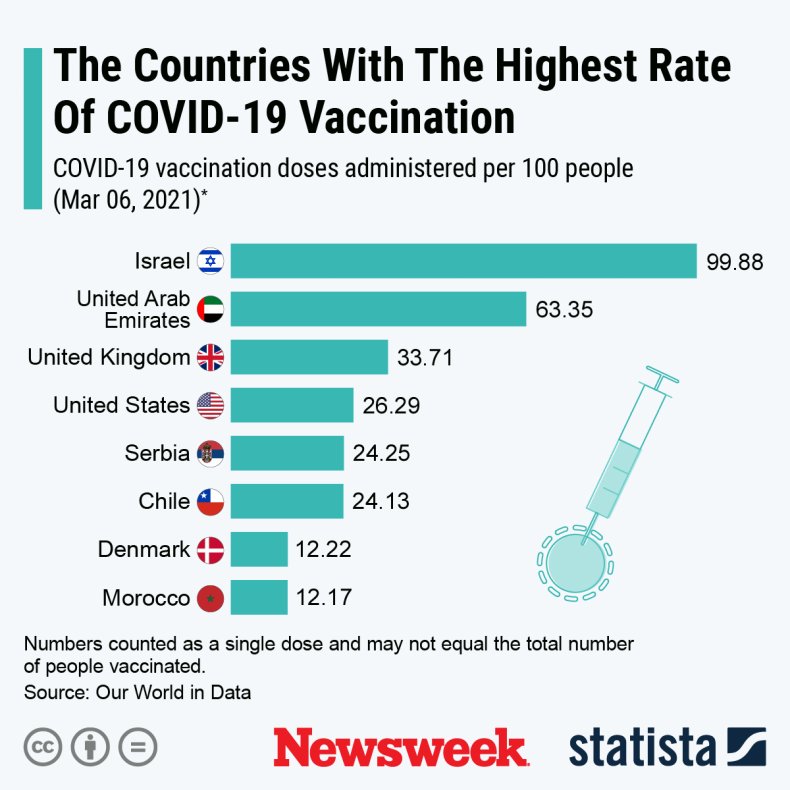 The graphic below, produced by Statista, illustrates the spread of COVID-19 cases in the U.S.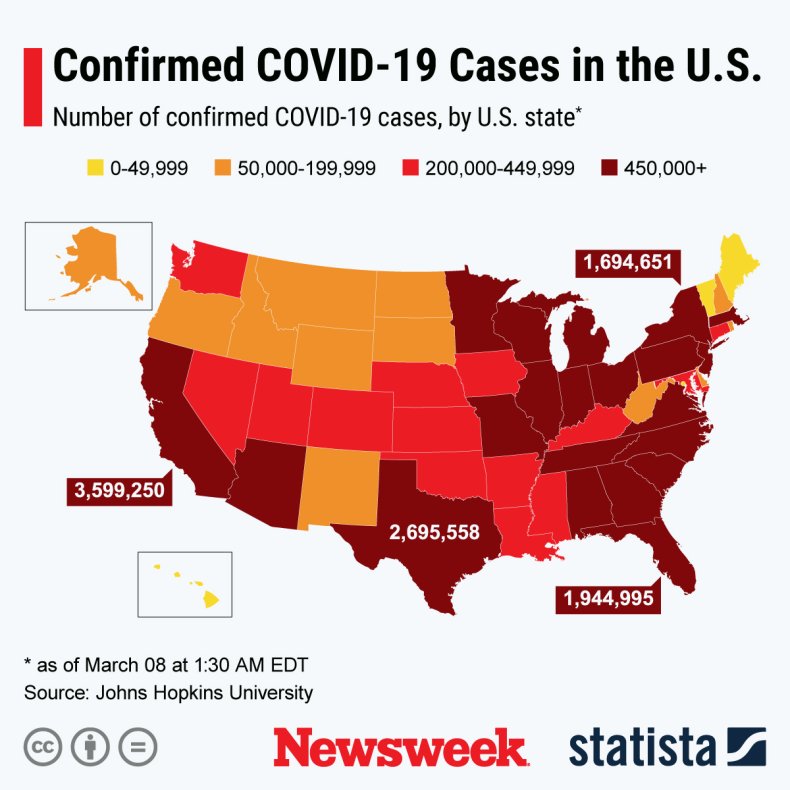 Newsweek, in partnership with NewsGuard, is dedicated to providing accurate and verifiable vaccine and health information. With NewsGuard's HealthGuard browser extension, users can verify if a website is a trustworthy source of health information. Visit the Newsweek VaxFacts website to learn more and to download the HealthGuard browser extension.