Where Anne and Margot Frank's Copy of 'Grimm's Fairy Tales' Will Go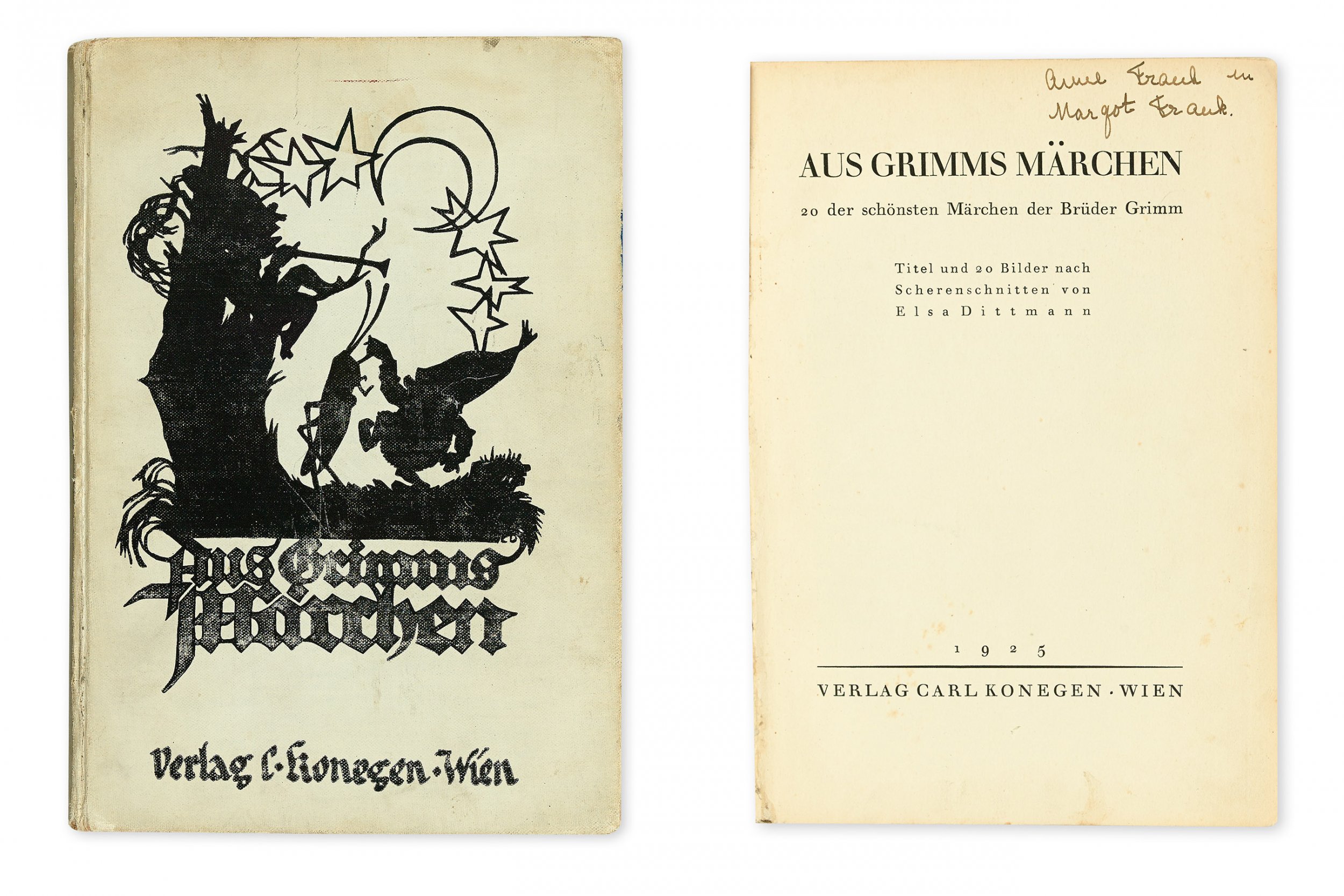 A copy of Grimm's Fairy Tales once owned by Anne and Margot Frank, their names inscribed atop the title page, sold at auction Thursday for $62,500 (including the buyer's premium). The New York City–based Swann Auction Galleries said that "the sale represents the first major offering of Anne Frank material at auction in over two decades."
Though the auction house would not immediately reveal the identity of the buyer—who prevailed after head-to-head bidding between an interested party online and an avid buyer on the phone—The New York Times and The Boston Globe later reported that the Museum of World War II, outside Boston, had entered the winning bid.
"Anne Frank is one of, if not the most evocative personages of World War II," Kenneth W. Rendell, the museum's founder and executive director, told the Globe. "I had everyone surrounding her on display, but nothing that had come from her own hand," he told the Times. "When you see someone's handwriting, it's personal. It makes someone real."
Anne Frank has long been a key figure in helping make the history of the Holocaust feel more personal and more real. The diary she kept while in hiding in the "Secret Annex"—located behind a bookcase in the Amsterdam office building owned by her father Otto's company—has been translated into 70 languages and sold more than 30 million copies since its initial publication in 1947.
Anne Frank wrote her first entry when she received a red plaid diary for her 13th birthday, on June 12, 1942, and her last on August 1, 1944, just three days before she and her fellow annex residents were arrested. After being deported to Auschwitz via the Westerbork transit camp, she died at Bergen-Belsen in early 1945. Of the eight inhabitants who spent more than two years in hiding together, only Otto Frank survived.
The German-language copy of Grimm's Fairy Tales sold Thursday—which includes classic tales like "Cinderella," "Hansel and Gretel," "Snow White" and "Sleeping Beauty"—got left behind at the Franks' apartment at Merwedeplein 37 when the family hurried into hiding in July 1942. A Dutch couple bought it from a secondhand bookstore soon after the war, but it wasn't until 1977 that the family realized who had previously owned the book and wrote to Otto Frank.
"It was very nice of you to write me such an extensive letter upon finding a book on your bookshelf with the ex libris of my daughter, Margot," he wrote back, referring to Margot's ink owner stamp that appears on another page of the book.
"I understand your emotions, and those of your husband and daughter, brought on by seeing the names of my daughters written in the book," he continued in his letter, which was part of the lot sold Thursday. "Seeing that the book you found is a beautifully illustrated version of Grimm's Fairy Tales and understanding from your letter your compassion for what has happened to us, it would please me if you keep the book for your daughter in memory of my children."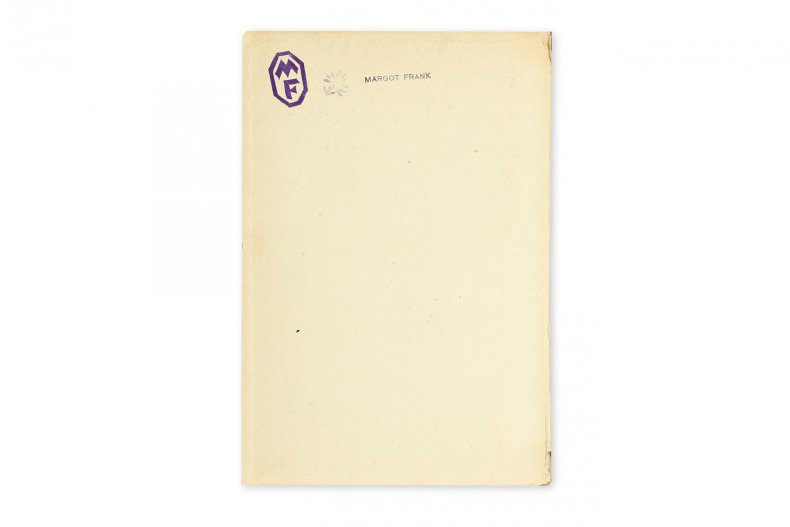 As the auction house suggested, it's not every day that an item so close to the famous diarist goes up for public auction. Swann sold correspondence from Anne and Margot to pen pals in the United States—including two letters, a postcard and a passport photograph of each sister—in 1988 for $165,000 (including buyer's premium), which Bloomberg reports would be $332,000 when adjusted for inflation. That lot saw bidders including "a Japanese woman, a Los Angeles dentist, a private party from Texas, Jack Polak of the American Friends of the Anne Frank Center and Whoopi Goldberg," the Times reported after the sale. The buyer reportedly purchased the items to give to the Simon Wiesenthal Center for display at the Museum of Tolerance in Los Angeles.
Rabbi Marvin Hier, founder and dean of the Simon Wiesenthal Center and the Museum of Tolerance, tells Newsweek that the donated pen-pal letters are now part of the Museum of Tolerance's permanent Anne Frank exhibition and a big draw among visitors. "The letters were extraordinary," he says. Original documents like Anne and Margot's correspondence, he adds, "are the most important thing because they basically make history come alive."
The following year, in 1989, Christie's auctioned off a "friendship album" belonging to a girl named Henny that Anne had signed in March 1940 and inscribed with the words "It is of little worth/what I offer you/pluck roses on earth/and forget me not," according to an entry from an old catalog Christie's provided to Newsweek via email. It sold for $35,200.
"Autograph material of Anne Frank is of great rarity," the catalog entry reads, explaining that most surviving manuscripts were with the Frank family or in the Anne Frank House and Museum's collection. "We are aware of no examples in private hands and none have been offered at auction except a letter and postcard sold last year," by Swann Galleries.
Rendell, the Museum of World War II founder, told the Times he had unsuccessfully bid on the Christie's lot in 1989. More than two decades later, the museum built on his personal collection will get an item signed by Anne Frank. The book of fairy tales will soon join roughly 7,000 pieces included in the museum's 10,000 square feet of exhibitions.
"This was a very exciting opportunity," Rendell said. "I wasn't going to miss it."