Where Are Fires Still Burning in Australia? Map Shows Nearly 100 Blazes in New South Wales, Victoria
As people mourn the loss of three firefighters in Australia, others in the country continue to battle wildfires in New South Wales and Victoria.
Firefighters have been battling wildfires in Australia for months as a prolonged drought, hot temperatures and strong winds created ideal conditions for flames to spread. Fires have claimed at least 31 lives, destroyed thousands of homes and burned more than 27 million acres of land, twice the size of Maryland.
On Saturday morning local time, 62 bush and grass fires were burning in NSW, a state on the south-eastern side of Australia, according to the NSW Rural Fire Service (RFS). They were all listed as "Advice" alert level fires, meaning there was no immediate danger. Residents in impacted areas were encouraged to remain informed of the situation in case it changed.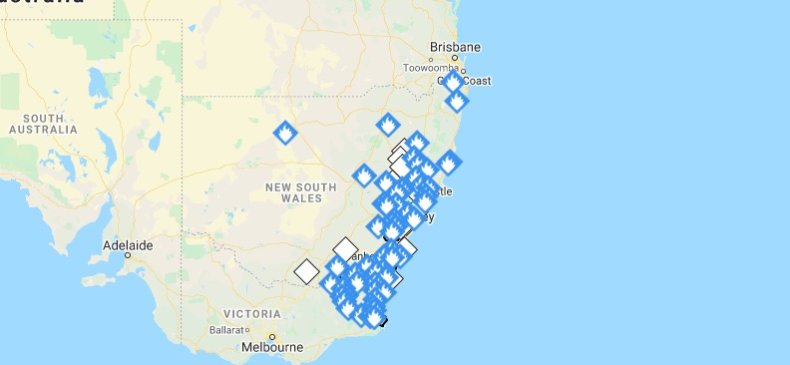 As crews battle the flames, they're also mourning the loss of three crew members, who were killed on Thursday local time when their air tanker crashed. The victims were identified as Americans, Captain Ian H. McBeth, First Officer Paul Clyde Hudson and Flight Engineer Rick A. DeMorgan Jr, who had gone to Australia to assist in fighting the fires.
Gladys Berejiklian, Premier of NSW, posted on Twitter that the news was "heartbreaking and devastating," and flew flags at half-mast on Friday out of respect for the firefighters.
"Our thoughts & heartfelt condolences are with their families & the tight-knit firefighting community," Berejiklian wrote in a tweet.
The premier also announced that a state memorial would be held for the firefighters on February 23 at Qudos Bank Arena in Sydney. Emergency service workers, NSW RFS and members of the public were invited to "come together as families and communities to work their way through this unbelievable loss."
Farther south, in the state of Victoria, 37 bushfires were burning on Saturday morning local time, according to VicEmergency. People who were visiting Mallacoota, Genoa and Gipsy Point had to leave because of the fires but will be able to retrieve their belongings over the weekend. Drivers were told to expect to wait up to an hour and travel would only be allowed in one direction.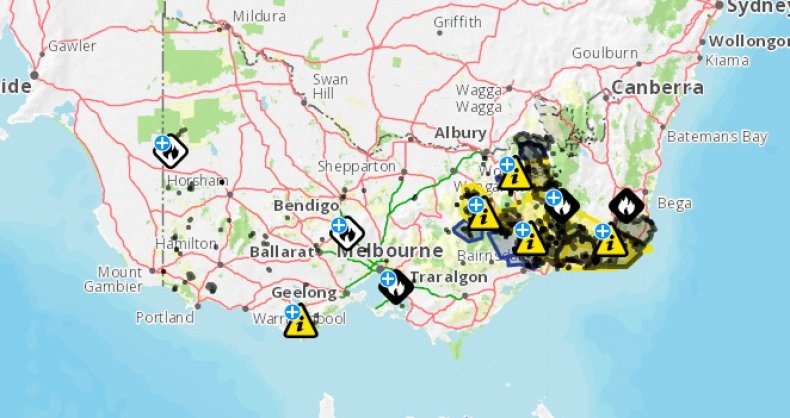 Given the magnitude of the fires, American firefighters began arriving in Australia to assist firefighting efforts in December. They've continued to make the trip and the most recent crews arrived in Australia on Friday morning local time.
"We are grateful for the arrival of U.S. fire task force personnel this week. Australia is a large country, and while we have seen generous rainfall in the past few days in some areas, we are still experiencing kilometers of active fire front and a large clean-up ahead of us," Stuart Ellis, Australasian Fire and Emergency Service Authorities Council said in a statement. "We're halfway through the summer and there are still challenges ahead for us this season."
Crews will be responsible for on-the-ground fire suppression and filling fire management roles, according to the Department of the Interior Director of the Office of Wildland Fire Jeff Rupert.