Where Are the Women in Kazakhstan's Protests? | Opinion
Amid the more than 160 reported deaths and 12,000 arrests recently in Kazakhstan, one group was conspicuously missing from the chaotic protests—women.
The complete absence of women from protests in the main city of Almaty suggests that the anti-government riots there may have been disconnected from regional protests over a hike in gas prices. The Kazakh government quickly characterized the overwhelmingly male protestors as "bandits," and called for support from Russian and Armenian troops. Had many women also taken to the streets, they may have made President Kassym-Jomart Tokayev less likely to issue his "shoot without warning" order.
That women weren't included in the protests wasn't a simple oversight. It reflects the complex political dynamics of the crisis, which increasingly look like an internal power struggle amongst elites. But women's absence is also a reflection of the political and social barriers that women face in Kazakhstan—an issue that demands global attention.
Notably, the protests in Kazakhstan differ from recent ones in other post-Soviet countries. When protests broke out in Belarus in September 2020 to oppose the re-election of President Aleksandr Lukashenko, women were among the most visible participants. Women went to lengths to make themselves seen through what I term "gendered protest strategies." Some draped themselves in the red and white of the pre-Soviet Belarussian flag, while others marched with flowers in their hair. Women young and old went face to face with riot police, using their gender as a shield.
In the 2013-14 Euromaidan protests in Ukraine's capital, Kyiv, women were also front and center. Between 41 and 47 percent of the Euromaidan protestors were female. These women shaped public perceptions of the protests through interviews and social media campaigns. They also fulfilled traditional gender roles, serving journalists and other protestors tea and sandwiches.
The presence of women did not ultimately prevent the use of violence against protestors in Ukraine and Belarus, although they likely delayed it. The eventual ouster of the Yanukovych government in Ukraine prompted Russian military intervention, which quickly escalated into war. However, the strategic use of women succeeded in drawing international attention to the protestors' cause. The protests also benefited from the skills and expertise that female protestors contributed. And women continue to fight alongside men in the war in Ukraine.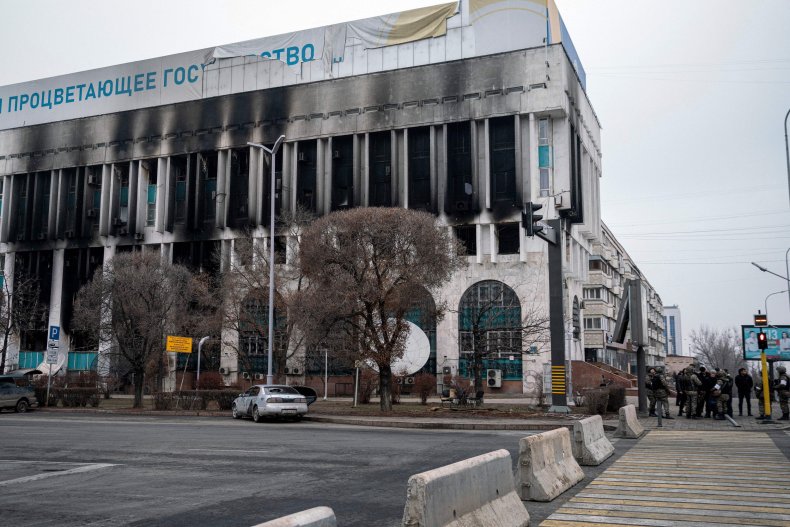 Explaining the lack of women in Kazakhstan's protests is challenging. One potential factor in the difference in women's protest participation is Islamic gender norms, which have played a greater role in the country since the fall of the Soviet Union. Another factor is women's limited political representation. Women made up 22 percent of seats in Parliament in 2016 and the government recently took steps to address this issue by establishing a 30 percent quota for women candidates.
A more likely explanation for Kazakhstan's missing female protestors is the insecurity that women face. Young women are sometimes subject to what is euphemistically described as "bride kidnapping." In this illegal practice, targeted women are snatched off the streets and forced into marriages, sometimes following an act of violence. Domestic violence is prevalent, with 17 percent of women saying they'd experienced physical or sexual partner violence and 21 percent saying they'd experienced psychological abuse from a partner, according to a U.N. survey. Women who join public protests may risk violence not only from the state, but also from their male counterparts. This dynamic was seen in Egypt's Tahrir Square protests, where female protestors were sexually assaulted.
When women have taken to the streets in Kazakhstan, it has been to draw attention to issues that directly affect women, such as domestic violence, failures of the social welfare system and the effect of coronavirus restrictions on poor families. The impact of these protests is mixed: Two women were convicted in 2020 for organizing an International Women's Day rally against gender discrimination.
The presence—or absence—of women in mass protests tells us a lot about the state of gender relations in a country. Placing women in frontline protest positions can help attract international media attention and may make the state less likely to resort to violence. Yet, when violence does erupt, women are more likely to be pushed to the sidelines, supposedly for their own protection, as was the case in Ukraine. This means that once violence breaks out, women's voices are less likely to be heard and the concerns that brought them to the streets are too often ignored.
The absence of women in protests is as political as their participation. When women's interests are represented, women make their presence known. So, when you see images of protest on TV or online, and notice the demonstrators are all men, pay attention. What you are seeing is a real-time reflection of a country's gender relations.
Jessica Trisko Darden, Ph.D., is a faculty affiliate at William & Mary's Global Research Institute and an assistant professor at Virginia Commonwealth University, where she teaches courses on women in global politics. She is the co-author of Women as War Criminals: Gender, Agency, and Justice and Insurgent Women: Female Combatants in Civil Wars.
The views expressed in this article are the writer's own.