One of the best debates for football enthusiasts and purists is trying to determine which states, regions and metropolitan areas have the best high school football in the country. There are traditional hotbeds from California to Florida, by way of Texas, and there are pockets of great high school football.
There are different ways to measure, compare and make arguments. First, there are national rankings. There are also rankings of recruits, long winning streaks, the percentage of players who compete at Division I in the NCAA and there's the number of players currently in the NFL—and also those who have recently retired.
As if that's not enough, here's one example of a deeper dive into claiming supremacy. The state of Ohio claims Joe Burrow, who recently won the Heisman Trophy for Louisiana State University. Louisiana claims the quarterback Manning brothers, who went to college out of state. And Texas claims Drew Brees, who played college ball at Purdue and holds many NFL passing records for the New Orleans Saints.
It's where they started, not where they finished.
Two schools from California are No. 1 and No. 2 in the national poll, but the No. 3 team (Duncanville, Texas) has a rematch in the state's 6A Division I state title game this Saturday against No. 6 Galena Park North Shore, who won last year's game on a Hail Mary as time expired.
After schools from South Florida swept state championships last weekend from Class 2A all the way to 8A, Bill Daley of the Miami Herald claimed South Florida as having "the highest quality of football on the high school level."
"CASE CLOSED!!," Daley wrote Tuesday. "Forget the state of Florida, even nationally, there will be no more arguments on where the highest quality of football on the high school level resides."
This story comes one day before the state of Texas begins four days of state championships at AT&T Stadium. There will be a triple-header each day at the stadium, beginning with two Class 1A (six-man) games Wednesday followed by the first of ten championships of 11-man games.
"This is the greatest spectacle in sports," said Greg Tepper of Texasfootball.com on the statewide preview show on Fox Sports Southwest. All Texas games are televised, and more than 250,000 fans annually work their way through the turnstiles.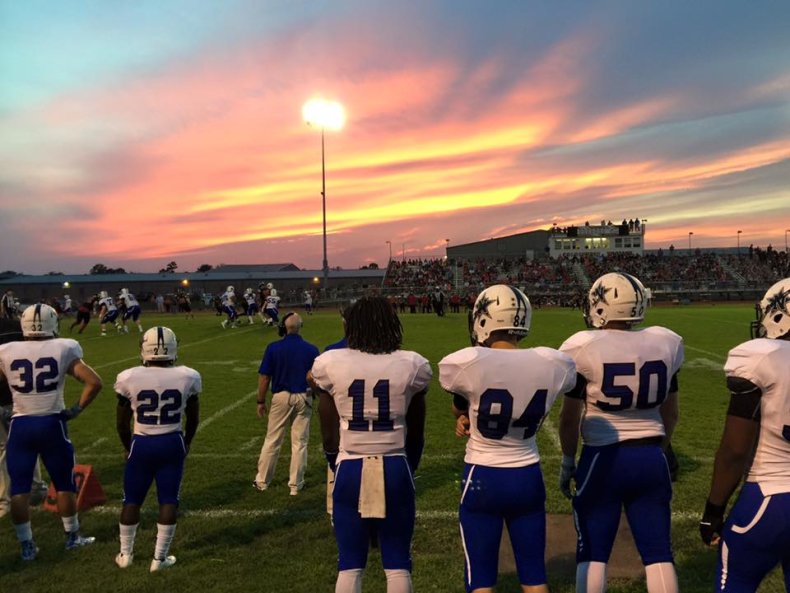 So without further ado, here are the stats of major categories to determine who has the best high school football in America.
Heisman Trophy winners the last 10 years
2010 — Cam Newton (Auburn/Atlanta (Ga.) Westlake High)
2011 — Robert Griffin III (Baylor/Copperas Cove (Texas) High)
2012 — Johnny Manziel (Texas A&M/Kerrville (Texas) Tivy High)
2013 — Jameis Winston (Florida State/Hueytown (Ala.) High)
2014 — Marcus Mariota (Oregon/Honolulu Saint Louis (Hawaii) High)
2015 — Derrick Henry (Alabama/Yulee (Fla.) High)
2016 — Lamar Jackson (Louisville/Boynton Beach (Fla.) High)
2017 — Baker Mayfield (Oklahoma/Austin (Texas) Lake Travis High)
2018 — Kyler Murray (Oklahoma/Allen (Texas) High)
2019 — Joe Burrow (LSU/The Plains (Ohio) Athens High)
Heisman Count since 2010:
4 - Texas
2 - Florida
1 - Alabama
1 - Georgia
1 - Hawai'i
1 - Ohio
Current Top 10 (Maxpreps.com)
St. John Bosco (Bellflower, Calif.)
Mater Dei (Santa Ana, Calif.)
Duncanville (Texas)
St. Frances Academy (Baltimore, Md.)
St. Thomas Aquinas (Fort Lauderdale, Fla.)
Galena Park North Shore (Houston, Texas)
St. Louis (Honolulu, Hawai'i)
IMG Academy (Bradenton, Fla.)
Dutch Fork (Irmo, S.C.)
Chandler (Ariz.)
NFL Players on Current Rosters (by high school origin)
229 - Florida
199 - California
187 - Texas
131 - Georgia
80 - Ohio
(St. Thomas Aquinas in Fort Lauderdale (Fla.) leads the nation with 14 active players, and Fork Union (Va.) Military Academy has 13. No other high school has more than six.)
Top 100 Recruits in 2020 (Rivals.com)
14 - California
13 - Florida
11 - Georgia
9 - Texas
8 - Maryland
Note: California has players in spots No. 2, 3 and 4, and Maryland has the top player
High School Players in DI schools, Percentage by State (2017 study by NCAA)
9.9 - Florida
8.6 - Georgia
8.1 - Louisiana
7.2 - Washington, D.C.
6.5 - Maryland
6.2 - Tennessee
6.2 - South Carolina
5.9 - North Carolina
Note: Pennsylvania (5.0), Alabama (5.0), Ohio (4.3), California (3.5) and Texas (2.7)
About the writer
Scott McDonald is a Newsweek deputy night editor based in Cape Coral, Florida. His focus is assigning and writing stories across all topics, from news to politics, business, weather, sports and international news. Scott joined Newsweek in 2018 after a lengthy career of print journalism in Texas, including The Dallas Morning News, where he was a sportswriter, and he's a voter for the Heisman Trophy. He has been a newspaper editor-in-chief and also a newspaper publisher. He is a graduate of The University of Texas at Austin. You can get in touch with Scott by emailing s.mcdonald@newsweek.com. Languages: English