Where the 'Black Widow' Movie Fits Into the MCU
Black Widow met an untimely and heartbreaking demise in Avengers: Endgame, but somehow she's back for a new standalone Marvel movie.
Scarlett Johansson has played the conflicted hero in nine Marvel Cinematic Universe movies, including Black Widow which arrives in theaters and on Disney+ this week.
Viewers may be confused as to how Natasha Romanoff is getting her own movie after her character (spoiler) died during the events of the final Avengers movie. We're here to explain how she's back, and at what point the movie slots in during the MCU timeline.
When Does Black Widow Take Place in the MCU?
While Black Widow is due to begin Phase 4 of Marvel's ambitious cinematic universe, the events of the film slot into Phase 3.
Black Widow opens with Romanoff on the run after the events of Captain America: Civil War.
After the Avengers fight it out during the epic airport fight, Black Widow lets Captain America escape. Later on, back at the Avengers compound, Tony Stark informs Romanoff that General Ross is coming for her for what she did. She walks off screen and isn't seen again, until the opening of Avengers: Infinity War, where it transpires she's been on the run with Steve Rogers, Sam Wilson and Bucky Barnes.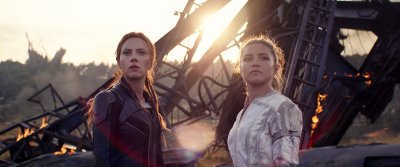 As it turns out, Natasha Romanoff had an entire MCU-worthy adventure after the events of Captain America: Civil War, and that's exactly when we pick up her story at the beginning of Black Widow the movie.
Captain America: Civil War was the 13th film in the Marvel Cinematic Universe and was released in 2016. It was followed up by Doctor Strange chronologically in terms of release date but Civil War sets up other films that are purported to take place after the events of that film.
Spider-Man and Black Panther are both introduced within the huge ensemble of the second Captain America movie. Both then appeared in their own first follow-up movies, purported to have taken place a couple of months after the events of Civil War.
Taking this into account, in terms of the Marvel Cinematic Universe, the events of Black Widow, Spider-Man: Homecoming, Black Panther and Doctor Strange could have all taken place at roughly the same time in 2016.
Within Black Widow, Romanoff is forced to confront a dangerous conspiracy tied to her past. She must deal with her history as a spy and the broken relationships she left behind long before she became an Avenger.
When Is Black Widow Out and How Can I Watch It?
Black Widow is getting a simultaneous release in movie theaters and on streaming service Disney+ on Friday, July 9, 2021.
Those wanting to watch it online on Disney+ will need to pay extra for Premier Access.
For previous movies released with Premier Access online like Mulan and Cruella, subscribers have had to pay $29.99 to watch.