Where Is Blenheim Palace? Trump Due to Dine at Winston Churchill's Birthplace
When President Donald Trump arrived in the U.K. on Thursday, he was whisked away to dine at one of Britain's most lavish and storied grand estates.
Blenheim Palace, just over 60 miles northwest of London, in the county of Oxfordshire, was the childhood home of Prime Minister Winston Churchill. Today it is one the U.K.'s best examples of a well-preserved and functional historic stately home.
Of course, it helps that the estate is some distance from London and the huge protests organized to greet Trump on his long-awaited trip to the U.K., where the politician is deeply unpopular.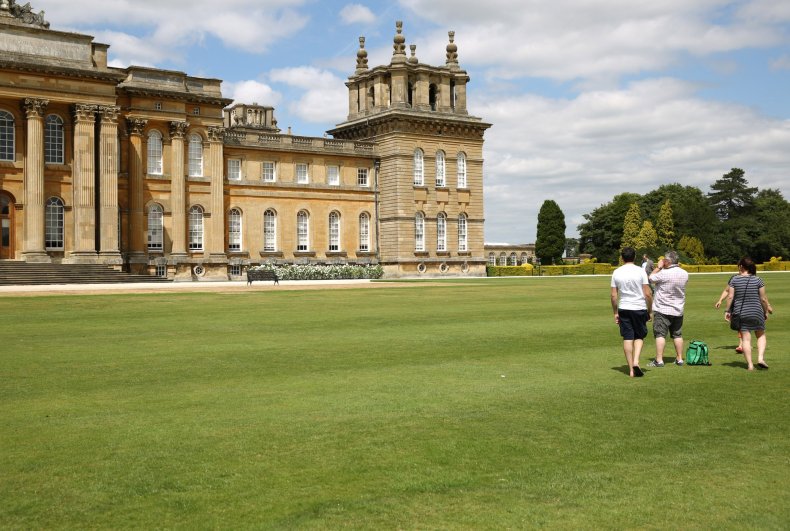 Its rural location will enable security services to lock down the entire area and keep any pesky demonstrators well away, both to ensure the safety of the elite guests and the 45th president's ego. Prime Minister Theresa May will host a black-tie dinner at the palace to welcome Trump. They will be joined by a host of business leaders and VIP guests, though several others have declined the invitation to dine with Trump.
Blenheim Palace and its sprawling gardens were awarded by Queen Anne to John Churchill, the 1st Duke of Marlborough. It was given in thanks for Churchill's victory at the Battle of Blenheim, in 1704, when English forces—as part of a multinational Grand Alliance—defeated French and Bavarian armies during the War of the Spanish Succession. This battle also gave the palace its name.
The mammoth estate has 200 rooms and 1,000 windows. Its extensive library houses more than 10,000 books and hosted a school for boys that was relocated there during World War II.
It remained in the Churchill family and was where Winston was born in 1874. Trump sees himself as cut from the same cloth as the legendary two-time prime minister, and he put a bust of the wartime leader on display in the Oval Office when he became president.
The 18th-century estate covers around seven acres and is the only nonroyal building in the U.K. to enjoy palace status. During World War I, the building was converted into a hospital where wounded soldiers were sent for treatment. At this time, Winston was serving as the First Lord of the Admiralty.
The palace was opened to visitors in 1950 and remains so to this day. It was made a UNESCO World Heritage Site in 1987. Though it is a popular tourist destination, the 12th Duke and Duchess of Marlborough and their family still live in the property today.